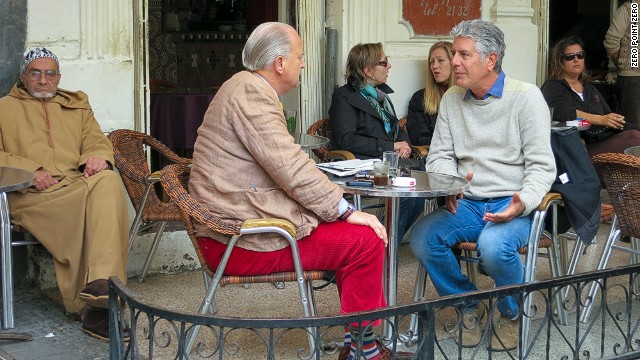 Anthony Bourdain, right, talks with British ex-pat Jonathan Dawson at Cafe Tingis in Tangier, Morocco.
Fishing boats line the harbor at the main port of Tangier.
Tangier sits across from Spain on the northwestern coast of Africa, where the Atlantic Ocean meets the Mediterranean Sea.
Fishermen work at the fish market at the port of Tangier.
Bourdain looks at a Moroccan rug with the owner of Boutique Majid, Abedelmajid Rais El Fenni.
A view of the collection at Boutique Majid, an antique shop in Tangier.
Boutique Majid is also known for its textiles.
Bourdain shares a meal with Bachir Attar and the Master Musicians of Jajouka at Attar's home in the Moroccan village of Jajouka.
Behind the scenes in Morocco
Behind the scenes in Morocco
Behind the scenes in Morocco
Behind the scenes in Morocco
Behind the scenes in Morocco
Behind the scenes in Morocco
Behind the scenes in Morocco
Behind the scenes in Morocco