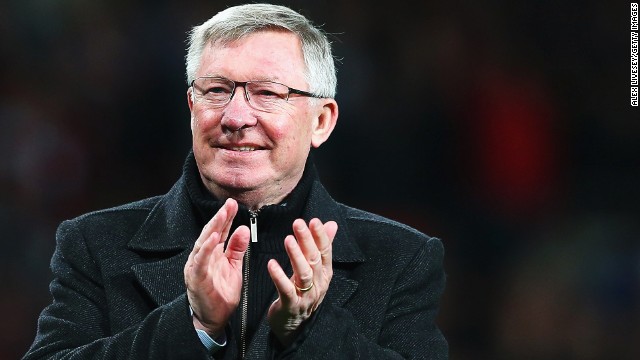 Alex Ferguson has announced he is retiring at the end of this season, having won his 13th English Premier League title in more than 26 years as manager of Manchester United.
The 71-year-old is the most successful and longest-serving manager in United's history, having also won two European Champions League crowns, five FA Cups and four League Cups.
Ferguson survived a difficult first four years at Manchester United before winning a title -- the 1990 FA Cup. Here he celebrates with Bryan Robson, who became the first United captain to lift the trophy three times after beating Crystal Palace 1-0 in the final replay.
Ferguson lifted the European Cup Winners' Cup for the second time in his career in 1991, when United beat Barcelona 2-1 in the final. He had previously won the now defunct tournament with Scottish club Aberdeen.
In 1993, United won the English title for the first time in 26 years, and Ferguson took the club on a tour of South Africa, where he met Nelson Mandela before the ANC leader became the country's first post-apartheid president.
Ferguson celebrates with his assistant Brian Kidd after United won the Premiership again in 1994, then went on to secure a domestic double by beating Chelsea in the FA Cup final. United repeated the feat in 1996.
Ferguson with his grandson Jake before the 1999 FA Cup final victory against Newcastle that sealed United's third double in six years.
Just four days later, United completed a treble with an incredible last-gasp win over Bayern Munich in the Champions League final. Ferguson and keeper Peter Schmeichel hold the trophy in Barcelona.
Ferguson tried to retire more than a decade ago, announcing at the start of the 2001-02 season that it would be his last. However, he changed his mind the following February but United failed to reach the Champions League final -- which was to be played in his native Glasgow.
Another European title followed in 2008, but Barcelona handed United disappointment in the 2009 and 2011 finals. However, Ferguson and his players still earned a parade the latter season after winning a record 19th English league title -- the Scot's 12th.
The next season, United commemorated Ferguson's 25 years as manager on November 5, 2011.
As a player, Ferguson was a prolific goalscorer for Scottish clubs St. Johnstone and Dunfermline, but his big move to Glasgow Rangers in 1967 proved disappointing and he left two years later. He ended his playing days at Ayr in 1974 without winning a major honor.
Ferguson made his name as a manager at Aberdeen. His fourth Scottish Cup win in 1986 was his last success with the Dons, having won three Scottish league titles and the 1983 European Cup Winners' Cup -- beating mighty Real Madrid in the final.
Ferguson, who briefly managed Scotland at the 1986 World Cup, overhauled the squad at Old Trafford and introduced some of the finest players to grace the EPL in the past two decades.
Arguably the most important signing was that of French forward Eric Cantona, a $1.9 million bargain from Leeds who led United's surge to dominance in the 1990s.
The 1993 addition of young midfielder Roy Keane in a then British record transfer fee of £3.75 million from Nottingham Forest provided United with a ferocious future captain.
Ferguson also introduced young talent such as David Beckham, Ryan Giggs, Paul Scholes and the Neville brothers Gary and Phil -- who all went on to become integral members of his team.
Ferguson played a key role in resurrecting the career of Beckham, who had been vilified by England fans after being sent off during the 1998 World Cup defeat by Argentina.
Ferguson famously beat United's rivals Manchester City to sign Giggs as a teenager, and the Welsh winger has repaid his faith by staying with the club until the present day.
Ferguson's signing of Cristiano Ronaldo in 2003 paid off as the Portugal forward fired United to Champions League glory in 2008 and was named world player of the year -- the first from the EPL to do so -- before joining Real Madrid in a record $130 million deal.
Ferguson is well known for his fiery temper and his motivational skills.
In 2003, he infamously kicked a boot into the face of Beckham in the dressing room after a match, but refused to apologize. "If I'd tried it 100 times or million times, it wouldn't happen again," he said. "If it did, I would carry on playing."
United striker Wayne Rooney said Ferguson's team talk ahead of the 2008 Champions League final against Chelsea in Moscow "made the hairs on the back of your neck stand up." United denied the London side a first European title after a penalty shootout.
United reached the final again the following season, but lost to Barcelona. Here Ferguson speaks with Britain's Prince William at the Stadio Olimpico in Rome, Italy.
Ferguson's last match on the European stage was a defeat by Ronaldo's Real Madrid in the Champions League Round of 16 second-leg match at Old Trafford on March 5, 2013.
In pictures: The reign of Alex Ferguson
In pictures: The reign of Alex Ferguson
In pictures: The reign of Alex Ferguson
In pictures: The reign of Alex Ferguson
In pictures: The reign of Alex Ferguson
In pictures: The reign of Alex Ferguson
In pictures: The reign of Alex Ferguson
In pictures: The reign of Alex Ferguson
In pictures: The reign of Alex Ferguson
In pictures: The reign of Alex Ferguson
In pictures: The reign of Alex Ferguson
In pictures: The reign of Alex Ferguson
In pictures: The reign of Alex Ferguson
In pictures: The reign of Alex Ferguson
In pictures: The reign of Alex Ferguson
In pictures: The reign of Alex Ferguson
In pictures: The reign of Alex Ferguson
In pictures: The reign of Alex Ferguson
In pictures: The reign of Alex Ferguson
In pictures: The reign of Alex Ferguson
In pictures: The reign of Alex Ferguson
In pictures: The reign of Alex Ferguson
In pictures: The reign of Alex Ferguson
In pictures: The reign of Alex Ferguson
In pictures: The reign of Alex Ferguson