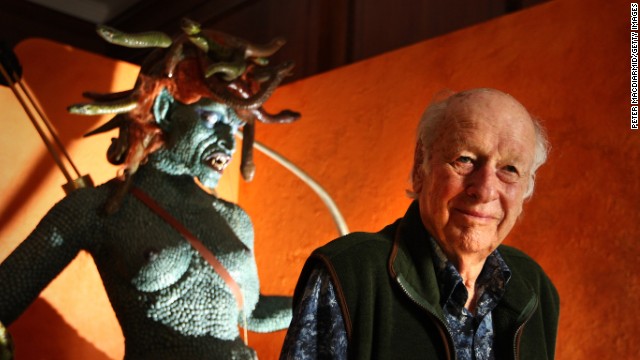 Ray Harryhausen
, the stop-motion animation and special-effects master whose work and influence was far-reaching, poses in front an enlarged model of Medusa from his 1981 film "Clash of the Titans" in London in 2010. Harryhausen has died at 92, according to the
Facebook page
of the Ray and Diana Harryhausen Foundation.
Skeleton soldiers from "Jason and the Argonauts" (1963) are displayed at the opening of "The Fantastical Worlds of Ray Harryhausen" exhibition at the Academy of Motion Picture Arts and Sciences in Beverly Hills, California, on May 13, 2010.
Attendees view the Harryhausen exhibit on May 13, 2010, in Beverly Hills.
A model of a cave troll from Peter Jackson's "The Lord of the Rings: The Fellowship of the Ring," whose movement was reportedly inspired by Harryhausen's animation, is on display at an exhibition in Potsdam, Germany, on January 18, 2007.
The characters Mike and Celia from the 2001 Pixar film "Monsters, Inc." give an onscreen nod to Harryhausen when they go on a date to his fictional restaurant.
The character Victor Van Dort plays a fictional Harryhausen piano with the corpse bride in a scene from Tim Burton's 2005 film "The Corpse Bride."
A scene from the music video for "Bones" by The Killers features references to the skeleton fight from "Jason and the Argonauts."
"Gremlins 2: The New Batch" from 1990 features a rhedosaurus, a creature from Harryhausen's 1952 film, "The Beast From 20,000 Fathoms."
Harryhausen manipulates a figure of a serpent-like monster for a stop-motion animation scene, circa 1965.
Harryhausen works with a figure of a dinosaur for an unidentified film.
An illustration for an unidentified Harryhausen film shows a caveman lying on the ground with a spear as he is attacked by a dinosaur, circa 1965.
An illustration for an unidentified Harryhausen film circa 1965 shows a winged dinosaur dragging away a caveman while group of cavemen attacks with spears.
Special effects pioneer's wide influence
Special effects pioneer's wide influence
Special effects pioneer's wide influence
Special effects pioneer's wide influence
Special effects pioneer's wide influence
Special effects pioneer's wide influence
Special effects pioneer's wide influence
Special effects pioneer's wide influence
Special effects pioneer's wide influence
Special effects pioneer's wide influence
Special effects pioneer's wide influence
Special effects pioneer's wide influence