STORY HIGHLIGHTS
A bombing suspect's friend accused of lying to authorities is due in court Monday
Cambridge's city manager says the older bombing suspect can't be buried there
Officials will announce a plan on how to distribute roughly $28 million in compensation
(CNN) -- As one bombing suspect recovers in a prison hospital and cemeteries reject the body of the other, a whirlwind of new developments are swirling around the investigation into the Boston Marathon bombings.
Here are five major developments that took place over the weekend and what's expected to happen next in the case:
1. One suspect appears in court
One of the three friends accused of helping Dzhokhar Tsarnaev, the younger of the two suspects, cover up his alleged crime is due in court for a bail hearing Monday.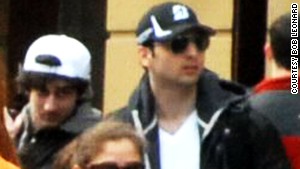 Covering the Boston suspects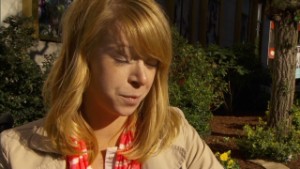 Boston bombing victim visits memorial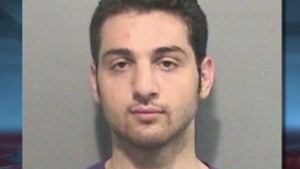 Funeral director: We should be commended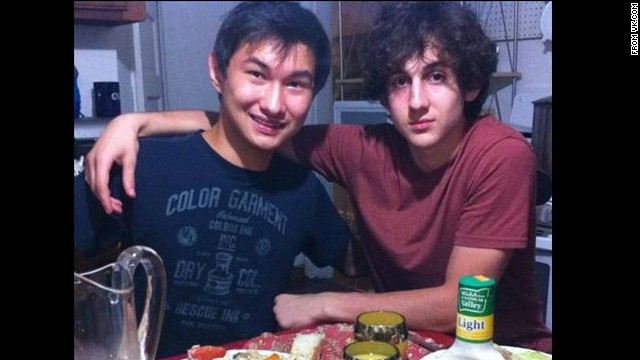 Dias Kadyrbayev, left, with Boston Marathon bombing suspect Dzhokhar Tsamaev in a picture taken from the social media site VK.com. Kadyrbayev is expected to plead guilty August 21 to charges in connection with removing a backpack and computer from Tsamaev's dorm room after the April 2013 bombing, according to a defense lawyer.
Bombing suspect Tamerlan Tsarnaev was killed during the shootout with police in Watertown, Massachusetts, on April 19, 2013. He is pictured here at the 2010 New England Golden Gloves.
Dzhokhar Tsarnaev was captured in a Boston suburb on April 19, 2013, after a manhunt that shut down the city. In July, he pleaded not guilty to killing four people and wounding more than 200.
From left, Azamat Tazhayakov and Dias Kadyrbayev went with Boston bombing suspect Dzhokhar Tsarnaev to Times Square in this photo taken from the social media site VK.com. A federal grand jury charged Tazhayakov and Kadyrbayev with obstructing justice and conspiracy to obstruct justice relating to the removal of a backpack from Tsarnaev's dorm room after the bombings. Tazhayakov was convicted of conspiracy and obstruction charges in July 2014. He faces up to 25 years in prison at his sentencing in October. He has filed an appeal.
Robel Phillipos, a U.S. citizen, was also arrested on May 1, 2013. He was charged with lying to federal agents about the bombing, according to court papers.
Phillipos, Tazhayakov and Kadyrbayev are accused of removing items from Tsarnaev's dorm room after the bombings on April 15, 2013. The items they took included a backpack containing fireworks that had been "opened and emptied of powder," according to the affidavit.
The FBI released photos and video on April 18, 2013, of two men identified as Suspect 1 and Suspect 2 in the deadly bombings at the Boston Marathon. They were later identified as Dzhokhar Tsarnaev, 19, and his brother Tamerlan Tsarnaev, 26.
Boston Police released surveillance images of Dzhokhar Tsarnaev at a convenience store on April 19, 2013.
The FBI tweeted this photo on April 19, 2013, and urged Watertown residents to stay indoors as they searched for the second suspect.
The FBI released photos and video on April 18, 2013, of two men it called suspects in the deadly bombings and pleaded for public help in identifying them. The men were photographed walking together near the finish line.
A man identified as Suspect 2 appeared in this photograph by bystander David Green, who took the photo after completing the Boston Marathon. Green submitted the photo to the FBI, he told Piers Morgan in an interview.
The man identified as Suspect 2 appears in a tighter crop of David Green's photo.
Authorities later identified Suspect 1 as Tamerlan Tsarnaev.
Suspect 2 was identified as Dzhokhar Tsarnaev.
Suspect 1 walks through the crowd.
Suspect 1 walks through the crowd.
Suspect 1 walks through the crowd.
Both suspects are seen walking through the crowd.
Suspect 2 walks through the crowd.
Suspect 2 walks through the crowd.
A photo released by the FBI highlights Suspect 2.
A photo released by the FBI highlights Suspect 2.
Suspect 2 walks through the crowd. See all photography related to the Boston bombings.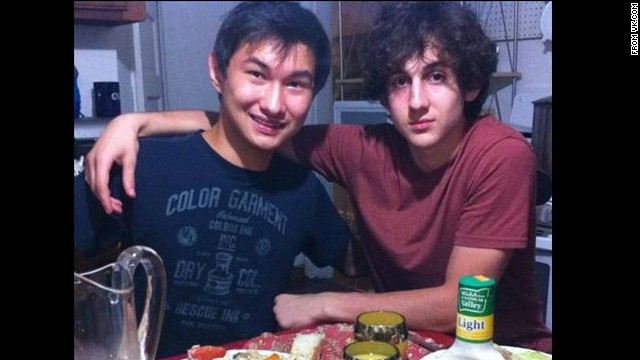 Photos: Suspects tied to Boston bombings
Robel Phillipos, 19, is accused of making false statements to federal investigators during a terrorism investigation. If convicted, he could go to prison for eight years and be fined as much as $250,000.
Phillipos and two mutual friends met at Tsarnaev's dorm room the night authorities released photos of the bombing suspects, according to an FBI affidavit. Tsarnaev texted one of the friends, saying he could "come to my room and take whatever you want."
Tsarnaev wasn't in his dorm room, but his roommate let the friends in.
Phillipos first denied to investigators ever going to the dorm room, then later changed his story, the affidavit states.
While watching a movie, one or more of the friends spotted a backpack, according to the statement. Inside, Phillipos noticed about seven tubular fireworks, each between 6 and 8 inches long. The fireworks' powder had been taken out.
The three friends left with the backpack and laptop, the FBI affidavit states. The backpack was thrown in a trash bin and ended up in a New Bedford landfill, only to be found six days later.
FBI: How Dzhokhar Tsarnaev's friends took, trashed key pieces of evidence
2. Cemeteries don't want to bury Tamerlan Tsarnaev
For two weeks, no one claimed the body of Tamerlan Tsarnaev, the elder bombing suspect who died the night he and his brother led police on a wild chase.
Now, the funeral home holding his remains is struggling to find a place to bury him.
The brothers' parents in Dagestan have said they will not fly his body back to Russia for burial, spokeswoman Heda Saratova said.
And Cambridge City Manager Robert W. Healy said he would not allow Tsarnaev to be buried in the city if requested by the funeral director or Tsarnaev's family.
"The difficult and stressful efforts of the citizens of the City of Cambridge to return to a peaceful life would be adversely impacted by the turmoil, protests, and widespread media presence at such an interment," Healy said in a statement Sunday.
Explaining his decision, he cited an excerpt from Massachusetts state law saying that "it shall be the duty of the city manager to act as chief conservator of the peace within the city."
"I have determined that it is not in the best interest of 'peace within the city' to execute a cemetery deed for a plot within the Cambridge Cemetery for the body of Tamerlan Tsarnaev," Healy said.
Tsarnaev's body now lies at Graham Putnam & Mahoney Funeral Parlors in Worcester, west of Boston.
Peter Stefan, owner of the funeral home, said three cemeteries he's contacted said they feared reprisals. If he can't find a gravesite, Stefan said he plans to ask the government to find one.
The funeral home owner said everyone deserves to be buried.
"This is what we do in a civilized society, regardless of the circumstances," he said.
3. $28 million to go to victims
On Monday, officials from The One Fund Boston will unveil a tentative plan to distribute roughly $28 million to bombing victims and their families.
Representatives will hold town hall meetings Monday and Tuesday in Copley Square to discuss the plan.
Putting a price tag on suffering
Kenneth Feinberg, administrator of The One Fund Boston, told CNN's Don Lemon that while the amount of money might sound substantial, "you have to dampen expectations."
"I doubt anyone will be made whole by these allocations," he said.
"No amount of money distributed fairly quickly over the next month or two is going to provide the type of long-term financial stability" needed by a double-amputee or somebody hospitalized with a brain injury, Feinberg said. "There's just not enough money for those purposes."
4. Residue in the kitchen sink
Federal authorities on Sunday searched Tamerlan Tsarnaev's apartment, the home he shared with his wife, Katherine Russell, and their young daughter.
It was not immediately clear whether investigators had taken anything from the apartment Sunday.
But on Friday, a source briefed on the investigation said law enforcement officials found explosives residue in the small apartment.
The source said the residue turned up in at least three places: the kitchen table, the kitchen sink and the bathtub.
Dzhokhar Tsarnaev has said the two brothers built the bombs in the apartment, U.S. law enforcement officials briefed on the investigation have said.
Russell, the widow, has remained largely out of view since her husband's death, staying in her parents' Rhode Island home.
Her attorney, Amato DeLuca, said the 24-year-old knew nothing about plans to bomb the race, and reports of her husband's involvement came as an "absolute shock" to Russell and her family.
5. Wrong place, wrong time, wrong people
Amir Ismagulov, the father of Azamat Tazhayakov, said his son was simply at the wrong place at the wrong time with the wrong people.
Tazhayakov and Dias Kadyrbayev, both 19, are accused of obstruction of justice after allegedly removing the laptop and backpack from Dzhokhar Tsarnaev's room.
If convicted, they could face up to five years in prison and a $250,000 fine.
Tazhayakov's father, who lives in Kazakhstan, told CNN in New York that he met with his son last week for about 40 minutes.
Both father and son believe in the U.S. justice system, Ismagulov said. The government will get to the bottom of what happened and let Tazhayakov go, the father said in Russian.
Teenagers sometimes do stupid things, Ismagulov said, stressing that his son didn't know he was doing anything wrong.
CNN's Eric Fiegel, Greg Botelho and Rob Frehse contributed to this report.