Jury out on major light inductees to golf's fabled Hall of Fame
updated 11:44 AM EDT, Mon May 6, 2013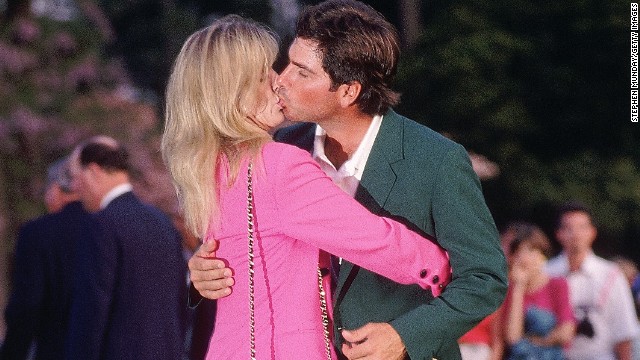 Sealed with a kiss. Fred Couples celebrates his one and only major success at the 1992 Masters with his wife Debbie.
Colin Montgomerie is left to reflect on another major near miss as he trudges off the 18th at Winged Foot in the 2006 U.S. Open after a double bogey six cost him victory.
Former European Tour chief Ken Schofield (left) has also been inducted to the Hall of Fame for his services to golf. He shares the moment with his successor George O'Grady and Montgomerie
Former Masters winner Ray Floyd has been critical of recent choices for the World Golf Hall of Fame.
Hall of Fame chief operating offer Jack Peter shows CNN Living Golf's Shane O'Donoghue the Hall of Fame locker room.
Phil Mickelson's elevation to the Hall of Fame last year was widely applauded even though he is still an active player on the PGA Tour.
Floyd's locker in the Hall of Fame is situated next to fellow Ryder Cup star and golf legend Tom Watson.
Major moment
Monty miss
Pair honored
Unhappy Floyd
Fame celebrated
Mickelson inducted
Legends remembered
STORY HIGHLIGHTS
Golf picks its Hall of Fame inductees annually
Announcement made at PGA Tour's Players tournament at Sawgrass
Colin Montgomerie and Fred Couples picked in the player category for 2013
Choices have prompting stinging criticism from former great Ray Floyd
(CNN) -- It's become as much an integral part of the annual golfing calendar as any tournament.
Every year in the week of the Players tournament at TPC Sawgrass, a select few are inducted to World Golf's Hall of Fame (WGHOF).
But the 2013 ceremony on May 6 is not without a degree of controversy -- thanks to the caustic observations of one of th