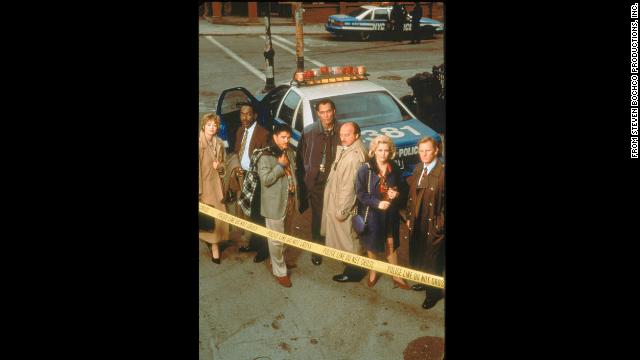 "NYPD Blue" (1993)
: Steven Bochco's gritty crime drama broke past established network limits for language and nudity -- and also paid attention to character.
"The X-Files" (1993): Science fiction and horror have rarely gotten a fair shake on television, but Chris Carter's series was not only a hit, it created a whole alternative universe -- and fans eagerly followed.
"Frasier" (1993): If "dying is easy, comedy is hard," then farce -- with its slamming doors, misunderstandings and razor-sharp timing -- is brutal. But "Frasier" made it look easy.
"My So-Called Life" (1994): Few series about teenagers had ever captured the angst of adolescence the way this series, starring Claire Danes, did.
"Buffy the Vampire Slayer" (1997): The movie wasn't much, but the depth of the TV series has led to whole college courses studying Buffy and the rest of the Sunnydale's "Scooby Gang."
"Freaks and Geeks" (1999): Another series that got high school right and suffered in the ratings for it. Its cast, however -- including Seth Rogen, Linda Cardellini and James Franco -- has gone on to big things.
"The West Wing" (1999): Aaron Sorkin partisans may prefer "SportsNight," but his series about a bold president and his energetic staff won awards and strong ratings.
"The Sopranos" (1999): A series about a psychologically troubled mob boss? Not only did it work, it helped make HBO the go-to network for high-quality television.
"The Wire" (2002): David Simon's five-season exploration of a city and its competing forces, with Baltimore at its center, has been called "Dickensian" by critics.
"The Shield" (2002): Michael Chiklis was better known as the cuddly "Commish" until he took on the role of the brutal cop Vic Mackey, and his series always kept its audience on its ethical toes.
"Chappelle's Show" (2003): Sure, it was a sketch show. But what a sketch show, venturing into topics -- especially race -- where high-minded dramas feared to tread.
"Arrested Development" (2003): Its creator begged audiences to watch. They never did in big numbers, but those who paid attention found a brilliant comedy that wasn't afraid of absurdist rabbit holes. A new season comes to Netflix at the end of May.
"Battlestar Galactica" (2004): The original network version capitalized on "Star Wars." The 21st-century version explored the war on terror and just what it meant to be human.
"Lost" (2004): Fans are still arguing about the ending, but in the show's mythology and characters, they found puzzles that kept them arguing for the entire run.
"Friday Night Lights" (2006): Based on a best-selling book and hit movie, the TV series offered a wisdom about small towns and relationships seldom seen in the medium.
"30 Rock" (2006): The pace was frantic, the references knowing and the comedy never-ending in the NBC series, which went off the air earlier this year.
"Mad Men" (2007): The 1960s, as told from the perspective of a successful New York advertising firm, has had a lot to say about then -- and now.
"Breaking Bad" (2008): The premise: Turn Mr. Chips into Scarface. How far will audiences follow? Based on the ratings and chatter, all the way to the bitter end -- due later this year.
"Louie" (2010): Louis C.K.'s comedy has just as often been the saddest show on television.
"Game of Thrones" (2011): HBO's multimillion-dollar gamble of a series based on George R.R. Martin's intricate books has managed to translate well to the small screen.
20 great shows from the past 20 years
20 great shows from the past 20 years
20 great shows from the past 20 years
20 great shows from the past 20 years
20 great shows from the past 20 years
20 great shows from the past 20 years
20 great shows from the past 20 years
20 great shows from the past 20 years
20 great shows from the past 20 years
20 great shows from the past 20 years
20 great shows from the past 20 years
20 great shows from the past 20 years
20 great shows from the past 20 years
20 great shows from the past 20 years
20 great shows from the past 20 years
20 great shows from the past 20 years
20 great shows from the past 20 years
20 great shows from the past 20 years
20 great shows from the past 20 years
20 great shows from the past 20 years
STORY HIGHLIGHTS
We are living in a new golden age of television
With abundance of good scripted shows, TV is no longer the "idiot box"
There are more distribution channels -- and more devoted fans -- than ever
(CNN) -- Alan Sepinwall has a problem.
The Hitfix.com TV writer often writes recaps for several TV series and keeps up with many others for his "What's Alan Watching" column. For years, that was no big deal.
Now, though, it's too much.
"This TV season is the first time I've began to feel like there may, in fact, be too much good TV," he wrote in his April 11 column.
This wasn't a complaint, he hastened to say, but a conundrum. There are only so many hours in a day, only so much space on his DVR, and yet so much to write about: an abundance of excellence, or at least merit.
We are living in good TV times. No longer is it easy to insult television as the "idiot box." With more channels and more choices, there are also more creative voices being heard.
Less than a decade ago, top-tier scripted television was mainly limited to HBO, bits and pieces on other cable networks (FX's "The Shield," the network formerly known as Sci-Fi's "Battlestar Galactica") and a handful of shows on the broadcast networks. Now it's all over the place: AMC ("Mad Men," "Breaking Bad"), Netflix ("House of Cards"), the Sundance Channel ("Rectify"). Even Amazon has gotten into the game, offering 14 children's and comedy pilots and letting users vote on the most promising.
"We've got new players entering all the time," says Sepinwall, who traced the rise of good programming in his book, "The Revolution Was Televised," due for rerelease May 21. "Netflix is now making shows. Amazon is starting to make shows. History, A&E ... my view is always that when a new player comes on the scene, good things tend to happen."
'It made me mad'
It's not like television was a "vast wasteland," in the immortal words of former FCC Chairman Newton Minow, before we all got wired for cable.
Old-timers still rave about the "golden age" of the 1950s, when "Playhouse 90" and "Kraft Television Theatre" were running original works by Rod Serling, Reginald Rose and Paddy Chayefsky while Sidney Lumet, Delbert Mann and John Frankenheimer handled the directing. Partisans of the 1970s trot out MTM's output ("The Mary Tyler Moore Show," "The White Shadow"), Norman Lear's provocative comedies ("All in the Family," "Maude"), "M*A*S*H" and "Columbo" to make their case.
But those shows were the exception, not the rule. In the three-network world that existed until the 1980s, it always paid to pursue the broadest audience, and that meant keeping it simple and uncontroversial. The brave stuff stood out for its quality as well as its ratings, as if the two had to be mutually exclusive.
It's not like people didn't notice.
"I remember thinking in fifth grade, 'I have to get inside that box and make this s--t better,' " Louis C.K. said in a 2005 interview. "It made me mad that the shows were so bad. People have a right to relax and watch theater about themselves that makes them reflect and feel and have a good time doing it."
But change was just around the corner.
Robert Thompson, director of Syracuse University's Bleier Center for Television and Popular Culture, dates the modern era of high-quality television to 1981 and the debut of the gritty, documentary-like "Hill Street Blues." He adds that it's no accident that its first season dovetailed with the rise of videocassette recorders and cable, two inventions that splintered the viewing audience and made it possible for a struggling show such as "Hill Street" to stay on the air.
It made me mad that the shows were so bad.
Louis C.K. on TV in the '70s
"All of a sudden there's this idea you can program for demographics instead of mass numbers," he says. "Once the networks allowed things like 'Hill Street Blues' and 'St. Elsewhere' in, with lower ratings but great demographics, it provided a model."
The progress was slow -- as Thompson observes, for every "St. Elsewhere" there was a "Knight Rider" -- but inexorable.
The Fox network, which debuted in 1987, was willing to gamble on shows such as "The X-Files" (a sci-fi genre show that succeeded) and "Profit" (a dark show about a psychopathic businessman that failed).
The WB, which didn't need huge ratings to survive, stayed with "Buffy the Vampire Slayer" for seven seasons. And the Big Three contributed "NYPD Blue" (like "Hill Street," a product of producer Steven Bochco), "Twin Peaks," "Homicide," "Picket Fences" and "ER."
Since then, the quality has risen in waves, with each tide bringing in more good shows than the one before and generally raising the bar for all scripted television.
Ahead of the curve, behind the eight-ball
The most recent wave probably dates back to 2007, the last year of HBO's "The Sopranos" and the first of "Mad Men."
By then, HBO had established itself as TV's gold standard, using the award-winning "Sopranos" as the base to launch several other well-received series, notably "Six Feet Under" and "The Wire." But it, like pretty much everybody else in the business, passed on "Mad Men," which gave AMC -- until then better known as the former American Movie Classics, purveyor of old films -- an opening. The network was seeking to create "product of distinction," in the words of its president, Charlie Collier.
"(We asked ourselves,) 'How do we become premium television on basic cable?' " Collier says, noting that the network wanted to find programming that complemented its movie offerings. "If we can offer a premium experience but on ad-supported television, that would be something unique in the cable landscape."
Since then, AMC has added the equally highly praised "Breaking Bad," along with the solid "Walking Dead" and "The Killing." Its slogan is now "Story matters here." The competition is no longer Turner Classic Movies; it's now, well, everybody else.
That has brought its own set of problems. Unlike movies, which are driven by stars and directors, television is a writer-dominated medium -- and with so many outlets in what's become a 500-channel/Internet streaming business, the best talents have their pick of channels.
AMC has taken hits from fans and critics, particularly for the turnover on the highly rated "Walking Dead." FX's John Landgraf even went so far to take a dig at his competitor: "We've never fired a showrunner," he said at the Television Critics Association press tour in January.
As you'd expect, Collier defends his network, noting strong relationships with "Mad Men's" Matthew Weiner and "Breaking Bad's" Vince Gilligan. But with both shows nearing their finales -- "Breaking Bad" will conclude this summer, and "Mad Men" has one more season to go -- he's well-aware that he has to go on the offensive.
This summer will see the premiere of "Low Winter Sun," a 10-episode Detroit-set crime series starring "Zero Dark Thirty's" Mark Strong; in development are "King," a 1960s period drama about race and politics from "Sopranos" writers and producers Diane Frolov and Andrew Schneider, and "Halt and Catch Fire," about the early days of the personal computing industry.
"Our job is always to be working a few years ahead," he says. "There's not a day I take 'Mad Men' or 'Breaking Bad' or 'Walking Dead' for granted ... and we'll keep looking for future hall of famers."
Wide-open world
Along with the dramas on AMC are a slate of reality shows -- and, in a world that allows for the rise of more great scripted TV, there's also plenty of room for that cheaply made, easy-to-program genre all over television.
It makes financial sense.
Reality shows still do well in the ratings, particularly on cable, where regular winners include A&E's "Duck Dynasty" and USA's "WWE Entertainment." (Of course, maybe the latter should qualify as "scripted.") As Bill Gorman, co-founder of the TV ratings site TV by the Numbers, points out, the medium is "hit-driven," and so success breeds imitation.
But scripted shows also have financial benefits: They're a bonanza on home video and hugely popular in reruns: The second season DVD of HBO's "Game of Thrones" broke the network's sales records, "NCIS" is a huge success on USA, and Gorman observes that TBS' reruns of "The Big Bang Theory" occasionally beat first-run fare on the broadcast networks.
The latter two programs might come in for sneers from certain TV connoisseurs, but Thompson says that even the least celebrated of today's scripted programming -- the police procedurals, soapy serials and sitcoms that remain the mainstays of broadcast TV -- are considerably better crafted than their counterparts a generation ago.
Others have noticed, too: Science writer Steven Johnson devoted a section of his book "Everything Bad Is Good for You" to showing how the construction of the average show of today far outstrips the "Kojaks" of yore. (Comedy is no exception: though the laughs are still the thing, the intricacies of "The Simpsons" and "30 Rock" make many predecessors look like they're joking in slow motion.)
"Back then, a critically acclaimed drama was 'Lou Grant,' " Thompson observes. "And if you go back and look at 'Lou Grant,' as earnest and as interesting as that show was, it was very, very primitive."
If there's a danger of this new golden age, it's that the shows are targeted at smaller and smaller slices of audience. As Grantland's Andy Greenwald pointed out in a pair of insightful articles, that can prompt networks to chase their own tails.
"I can't help but wonder if TV, by chasing narrowcasting down the new-media rabbit hole, is stratifying itself into creative limbo," he wrote.
Where that might lead is anyone's guess.
Already, Peter Chernin, the former president of Fox's parent, News Corporation, has announced that his production company is introducing a reality series that will run solely on Twitter and other social media sites. That follows in the wake of some scripted-improvisational shows, such as "Childrens Hospital" and "Web Therapy," that began as online shorts and then moved to television networks.
Indeed, not only are there are more outlets than ever -- there are more devoted fans to support their darlings.
The long-canceled "Veronica Mars" maintained enough of a following for fans to pitch in $5.7 million on Kickstarter to launch a movie; "Arrested Development" comes to Netflix at the end of May, partly because the show never really went away. (Thanks to DVDs and streaming services, you never have to stop watching your favorite show.)
At least, all these programs will provide critics such as Sepinwall plenty to chew over.
"TV is aspiring to more complexity now than it ever has before, and that in turn makes it easier to write about it the way that I do," he says.
Besides, he says, now he knows he's not alone when his DVR runneth over.
"Both from TV critics and non-TV critics alike, it's been, 'Thank you!' " he says with a laugh. "'If you of all people are saying it, then I'm not going crazy here.'"
HBO, TBS, Turner Classic Movies and The CW (formerly The WB) are units of Time Warner, as is CNN.