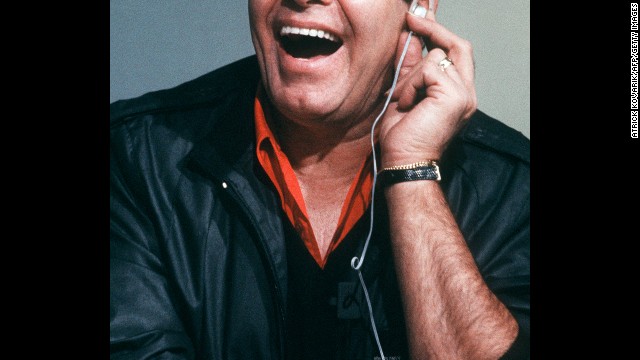 These days, there is a podcast for just about every subject under the sun. There are podcasts that dissect your favorite TV shows, podcasts of iconic radio programs such as "This American Life," podcasts about sports, politics, and culture from professionals and laymen alike. Here are of six free comedy-oriented podcasts to get you started.
Since 2009, Marc Maron has taped almost 400 episodes. His ability to book A-list talent and extract personal details from their lives makes this a must-listen for anyone interested in the arts and entertainment. It's like a late-night interview on steroids and self-deprecation.
Chelsea Peretti's podcast is pure voyeuristic joy as she has conversations about anything with strangers who call her. At times, she finds herself treading rather weird territory, but she's incredibly witty and quick to crack a joke (or hang up). You rarely know the direction she's going, which is what makes it so great.
Inspired by Marc Maron's podcast, comedian Pete Holmes has candid conversations with some of today's biggest comedians. Unlike Maron's show, "Weird" is more of a conversation, with the hook centering around Holmes bringing up "weird things" he knows about his guests.
Jeff Garlin is probably best known as Larry David's manager on "Curb Your Enthusiasm," but he's had a lengthy career in show-business and a contact list to prove it. On "By the Way," Garlin sits on stage at the Los Angeles club Largo and records conversations with guests such as Lena Dunham, Wilco's Jeff Tweedy and J.J. Abrams, in front of a live audience. This is your Rated R late-night show, where Garlin's improv background (and propensity to giggle) is on display.
Ever wonder how an awful movie actually got made? So does comedian Paul Scheer ("The League"). Each week, he sits down with fellow comedians June-Diane Raphael and Jason Mantzoukas and a special guest to dissect films like "Jingle All the Way" and "Anaconda." He even once got Vanilla Ice to weigh in on the 1991 bomb "Cool as Ice." Viewing of the films not required.
Aisha Tyler ("Talk Soup," "Archer") spends each week discussing (and sometimes ranting) about comics, sex, drinking, video games -- anything that your stereotypical guy loves. Guests are frequently other comedians, but she's also known to have football players, musicians and chefs. It's like you're eavesdropping on two old friends catching up over drinks.
Six podcasts to listen to
Six podcasts to listen to
Six podcasts to listen to
Six podcasts to listen to
Six podcasts to listen to
Six podcasts to listen to
Six podcasts to listen to
STORY HIGHLIGHTS
Popular comedy podcasts are now being turned into television shows
Podcasts allow comedians to hone their voice, get their name out there on a regular basis and grow an audience
TV execs hope to attract both podcast fans and grow an audience outside of the niche
(CNN) -- In the summer of 2009, comedian Marc Maron spent his days in New York City working for the now defunct Air America radio network, hosting a show called "Breakroom Live."
When the program was abruptly canceled, the company didn't take away Maron's keycard, so he used his access to recording resources to record and launch his podcast "WTF with Marc Maron" in September of that year. "I was almost out of money, my career was really fading away," Maron says. "The only thing we really decided on was our schedule: Let's do two a week, no matter what. And the show sorta evolved from there."
Nearly four years later, Maron's become a king of the comedy podcast world, where he tapes episodes in his home garage and has icons of the comedy world such as Ben Stiller and Mel Brooks, as well as actors, musicians, chefs -- anyone that he can have candid conversations with about their career arcs and views on life.
Beginning May 3, Maron can be seen anchoring his own show on IFC simply titled "Maron." And no surprise, it's about a rather neurotic comedian who tapes a podcast in his garage and the day-to-day missteps he makes as a twice-divorced guy trying to stay afloat in Los Angeles. Maron developed the show with Apostle Film and TV production, which is run by actor/comedian Denis Leary and Jim Serpico, both fans of the podcast.
"Maron" is not the first show to have podcast roots.
HBO turned Ricky Gervais' much-lauded podcast "The Ricky Gervais Show" into an animated series. Chris Hardwick's beloved "Nerdist" podcast has a spinoff show on BBC America, "The Nerdist." Actor/director Kevin Smith's AMC reality show "Comic Book Men" was spawned from a podcast and now features a companion podcast called "The Secret Stash" that fans can listen to for more insight into the show. And IFC also tapped Scott Aukerman's "Comedy Bang! Bang!" podcast for a show that was renewed earlier this year for a second season.
While there's obviously no guarantee that a podcast will lead to TV, podcasts provide an opportunity for comics to hone their voices and grow their audiences without having to hit the road.
IFC's other show, "Comedy Bang! Bang!" was developed even more directly from the original podcast. Caserta and others at IFC were fans of the podcast, Caserta says, and so with host Scott Aukerman, IFC decided to make a direct conversion to a TV show.
Shows that already have a podcast following can bring a loyal ready-made following that can help both sell and promote a TV show, says Caserta. "The ultimate goal is to not just attract the podcast fans -- but also to get people who just like the shows. Get more audience in the door."
Pete Holmes, launched his own podcast "You Made It Weird" in October 2011 after being inspired by Maron's "WTF." On "You Made It Weird," Holmes has guests over where they talk about "weird things" in their lives, but often stray into long tangents that give listeners fly-on-the-wall access to intimate conversations.
This fall, Holmes is hosting his own late night show that will be a mix of sketch comedy, stand-up and interviews on TBS following "Conan." Though Holmes says the podcast wasn't part of a predetermined plan to get a TV show, the initial pitch, he says, owes a big debt to his podcast.
Podcasting has other advantages, says Holmes. "A lot of us podcasters are discovering that there is a pretty large fan base who have an insatiable appetite for this type of programming. What comes back is it's this little program that does the touring for you. Pretty much anywhere in the country, you can find your people.
Comedian Chelsea Peretti has written episodes of NBC's "Parks and Recreation" and has appeared on episodes of "Louie" and "The Sarah Silverman Program." In her own podcast, launched last fall, "Call Chelsea Peretti," she fields calls from strangers and gives them a topic to discuss.
"The idea for the show came from the charged interactions I was having with random people on Twitter," she says. "I thought it would be an interesting experiment to do a podcast where I was forced out of my comfort zones and into talking to total strangers, because weird things happen when I get into that fight or flight mode."
For Peretti, podcasting is more than just recording and posting the episode a few hours later. She spends hours listening and editing it, before an episode gets released. Though she doesn't necessarily have TV aspirations for the podcast, she's seeing results on the road -- and is slated to appear in a new untitled cop comedy this fall on Fox from Mike Schur of "Parks and Recreation."
The podcast "is doing exactly what I wanted it to do: giving fans a regular place to get my sense of humor with no middle men and giving casual followers a chance to get to know my sensibility better," she says.
The new model for success for stand-up comedians is no longer defined solely by sold-out shows or Comedy Central specials. "I've been working half my life or more at this (comedy) thing," Maron says.
"I don't think I've been a funnier stand-up than I am now. I'm happy. And I owe a lot of it to that f--king podcast."