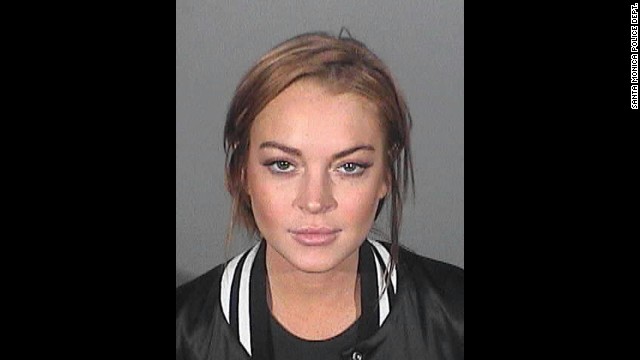 Lohan poses for a mug shot on Tuesday, March 20, after accepting 90 days in a "locked in" drug rehab facility for misdemeanor charges. Her six years of legal troubles trace back to two drunken driving arrests in 2007 and include other incidents in which she was behind the wheel.
Lindsay Lohan appears in court with her attorneys Anthony Falangetti, left, and Mark Heller in Los Angeles on Monday, March 18. She entered pleas of no contest on two misdemeanor charges relating to a traffic accident last summer, and she did not challenge the finding that she violated her shoplifting probation with those convictions.
Lohan's mug shot from July 2007 for driving under the influence.
Lindsay Lohan attends her probation hearing at the Airport Courthouse in March 2012 in Los Angeles. Superior Court Judge Stephanie Sautner decided to take Lohan off probation from a 2007 drunken driving case and said that she will no longer have to meet with a probation officer or appear in court on her 2011 shoplifting case, as long as she obeys all laws through May 2014.
Lohan leaves a progress report hearing at Venice Airport Branch Courthouse in Los Angeles in January 2012.
Lohan's mug shot from October 2011 after she was arrested for probation violations. She was released after posting $100,000 bail.
Lohan is led away in handcuffs at her probation progress report hearing at the Airport Courthouse in October 2011.
Lohan cries next to her lawyer Shawn Chapman Holley as she is sentenced to 90 days in jail by Judge Marsha Revel during her hearing at the Beverly Hills Courthouse in July 2010. Lohan violated her probation in two 2007 drunk driving cases.
Lohan poses for a booking photo after being arrested on DUI charges at Lynwood Jail in November 2007. Lohan voluntarily reported to the facility to serve her minimum 24-hour jail sentence that was part of a plea bargain for two DUI charges.
Lindsay Lohan in trouble
Lindsay Lohan in trouble
Lindsay Lohan in trouble
Lindsay Lohan in trouble
Lindsay Lohan in trouble
Lindsay Lohan in trouble
Lindsay Lohan in trouble
Lindsay Lohan in trouble
Lindsay Lohan in trouble
STORY HIGHLIGHTS
NEW: The lawyer Lindsay Lohan fired in January returns to help her avoid jail again
NEW: The actress faced jail unless she entered rehab
Lohan abruptly left another rehab center Thursday
The actress must spent 90 days in rehab, a judge ordered
Los Angeles (CNN) -- Lindsay Lohan checked into a California rehab center early Friday, ending -- at least for now -- a drama that has had more twists and turns than a high-speed car chase.
Shawn Holley, the lawyer who guided Lohan through years of legal turmoil until the actress abruptly fired her in January, helped her avoid jail once again by brokering a deal, her father told CNN Friday.
"I am so thankful to Shawn Holley and Evan Haney, her manager, for doing this," Michael Lohan said.
While he wouldn't name the California facility his daughter entered, he noted it is a rehab program she's been in before.
The actress underwent three months of court-ordered substance abuse rehab at the Betty Ford Clinic at the end of 2010, but she was in legal trouble again weeks later -- facing a shoplifting charge that led to her current woes.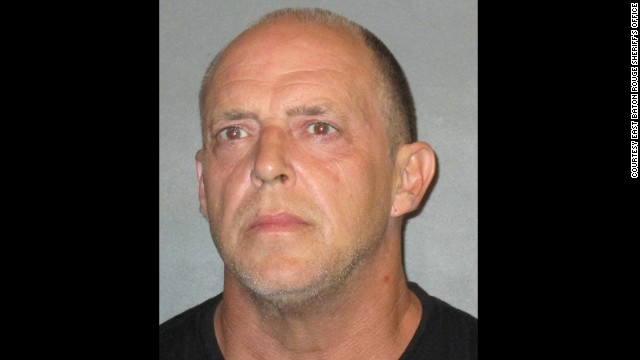 Will Hayden -- Red Jacket Firearms owner and the Discovery Channel's "Sons of Guns" reality star -- was arrested in East Baton Rouge, Louisiana, on August 8, 2014. He was accused of child molestation and was charged with a crime against nature. Hayden was released on $150,000 bail. On August 27, 2014 Discovery canceled his show after Hayden was arrested on a charge of aggravated rape.
Rapper Gucci Mane turned himself in to authorities in March 2013 after a warrant was issued for his arrest on aggravated assault charges in Atlanta. In August 2014, he was sentenced to three years and three months in federal prison on firearm charges.
Farrah Franklin, 33, was arrested near Myrtle Beach, South Carolina, on a disorderly conduct charge on Sunday, July 20. The former Destiny's Child member was released on $280 bail after seven hours in custody, according to the Horry County Sheriff's Office website.
Russell Neal of the '90s R&B group Hi-Five faces murder charges in the death of his 24-year-old wife. Neal turned himself in to police and said the couple had been fighting, but he would not answer further questions without his lawyer. This is not the first time Neal has had a brush with the law. He's previously been charged with DUI, possession of marijuana and criminal trespassing.
Gregg Jarrett, an anchor with Fox News, was arrested on a misdemeanor charge of obstruction of the legal process and interfering with a peace officer at Minneapolis-St. Paul International Airport. He was released on $300 bond.
A former cast member of "Ice Road Truckers: Deadliest Roads" is accused of kidnapping a prostitute in Las Vegas, a police report said. Tim Zickuhr, who appeared as a driver in episodes of the History Channel show in 2011, was arrested on kidnapping, extortion and coercion charges by Las Vegas police on December 19.
TV's Judge Joe Brown was jailed on a contempt of court charge issued by a Tennessee juvenile judge on March 24, according to a court spokesman. He was later released on his own recognizance, CNN affiliate WMC-TV in Memphis, Tennessee, reported. Brown was in court to represent a client in a child-support case and allegedly became upset when he was told the case was not on the afternoon docket.
"The Partridge Family" star David Cassidy was ordered to three months of rehab on March 24, after pleading no contest to a DUI charge from January. It was his second DUI arrest in six months and third since 2011.
Tyler, the Creator was charged with a misdemeanor on March 15. The rapper is accused of inciting a riot at the 2014 SXSW festival in Austin, Texas.
Justin Bieber was charged with drunken driving, resisting arrest and driving without a valid license after police saw the pop star street racing in a yellow Lamborghini in Miami on January 23. "What the f*** did I do?" he asked the officer. "Why did you stop me?" He was booked into a Miami jail after failing a sobriety test.
Singer Bruno Mars was arrested on September 19, 2010, in Las Vegas, Nevada, on a drug charge. He later accepted a "deferred adjudication" deal in 2011.
Young Jeezy, real name Jay Wayne Jenkins, was arrested January 21 in Alpharetta, a suburb of Atlanta, and charged with obstruction of a law enforcement officer. It was his second arrest in a month.
Rapper DMX was arrested in South Carolina and held for three hours on November 3 before posting bond on charges of driving with a suspended license and having no car tag or insurance, according to the Spartanburg County Detention Center website. DMX, whose real name is Earl Simmons, has been arrested three times in the state since July 2013.
Dina Lohan, the mother of actress Lindsay Lohan, was arrested September 12 in New York on two DWI charges. New York State Police said a breath test showed her blood alcohol concentration to be more than twice the legal limit.
Actor Thomas Guiry is charged with felony assault, accused of head-butting a police officer in an incident on August 3 at Bush Intercontinental Airport in Houston.
Singer-actress Pia Zadora was charged with domestic violence battery and coercion for allegedly scratching her 16-year-old son's ear as she tried to take his cell phone when he dialed 911 on June 1, 2013, according to a Las Vegas Metropolitan Police report.
Actress Amanda Bynes was arrested again May 23, 2013 in New York after she allegedly tossed drug paraphernalia out the window of her Manhattan apartment. The actress previously had been booked for suspicion of driving under the influence in Hollywood, California, on April 6, 2012, after she got into a fender bender with a marked police car. She later tweeted President Barack Obama and asked him to fire the cop who made the arrest. The California arrest is the source of this mug shot.
Actor Edward Furlong was arrested again on May 17, 2013, after allegedly violating a protective order filed against him by an ex-girlfriend. Furlong is seen here in a police booking photo after his arrest for alleged domestic violence, the arrest which resulted in the protective order, on January 13, 2013, in Los Angeles.
Actress Reese Witherspoon and husband Jim Toth were arrested in April 2013 after Toth was pulled over for suspected drunken driving with Witherspoon in the car, the Georgia State Patrol said.
Country music star Billy Currington has been indicted on charges of terroristic threats and abuse of an elderly person in April 2013 in his native state of Georgia.
Lindsay Lohan poses for a mug shot in March 2013 after accepting 90 days in a "locked in" drug rehab facility for misdemeanor charges. This was not her first brush with the law. The laundry list includes a 2011 arrest for violating her probation for a 2007 drunken driving conviction.
Stanley Kirk Burrell, aka MC Hammer, was arrested in February 2013 in Dublin, California, for allegedly obstructing an officer.
Actor Stephen Baldwin was arrested December 6, 2012, on a charge of failing to file New York state personal income tax returns for three years, according to a statement released by the Rockland County district attorney's office.
William J. Drayton, 53, also known as Flavor Flav, was arrested October 17, 2012, in Las Vegas and charged with assault with a deadly weapon and battery in a case involving his fiancee of eight years, police said.
Border Patrol agents in Texas arrested singer Fiona Apple in 2012, saying they found marijuana and hashish on her tour bus.
Musician Randy Travis was arrested in 2012 for misdemeanor DWI and felony retaliation after he was involved in a one-vehicle accident and found buck naked in the roadway. He was later released on bond.
Funny-man Russell Brand landed himself in the Orleans Parish Sheriff's Office in 2012 when he snatched a photographer's iPhone and threw it at a window. Brand was free on bond after turning himself in to New Orleans police.
Olympic gold medalist Shaun White, 26, was charged with vandalism and public intoxication in Nashville, Tennessee, on September 16, 2012.
"Gossip Girl" star Chase Crawford was arrested in June 2010 in Austin, Texas, and charged with possession of marijuana. He was charged with a misdemeanor because he had less than 2 ounces, according to a police report.
Bad boy actor Charlie Sheen is no stranger to Hollywood scandal. He posed for this mug after a 2009 arrest related to a domestic violence dispute.
Wayne "Lil Wayne" Carter was booked on drug charges in Arizona in 2008 and sentenced to a year in prison.
Nicole Richie was sentenced to four days in jail for DUI in August 2007. She spent 82 minutes in custody.
In 2007, Kiefer Sutherland got this mug shot after surrendering to serve a 48-day sentence for his third DUI arrest.
This mug was snapped after Mel Gibson, now notorious for getting himself into trouble, was arrested and charged with drunk driving in 2006.
Backstreet Boy Nick Carter was arrested for drunken driving after failing a field sobriety test in 2005.
Singer James Brown was arrested in Aiken, South Carolina, on January 28, 2004, and charged with Criminal Domestic Violence.
The Oklahoma County, Oklahoma, Sheriff's office took this mug shot of the famous "Home Alone" star Macaulay Culkin in 2004 after they found marijuana, Xanax and sleeping pills in his possession. He was briefly jailed before being released on bond.
Country singer Glen Campbell was arrested in Phoenix on November 25, 2003, on drunken driving and hit-and-run charges. According to Arizona police, the 67-year-old performer hit another car and left the scene. He was later picked up at his home where he smelled of booze and kneed a sergeant in the thigh. Seen Campbell poses for his mugshot in 2004 after checking into a Phoenix lockup to serve his first of 10 nights in jail. He pleaded guilty to the charges.
Actor Nick Nolte was arrested on suspicion of driving under the influence of drugs or alcohol on September 11, 2002. A California Highway Patrol officer saw the actor's car swerving across the highway. Nolte was described as "drooling" and "droopy-eyed."
Robert Downey Jr.'s drug problems are almost as famous as his talent. He served time in the late 1990s on a drug conviction, was arrested in November 2000 for drug possession, and was busted again in April 2001 in Culver City, California.
Marshall Mathers, aka Eminem, was booked on gun charges twice in June 2000. Police said both arrests stemmed from fights -- the first over his estranged wife, Kim, and the second against rival rap group Insane Clown Posse.
Rapper Jay-Z was arrested in 1999 for allegedly stabbing a record executive in a New York night club. He pleaded guilty in 2001 and was sentenced to three years' probation.
Matthew McConaughey was arrested in Austin, Texas, in 1999 after police allegedly found him dancing naked and playing bongo drums in his house. He paid a $50 fine for disturbing his neighbors with the show.
Curtis Jackson, aka 50 Cent, posed for this mug in 1994 when he was arrested at 19 for allegedly dealing heroin and crack cocaine.
Jane Fonda was arrested in Cleveland, Ohio, in 1970 after a scuffle with police in the airport. U.S. Customs agents allegedly found a large quantity of pills in her possession.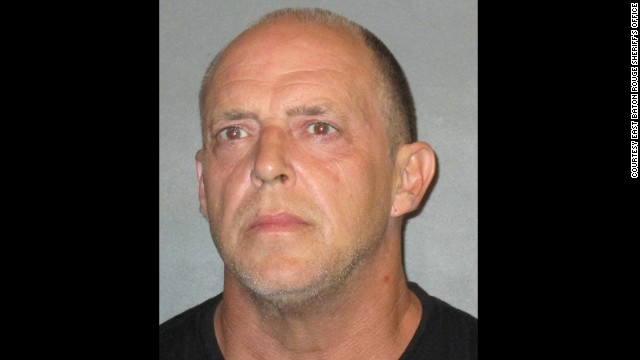 Photos: Celebrity mugshots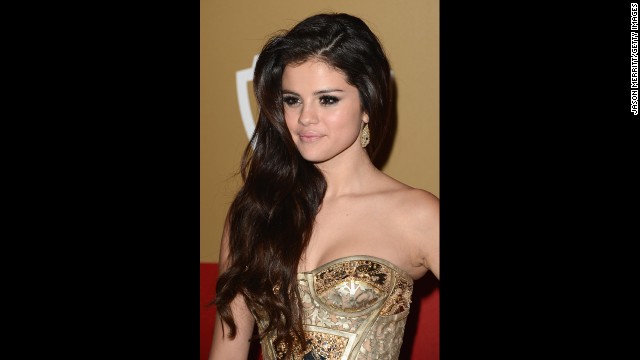 "Spring Breakers" is quite a departure for Selena Gomez, who started her career on "Barney & Friends." The actress later made a name for herself in Disney's "Wizards of Waverly Place" and family-friendly Disney flicks such as "Another Cinderella Story." Gomez has shown she's growing up by taking on more mature projects like her Funny or Die video, "Fifty Shades of Blue." Even her red carpet fashion choices and relationship with Justin Bieber, which ended earlier this year, separate the actress from her Disney persona.
In 2006, Vanessa Hudgens shot to fame with Disney's wholesome TV movie "High School Musical." The actress, who next appears in the racy "Spring Breakers," didn't just alter her angelic image by appearing in projects such as 2011's "Sucker Punch." Nude photos of Hudgens leaked online in 2007 and 2009.
Like his "High School Musical" costar and former girlfriend, Vanessa Hudgens, Zac Efron has broken out of his Disney shell with roles in flicks like "The Lucky One" and "New Year's Eve," in which he spends quality time with an older woman played by Michelle Pfeiffer. "The Paperboy" marks Efron's most adult role due to the film's infamous urination scene between the actor's Jack Jansen and Nicole Kidman's Charlotte Bless.
Daniel Radcliffe distanced himself from "Harry Potter" when he starred as Alan Strang in the 2007 revival of "Equus." Radcliffe, who appeared in a nude scene onstage, received positive reviews for his grown-up performance.
Miley Cyrus and her TV alter ego Hannah Montana became household names thanks to her popular Disney show, which ran from 2006 to 2011. Photographer Annie Leibovitz captured Cyrus, 15, wrapped up in a sheet for Vanity Fair. Cyrus' pole dancing performance at the 2009 Teen Choice Awards also caused a stir, and she was berated for giving producer Adam Shankman a lap dance in 2010. The same year, a video surfaced of the singer smoking a bong filled with salvia, an herb that's legally sold in many health food stores.
Known for being the adorable kid in films such as "Uncle Buck," "Home Alone" and "My Girl," Macaulay Culkin didn't have the easiest transition from child star to adult actor. In 2004, the same year he appeared in "Saved!" Culkin was charged with marijuana possession and possession of a controlled substance without a prescription.
Another former Disney star, Shia LaBeouf has come a long way from "Even Stevens." Films like "Transformers," "Wall Street: Money Never Sleeps" and "Lawless" show the actor in more mature roles. And in 2012, LaBeouf bared it all -- and we mean all of it -- in a Sigur Ros music video. He'll soon star in Lars Von Trier's "Nymphomaniac," which will likely be LaBeouf's most adult role to date.
Lindsay Lohan's career was on a family-friendly trajectory when she made her big screen debut in 1998's "The Parent Trap." After 2004's "Mean Girls," Lohan took on more mature projects such as "Georgia Rule" and "Machete." But it wasn't just her on-screen choices that broke Lohan out of her wholesome image. The actress was charged with driving under the influence in 2006, and fitted with a monitoring device to measure her alcohol intake in 2007. She's been in and out of court ever since -- and is now headed for rehab.
After playing Screech Powers in "Saved by the Bell" for 12 years, Dustin Diamond directed and starred in a sex tape called "Screeched." He's since appeared as himself on reality TV shows like "Celebrity Fit Club."
Former Mouseketeer Christina Aguilera has made headlines since she came on the music scene in 1999 with her self-titled album. But by the time she released "Stripped" in 2002, Aguilera was on a whole other playing field. (Remember picking your jaw up off the floor after watching her "Dirrty" music video on "Total Request Live?")
After playing the adorable Rudy Huxtable on "The Cosby Show," Keshia Knight Pulliam proved she was all grown up by taking on projects such as "Beauty Shop" and "House of Payne." She also appeared in Chingy's 2004 music video, "One Call Away."
After getting her start on Nickelodeon's "All That" and "The Amanda Show," Amanda Bynes appeared in movies such as "Big Fat Liar" and "What a Girl Wants." She continued appearing in kid-friendly comedic flicks such as "She's the Man," "Hairspray" and "Easy A" before announcing her plans to retire from acting. (She "unretired" later that year.) But it was the choices she made in her personal life that proved the actress was all grown up. In the past year, she's faced hit-and-run charges, as well as driving under the influence.
Just like Christina Aguilera, Britney Spears went from "The Mickey Mouse Club" to being "not that innocent." After becoming a mom, the singer shaved her head and checked into a treatment facility in 2007. She's since released three albums and appeared as a judge on "The X Factor."
Like Selena Gomez, Demi Lovato got her start on "Barney & Friends" before landing her own Disney show, "Sonny with a Chance." In 2010, the actress and singer opened up about her "emotional and physical issues." She eventually checked into an inpatient treatment center. Along with Spears, Lovato judged the second season of "The X Factor."
Aside from a problem with substance abuse early on in career, Drew Barrymore successfully made the transition from child star to revered actress-producer-director. The "E.T. the Extra-Terrestrial" actress was in rehab by age 13; however, she was back on track around age 20.
Having been a household name since the ripe old age of 15, Justin Bieber has grown up in the public eye. At 19, the singer is apparently showing us his grown-up side, which includes hitting the London club scene, showing up late to a concert, smoking marijuana -- and then apologizing for it on "Saturday Night Live."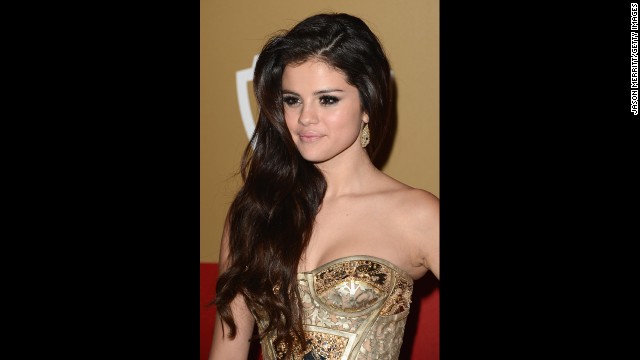 Child stars all grown up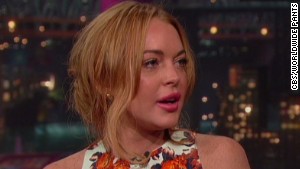 Lohan: Upcoming rehab is a 'blessing'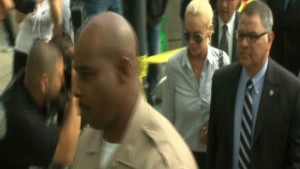 2011: Lohan walks judicial red carpet
Lohan, 26, "wants to settle in" for a few days while arrangements can be made to transfer her to the Lukens Institute in Palm Beach Gardens, Florida, which bills itself as a "luxury rehab center," Michael Lohan said.
"The Lukens Institute is where she wanted to go all along -- a place she will get the right treatment and finally get better," Michael Lohan said.
Santa Monica City Attorney Terry White, who must approve any transfer, has not responded to CNN calls for comment.
The actress was supposed to start a 90-day stint in a "lockdown" rehab center Thursday, an alternative to a three-month jail term for two misdemeanor convictions and a shoplifting probation violation finding in March. But she abruptly left the Southern California facility where she had gone Thursday morning because "she was not happy with the place," her father said.
Michael Lohan said he was not happy with it either because of the revelation that the facility -- Morningside Recovery in Newport Beach -- can't provide alcohol and drug rehab treatments because California officials revoked its license.
"If a 24-hour residential facility is providing treatment or services to promote the recovery of alcohol and drug abuse then they must possess a license," said Millicent Tidwell, deputy director for the California Department of Alcohol and Drug Programs.
None of Morningside's several locations in California are licensed, Tidwell said. The company previously had three licenses, but all were revoked. The state's licensing agency is in litigation with Morningside's unlicensed Newport Beach facility, she said.
It's unclear whether Los Angeles County Superior Court Judge James Dabney knew Morningside was unlicensed when Lohan's lawyer, Mark Heller, informed him in court Thursday morning that she would spend her rehab sentence there.
White objected at Thursday's hearing, saying Heller didn't get prior approval for Lohan to go to Morningside. White said he needed time to investigate it.
"Lindsay had no idea that Morningside wasn't approved," Michael Lohan said.
Heller has not respond to several CNN requests for comment.
The judge ordered the treatment after Lohan entered pleas of no contest on charges relating to a traffic accident and, with those convictions, she was found in violation of her shoplifting probation.
Her six years of legal troubles trace back to two drunken driving arrests in 2007 and include other incidents in which she was behind the wheel.
Lohan was charged with reckless driving and lying to a police officer about a June 2012 car crash in which her Porsche hit a dump truck on the Pacific Coast Highway in Santa Monica, California. Her arrest triggered the probation violation charge.
The police report said Lohan denied being behind the wheel, but the prosecutor was expected to call witnesses who say she was driving.
Lindsay Lohan acknowledged her drug and alcohol addiction in past court appearances.
She's spent 250 days in five rehab facilities since January 2007, including one long court-ordered stint after a failed drug test.
The actress has appeared in court at least 20 times before four Los Angeles judges who have now found her in violation of probation six times and sentenced her to a total of nine months in jail.
Lohan has spent about two weeks behind bars in six trips to the Los Angeles County jail, served 35 days under house arrest and worked about 67 days of community service at the county morgue.