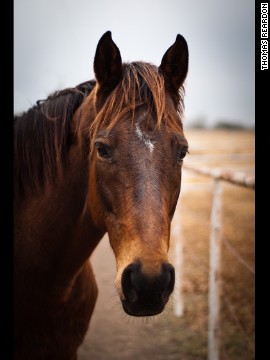 Once considered an unlikely candidate for adoption because of his injuries incurred on the track, ex-racehorse Watson (formerly Wooden Phone) is now enjoying a new life with owner Suzanne Minter. She adopted him while working at
LOPE Texas
, a thoroughbred rehab and adoption farm. Click through our gallery to learn more about how ex-racehorses are enjoying a second chance:
Jordan Mitchell recently adopted Apalache King from LOPE. "I feel like King will be such a good ambassador for ex-racehorses. People think if horses end up in adoption agencies, it's because something is wrong with them, and that simply isn't true."
Horsemanship teacher Michael Richardson demonstrates the sensitivity and responsiveness of Santo, a former track horse at LOPE.
Alexa Anderson competes on ex-racer Big Trump at LOPE's Annual Benefit Horse Show.
Lynn Reardon, founder of LOPE, says that ex-racehorses are very attuned to body language. She uses this in her training techniques. From back: Luther with owner Patti Brown Standen astride, Red Joe and Big Trump.
"It's not enough to love a horse, feed it treats and put your arm around it. The horses need people to understand what they need as horses," Reardon said. Pictured: Theatricals Halo, left, and Showtime Queen.
Old Friends
Retirement Center founder Michael Blowen spend some quality time together in the paddock. "Because people cared about Clever Allemont, he is with us," Blowen said of the horse rescued from a kill auction. "Aller" is blind in one eye.
Clever Allemont and
At the Old Friends farm in Georgetown, Kentucky, ex-racehorses enjoy their golden years and visits from tour groups.
James River Chapter
of the Thoroughbred Retirement Foundation, ex-racehorses team up with men at a local correctional facility. In only a month, Ace of Hearts and James, who takes care of her, already have a strong bond, according to the chapter's president, Anne Tucker.
At the
Skittles is in a training session with Brooks Clement, trainer at the James River Chapter. The ex-racehorses are rehabbed for adoption, which includes training them for a variety of new vocations.
David and Ace of Hearts, which is waiting for adoption, share a moment. "Every time I go to the barn, I can tell someone has changed by being around these horses," Tucker said.
The James River Work Center offers a place of rest, recovery and retraining for thoroughbreds off the track.
Four Wheel Driver, one of the older mares, enjoys a run at the James River Chapter.
Elliot, a graduate of the Groom Elite program, lent a hand at the open house at the James River Chapter.
Kathy Stim's first outing with ex-racehorse Archer (formerly Wood Be Me) was in 2010 at the Long Run Hounds Hunter Pace. She is the vice president of
Second Stride
, a thoroughbred rehabilitation farm, and adopted Archer there. Archer was almost put down because of his injuries.
Agent Alex, adopted in 2012 by Sarah McCullough from Second Stride, before adoption, left, and after adoption. He is just starting his eventing career.
Ozzie, formerly Warning Zone, was retired from racing after an injury ended his career and brought to
Neigh Savers
for rehab. He was adopted by the resident trainer and is now competing in hunter classes. Karin Wagner, the executive director, said that Ozzie's success story was made possible by funding from
TCA
.
After the race, a new life
After the race, a new life
After the race, a new life
After the race, a new life
After the race, a new life
After the race, a new life
After the race, a new life
After the race, a new life
After the race, a new life
After the race, a new life
After the race, a new life
After the race, a new life
After the race, a new life
After the race, a new life
After the race, a new life
After the race, a new life
After the race, a new life
STORY HIGHLIGHTS
When a racing or breeding career ends, thoroughbreds quickly lose value
Organizations are working to provide adoption and retirement options
Thoroughbreds can be retrained as gentle therapy and family horses
(CNN) -- Wooden Phone was never asked whether he wanted to race. Born in 1997, the dull-brown thoroughbred didn't show initial signs of greatness, but the horse would net more than $800,000 in winnings during his career.
A warrior on the track, he kept coming back from severe injuries to beat likely champions. His temperament wasn't suited for the highly stressful industry -- trainers called him "difficult," a diva.
After his racing career ended at age 9, retirement didn't suit him either.
Easily agitated, Wooden Phone would pop his lip -- the equivalent of a child sucking his thumb. He was nervous just leaving the pasture.
Anyone who has been around thoroughbreds will tell you that these horses love a job, and now Wooden Phone's duties were outsourced to younger, stronger workers. Intelligent and sensitive with a drive to please, racehorses like him also crave human attention and care.
Unfortunately, when a racing or breeding career ends, thoroughbreds can quickly become useless to their owners. The injuries compound and when money and options run out, convenience leads them away from the stables and into the slaughterhouse.
"We have to improve the likelihood that a racehorse has more value alive after it is finished racing than dead," said Alex Brown, former jockey and author of "Greatness and Goodness: Barbaro and his Legacy."
The racing industry has worked to provide retirement programs and track policies that prevent slaughter. But Brown wants to see even more accountability: transparency of medical records from owner to owner, as well as support for programs that rehab ex-racehorses.
Thoroughbred Charities of America and the ASPCA's Rescuing Racers Initiative have collectively awarded millions of dollars in grants and funding to these programs.
"I think all of us who make our living with horses have an obligation to give something back and provide for the welfare of these horses," Dan Rosenberg, head of Thoroughbred Charities, said.
LOPE Texas is just one of hundreds of organizations across the country dedicated to rescuing and rehabilitating ex-racehorses for new homes and purposes.
Suzanne Minter, an experienced rider volunteering her time at LOPE, first met Wooden Phone two years ago. His personality captured her heart.
LOPE founder Lynn Reardon was surprised by Minter's soft spot for the horse -- Wooden Phone was not an adoption candidate after his many injuries. And then, there were the stress issues.
Ex-racehorses get a bad reputation for being aggressively energetic, although their "bad manners" come from training gaps. With the right rehab techniques, they can be gentle enough to work with veterans who suffer from PTSD and children with autism.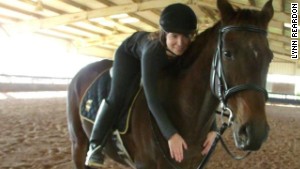 Wooden Phone and Suzanne Minter quickly bonded.
Minter was dedicated to rehabbing Wooden Phone, although it became more sporadic when she had unexpected abdominal surgery. She wasn't able to ride, but she would sit on his back as he gently stood still. As she had helped him, he took care of her in return.
"He fell in love with her. He just melted every time she came around. It was a match that was so clear the moment he met her," Reardon said. Minter adopted him.
Over a two-year period, the 16-year-old horse, once known for the foamy stress sweat on his neck, is now the gentlest horse in the barn. Together, Minter and the newly named Watson are training for dressage events.
The lip popping has evolved into quirks, such as holding one brush in his mouth while Minter uses the other to groom him, grabbing people's jackets with his teeth for fun or curiously following his new obsession: ponies.
"Ex-racehorses get overlooked sometimes because people just think they are fast, but they have a lot of heart," Minter said. "I think they are all looking for a person of their own."
Turning hope into help
"There are so many places for these horses other than slaughter," Cindy Gendron of the Homes for Horses Coalition said. "Now people are using them for therapeutic riding, equine-assisted psychotherapy, show events and family horses."
The Homes for Horses Coalition aims not only to end horse slaughter, but to promote growth and collaboration in the horse rescue and protection community. Supported by the ASPCA, the Animal Welfare Institute and the Humane Society of the United States, this coalition in Washington is an umbrella for 240 organizations.
CANTER, a member of the coalition, was one of the first groups to create an online showcase of ex-racehorses in 1997. It's an all-volunteer organization with affiliates across the country, where people scour the "backsides" of racetracks every weekend and document the horses up for sale, executive director Nancy Koch said.
"The racetrack is quite a closed-in world. Not everyone can wander into the backside, you need to be escorted otherwise. We broke a lot of barriers that way," Koch said.
Other CANTER affiliates in "phase two" have taken in horses and provided rehabilitation so they can find new homes. They placed more than a thousand horses in 2012, according to the Homes for Horses Coalition.
Volunteer-based adoption farms, such as Kim Smith's Second Stride near Churchill Downs, follow a similar model and work to connect owners and horses. Like LOPE, an extensive adoption process ensures that each new home is a good fit and requires follow-ups in the months and years ahead. If the home doesn't work out, they take the horse back.
These farms also make thoroughbreds available to people who may not have five figures to spend on a horse but have the time and resources to care for one, administrative manager Leslie Pratt said.
Life after the track
"In the horse adoption world, ex-racehorses are seen as the equivalent of pit bulls," Reardon said. "People think they are edgy, so you have to do a lot of myth-busting."
Retraining can ease the issues that create negative stereotypes about ex-racers. And helping these horses can help heal the trainers, too.
The James River chapter of the Thoroughbred Retirement Foundation pairs men at a correctional facility with ex-racehorses. The horses are cared for by men who work through and graduate from a groom elite training program, which trains them for a job once they are released.
Anne Tucker, the foundation's president, likes to tell the story of Happy and Will. Happy, a nervous thoroughbred, was kicked in the face by another horse while trying to assert her authority after arriving at James River. Will was the insecure young inmate taking care of her.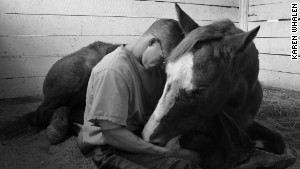 Will and Happy's bond helped them to heal each other.
"It's hard to say whether Will gave Happy confidence, or Happy gave Will confidence," Tucker said. "Horses look at everyone on even footing. The men have made some mistakes, but they aren't bad people. They just need someone to confirm that, and that's what the horses do."
The pair bonded and healed one another. Happy was adopted after a full recovery, and Will has been released and is working on a local thoroughbred breeding farm.
The golden years
"Some of these horses are like your best athletes -- they gave everything to the sport, and they got banged up in the process," said Michael Blowen, founder of Old Friends Thoroughbred Retirement Center. "To me, this is like having Larry Bird in my backyard."
Formerly with the Boston Globe, Blowen had racehorses at Suffolk Downs. He quickly learned that when the horses couldn't race anymore, they weren't "going to a riding academy in Maine" as he was told -- they were going to slaughter. He decided to dedicate the rest of his life to offering ex-racehorses a retirement paradise.
Old Friends' locations care for more than 130 horses across three states, located near racetracks so fans can come visit the "retired athletes" in big paddocks.
"It is the equine equivalent of retiring and living on a golf course, except they eat the greens," Blowen said.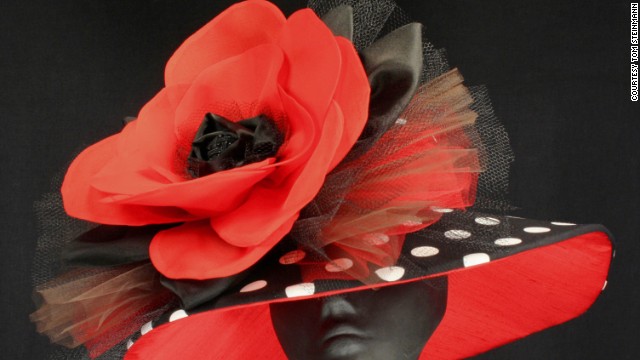 Sally Steinmann has never owned a horse, but her heart is full of love for them. Now, she creates hats in honor of retired racehorses at Old Friends. A hat is auctioned off to benefit their welfare each month for six months, leading up to the Kentucky Derby. Pictured here is a hat designed in honor of retiree Popcorn Deelites.
Rapid Redux retired to Old Friends in May 2012 after an impressive 22 consecutive victories. "His contribution to the sport of racing in ordinary races at blue-collar tracks called attention to the achievements of the majority of horses, who never win a stakes but provide the daily thrills and livelihood of the sport," according to Old Friends.
To honor Rapid Redux's 22 consecutive wins, Steinmann created 22 rose curls to adorn this hat, which utilizes the distinctive pink and yellow racing silks of owner Robert Cole Jr.'s racing stable.
Before retiring to Old Friends in 2008, Benburb finished his racing career with seven wins out of 22 starts and earnings of $1,159,904. He passed away in 2012. "Bennie," like many gray horses, had complications from melanoma.
Steinmann used nearly 12 yards of silver, black, ivory and white tulle layers to translate Benburb's legacy into fabric for the January 2012 auction.
Sarava arrived at Old Friends in September 2012. He won the Belmont Stakes in 2002 and was the longest shot ever to win the race. His former owner, Gary Drake, still comes to visit him every month and donated more than $30,000 to his aftercare.
To honor Sarava, Steinmann wanted to highlight the horse's nearly black coloring with his racing silk colors of red and white, as well as red roses to represent the Kentucky Derby and white carnations for the Belmont Stakes.
Considered one of the fastest runners of his generation, Ogygian is also known for his breeding. As a stallion, he sired 23 stakes winners. Old Friends raised the money to bring him back to the United States after his breeding career in Japan.
When it comes to translating the legacy of a thoroughbred into a silk hat, Steinmann likes for her creations to mirror the rippling motion of a racehorse. To achieve this, she used rows and rows of alternating tulle layers, repeated under the brim as well.
Bull Inthe Heather (yep, that's how it's spelled), retired to Old Friends in 2006, is considered to be the greatest son of Ferdinand, who won the 1986 Kentucky Derby. The death of Ferdinand in a slaughterhouse in 2002 inspired the foundation of Old Friends.
Steinmann used her trademark silk "feathers" to mimic the horse's mane and tail, as well as his iconic blue-gray coloring and dark accents.
When Wallenda was brought home by Old Friends from his breeding career in Japan during April 2007, the Flying Wallendas themselves came out to the farm and put on a circus for the whole weekend, walking the high wire and wearing the silks the racehorse sported in the Kentucky Derby.
Dogwood Stable's yellow and green polka dot racing silks inspired the trimming colors for Wallenda's hat. Several strands of the great stallion's tail hairs were braided and woven into the trim of the hat itself.
Creator was owned by Sheikh Mohammed bin Rashid al-Maktoum, the ruler of Dubai and overseer of the world-renowned Godolphin Stables. He had a successful career and was retrieved from Japan in 2004 by Old Friends.
Steinmann purposefully made this hat asymmetrical because Creator is known for striking particular poses with his forelock to the side.
Arson Squad netted $1,190,181 during his racing career, but injuries ended it in 2011 during a training accident. His owner, Samantha Siegel, paid for his surgery, and he began his retirement with Old Friends in February 2012.
One of Steinmann's biggest creations, the Arson Squad hat, is 26 inches wide. She used a combination of his natural dark coloring and bright racing silks. The fanning black trim is meant to mimic his mane and tail.
Dancin' Renee retired to Old Friends at the age of 20 in September 2012. In her banner year, 1997, she claimed seven consecutive victories and was crowned New York Horse of the Year.
Dancin' Renee was named after her owner's mother-in-law, Renee, who was a dancer in the Ziegfield Follies. To capture the playful nature of Ziegfield and the horse's stable colors, Steinmann played with contrasting textures and tones in her design.
Wooden Phone, now Watson, was a warrior of a racehorse who kept beating the odds and numerous injuries to defeat likely winners. During his retirement, Wooden Phone stayed at LOPE Texas, a thoroughbred adoption farm, and met his future owner, Suzanne Minter, while she was rehabbing him.
To translate Wooden Phone's warm colors and "diva personality" in her design, Steinmann used dramatic layering of black and chocolate tulle around the brim. The looping and curling bow centerpiece is meant to reflect his "watchful eye" nature as well.
The beloved Barbaro won the Kentucky Derby in 2006 by seven lengths, but broke down in the Preakness Stakes after shattering his leg. He spent eight months at a treatment center, but succumbed to laminitis on January 29, 2007. Steinmann wanted to create a hat to remember Barbaro.
"My way of coping with difficult things is to create, and I decided that I had to create a hat to honor Barbaro. I wanted it to be about his conformation, colors and his victories, not this completely sad memorial," Steinmann said. The red roses honor his incredible Derby win.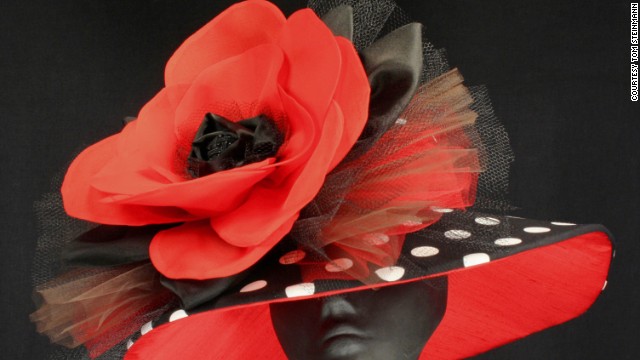 Gallery: Click the image to the left to view a collection of Kentucky Derby hats created to benefit retired racehorses.
One resident, Clever Allemont, earned $316,329 during his eight wins. In 2009, he ended up in a kill pen in Kansas, deaf with one eye set in a graying face. He seemed to know he had reached the end, according to Kristin Chambers. Chambers and Diana Baker saved him from a trip to the slaughterhouse.
Now, he is living out his golden years at Old Friends, gleefully rolling in the dirt and inspiring the groups of deaf children who tour the farm to see him. But not every thoroughbred that gave their lives to racing has the same happy ending.
Ferdinand, winner of the 1986 Kentucky Derby, died in a Japanese slaughterhouse in 2002, according to reporting by "The Blood-Horse" magazine. National Racing Hall of Fame's Exceller met a similar fate in 1997. After Ferdinand, Old Friends asked Japanese breeders to let them know when the horses have peaked and have since rescued Creator, Sunshine Forever, Fraise, Ogygian and Wallenda.
Old Friends has also inspired others to save ex-racehorses.
Sally Steinmann, who grew up dreaming of having her own horse, became a milliner known for her derby hats. And now some of those hats are created in honor of Old Friends and auctioned off to benefit the horses.
"I feel like these hats are little ambassadors and if anybody can learn about these horses, what we are trying to do and how much we all feel a responsibility to take care of them, then it's a really great thing," Steinmann said.
She studies photos and old racing film to craft hats that represent the horses, translating their legacies into silk dupioni with vivid trims. While the hats are extravagant pieces of wearable art, they are also creative pieces of awareness.
The art of Kentucky Derby hats
"Michael said we each get a dot, and this is his," Steinmann said. "I just want to connect our dots. We all have something we wish more than anything else that we could change in this world."
Inside and outside the racing industry, ex-racehorse welfare is a world of slowly connecting dots.
These retired horses are returning the favor by enriching the lives of the humans working to save them.
"People connect well with horses because they are gentle, instinctive creatures," Gendron said. "Just to lay your hands on a warm, powerful horse that puts his head down and looks you in the eyes is an amazing feeling, especially for someone who is in physical or emotional turmoil. Horses seem to sense that, understand it and take care of people."