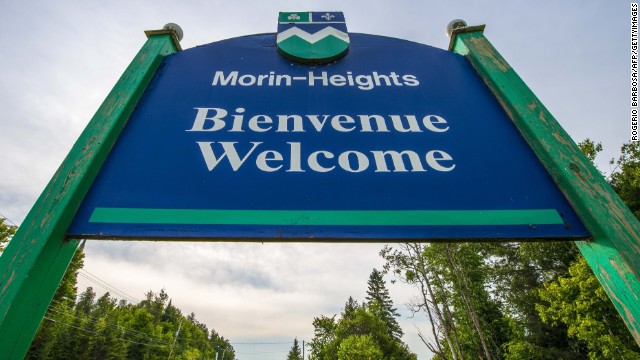 A sign reading "Welcome" in French and English stands at the entrance to Morin-Heights, a tourist town in the Laurentian Mountains region of Quebec, Canada. In Quebec, French must be the predominant language on signs. For more on the province read Erik Leijon's
11 things to know before visiting Quebec
.
The Saint-Jean de la Croix church in Montreal, Quebec, undergoes major renovations in 2003 after being sold to be converted into condos. Many such buildings are for sale, and buyers have been difficult to come by. Some are being demolished, while others have been converted for nonreligious purposes.
Revelers celebrate St. Jean Baptiste Day on the Plains of Abraham in Quebec City. There's a strong nationalistic component to the holiday, especially for the current minority who believe Quebec should be its own country.
A protester places a Quebec flag on a statue of former NHL hockey player Guy Lafleur in Montreal. While Quebecers don't participate in hockey en masse the way they used to, it's still the most popular sport there.
Montreal is the largest city in the province of Quebec, with a population of 1,649,519 in 2011, according to the Canadian census. The Montreal region has its own linguistic quirks, known as joual. It usually entails combining multiple words into one, lopping off extraneous syllables or casually dropping English terms with French pronunciation.
This poutine au fois gras sits on a table at Le Pied de Cochon in Montreal. Poutine is a traditional Quebecois dish consisting of fries, sauce brune (gravy) and cheese curds that's been reinvented by some upscale restaurants.
Residents play a game of human table football during the Quebec winter carnival in Quebec City. Carnaval du Quebec is held every February in Quebec City, and the success and sheer size of the event is a testament to Quebecers' defiance toward the cold.
Ice fishing cabins sit near the Sainte-Anne River in Sainte-Anne-de-la-Pérade in the Mauricie region of Quebec. Wherever there's a frozen lake in Quebec, expect to see a handful of temporary huts over it.
The Biosphere from the 1967 International and Universal Exposition reaches high into the sky during the Formula 1 Grand Prix of Canada in Montreal in 2007. The World's Fair the city hosted in 1967, known simply as Expo 67, is considered by many natives to be a high-water mark for the city.
Flags and banners marking the city's 400th anniversary fly over a narrow street in Quebec City in 2008. Quebec roads have a reputation for not holding up as well as those of their U.S. or Ontarian neighbors. Road conditions are especially bad during spring, when the snow melts and temperatures rise.
Getting to know Quebec
Getting to know Quebec
Getting to know Quebec
Getting to know Quebec
Getting to know Quebec
Getting to know Quebec
Getting to know Quebec
Getting to know Quebec
Getting to know Quebec
Getting to know Quebec