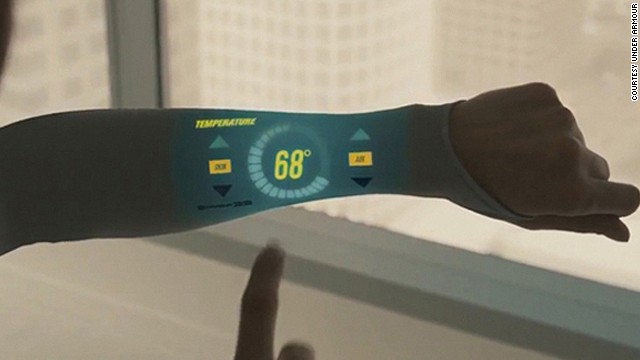 Most people feel anxious when their smartphone is out of arm's reach. But what if it was actually on your arm, woven into the very fabric of your sweater? Sportswear designers Under Armour are already on the case. They recently unveiled their touchscreen t-shirt concept, Armour39, which measures your athletic performance. It's just one recent example of how design, technology and science are coming together to form a new generation of consumer products that look set to shape the future.
Dezeen
, says that wearable technology will be a defining feature of future design. Fairs points to the likes of
MC10
, whose founder Professor John Rogers designed the stretchable circuit, and whose mission statement is to "extend human capabilities by making high-performance electronics virtually invisible, conformal, and wearable". The Biostamp is a digital temporary tattoo that stretches and twists seamlessly with our bodies to monitor our health.
Marcus Fairs, editor-in-chief of design magazine
middle-aged men
from Silicon Valley, Fairs is convinced this sort of technology will be the norm in years to come. Among Google's early competitors is the Vuzix smart glasses.
Vuzix M100
, which won the award for "Best of Innovations" in the design and engineering category at CES 2013, sync with apps on your smartphone and display them before your eyes.
While augmented reality devices such as Google Glass may for now be the preserve of
One step on from wearable technology is technology concealed inside the body altogether. In this way, Tokyo designers Takram have devised a solution to a future where drinking water is scarce. The
Shenu: Hydrolemic System
includes inserts for your nasal cavity to preserve water lost through breathing, a urine condenser and a radiating collar to lower body temperature and abate perspiration.
Design Museum
curator Deyan Sudjic. While domestic 3D printers are largely "just making combs and shoehorns" for now, Sudjic says that in the future we will be using them to manufacture much more complex devices. The CubeX Duo, which won "Best Emerging Tech" at the Consumer Electronics Show (CES) this year, is one of the more accessible 3D printers around, designed to be used at home by the average consumer.
The emergence of sophisticated 3D-printing tools is also likely to shape consumer technology in unexpected ways, says
FARO Focus3D
is a high-speed laser scanner that can create three dimensional digital models of existing objects, meaning that we can produce exact measurable copies of whatever we want.
As 3D printing advances, so too will our ability to produce accurate 3D digital models. For those of you whose skills are lacking in the digital design department, the
Fitbit Flex
, a wireless-enabled wearable tracking device that measures your daily movements. Lights on the device indicate how you are stacking up against your personal goals.
Industrial designer Ross Lovegrove says that the best future designs will be a marriage of science, health and manufacturing, the likes of which we are beginning to see with relatively low-cost and stylish health monitoring devices. Award-winning company Fitbit specializes in products to aid fitness, in particular the
Nike Flyknit
running shoes are also an indication of the shape of things to come in terms of the design thinking that went into building. "The way they are woven. They put strength and structure where it is required. There are no aglets so they only need to be constructed with one material," he says.
Lovegrove says that the outwardly unassuming
Nest thermostat
is another device that brings together elegant design with super-smart technology. It has the ability to remember, to learn about your lifestyle and adjust the temperature of your environment accordingly. Designed by former king of the iPod Tony Fadell, the thermostat turns down while you are away and can be controlled remotely via your smartphone. It looks cool too.
The
feeling
it. These headphones from
Neurowear
can read your subconscious mind. Yes, really. With a sensor that measures brainwaves they detect your mood and select music from your playlists to match it.
Of course the next step from learning about your lifestyle is actually
won the coveted D&AD award
earlier this year. Designers have given a 21st century makeover to a product whose age-old function is still the best. By inserting a porous stone disc, it acts in the same way as a traditional wood fired oven.
But the future isn't all high-tech gadgetry. Some of the best innovations will still draw heavily on technology from the past. This is modern-day clay oven
Vitamins design
, this is the first ever foldable wheelchair wheel, earning it this year's transport Design of the Year Award at London's Design Museum.
Another update of an ancient yet unbeatable design -- the wheel. Devised by
Technology of tomorrow
The Biostamp tattoo
Vuzix Smart Glasses
Shenu: Hydrolemic System
The Cubify CubeX Duo
The FARO Focus3D
Fitbit Flex
Nike Flyknits
Nest Thermostat
Mico Headphones
The Chadwick Oven
The Morph folding wheel
STORY HIGHLIGHTS
CNN spoke to a host of design and technology experts to see what future holds
Key developments are in the field of wearable technology and 3D printing
Best design is a marriage of technology, science and manufacturing techniques
Digital tattoos and mind reading headphones give flavor of things to come
(CNN) -- Forecasting future technology has never been easy. In the 1950s, scientists and technologists envisaged that by now the world would be free from disease, traversed by flying cars, and fueled by minerals from distant planets.
Such visions, of course, have not come to pass. But then again, as recently as 10 years ago, few would have envisaged that 3D-printed food, bionic body parts and invisibility cloaks were just around the corner.
So, in what areas will the next major breakthroughs occur? Keeping in mind that prediction is more of an art than a science, CNN spoke to a host of design and technology experts -- from academics to magazine editors -- in search of what might well just be the shape of things to come.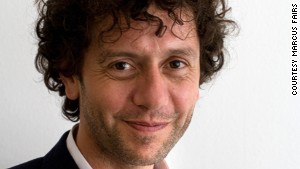 Marcus Fairs, editor of Dezeen
The Editor
According to Marcus Fairs, editor-in-chief of influential design magazine Dezeen, the most high-impact developments over the next decade will be primarily in the areas of manufacturing and wearable technology.
"New digital design tech, 3D printing, robotics and the emerging field of 3D scanning, plus exponential leaps in manufacturing -- together, they are putting really powerful tools into the hands of individuals," he says.
"In the same way that laptops revolutionized personal computing two decades ago and cheap video editing software did for film, so too there will now be a revolution in manufacturing."
For Fairs, wearable technologies such as Google Glass point to another major evolution in design: the disappearance of objects altogether.
"The broader movement in design no longer asks 'is something a nice object?' but rather 'how can we get rid of this completely?'"
From wearable devices such as those being pioneered by sportswear manufacturer Nike, and Jawbone to digital tattoos and "things that you can swallow that will check you out from inside, (such as) a project that adds an artificial organ to help the body use water more sparingly", Fairs believes the future could well be defined by objects almost disappearing entirely.
Read: Fitbit Flex: Will collecting data on your body make you healthier?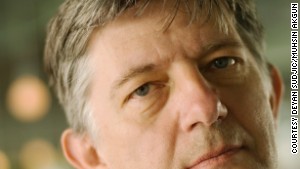 Director of London's design museum, Deyan Sudjic
The Curator
Deyan Sudjic, the director of the Design Museum in London, controversially selected a simple website as the winning entry in the 2013 design awards. The government site GOV.UK won, he said, because of its dramatic subjugation of form beneath function: "The overall winner this year is very interesting. It is apparently very simple, but it works beautifully. I think there is nothing more irritating than design that doesn't work."
For Sudjic, the future of design is about how well an object fulfills its function, not just its aesthetic qualities. At the same time, Sudjic believes there is a revival of interest in physical objects, noting that 2012 was the first year in two decades that saw a rise in vinyl record sales.
"I see design trying to get to grips with both the longing people have for the physical world and those other more slippery digital developments. People are still interested in tangible experience (...) You see that with the Makerbot, which is currently just making combs and shoehorns, but will soon be creating objects which are significantly more complicated."
Read: The market for cheap 3-D printers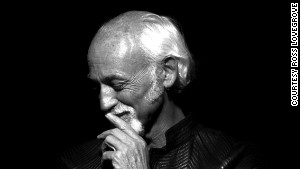 Industrial designer Ross Lovegrove
The Designer
Ross Lovegrove, an industrial designer whose work covers aviation, transport, timepieces, consumer electronics and everything in between, says that the future of technology requires complete understanding of material structure:
"You have to understand materials at a deep scientific or nano level. Once you get to that level and understand ... you can reconstitute anything."
Lovegrove points to the Nike Flyknits -- an ultralight shoe with a knitted construction -- as an example of how future design will draw heavily on the latest thinking in science, health and manufacturing.
"The way they are industrialized, the way they are woven. They put strength and structure where it is required. There are no aglets so they only need to be constructed with one material. They are so lightweight you hardly feel them. They promote ergonomic health in the way they adjust posture."
Read: 'Smart fork' may help you lose weight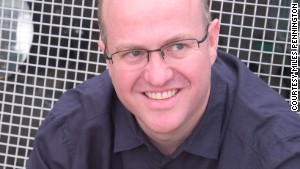 Miles Pennington, head of Innovation Design Engineering at London's Royal College of Art
The Academic
Professor Miles Pennington, Head of the Innovation Design Engineering programme at the Royal College of Art in London, thinks we are on the brink of huge technological change.
"Some people believe that there are no big leaps to come, but then people said in the 18th century that man could never travel more than 40 miles per-hour."
Pennington predicts that the next decades will bear witness to significant change.
"We are within 20 years of developing an artificial brain capable of matching our own ... Material developments in the nanotech field are starting to bear fruit ... (and so is) the field of synthetic biology, which can produce artificial muscle."
Read: The bionic hand with the human touch
Is it possible to distinguish genuine technological contenders, from those that will only ever be the realm of science fiction? Perhaps not. But Pennington suggests he will be able to "answer that question in 50 years' time, when I have got my feet up, sipping a cup of my GM tea grown in the Antarctic, in front of a fire powered by synthetic bacteria and hovering on a comfort-pad-chair using reverse-magnetic forces whilst reading a copy of Isaac Asimov's latest novel (written by a quantum computer-cloned version of the man himself)."
In the meantime, he suggests we all sit back and enjoy the ride.