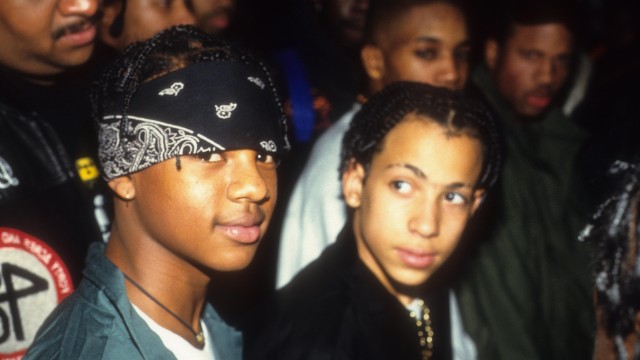 They really did make you wanna "jump, jump." From their backwards clothes to their infectious hit single, "Jump," the rap duo Kris Kross signified the fun that was 90s rap. We look back in honor of the
death of one of its members, Chris Kelly.
"Here's a little story all about how..." DJ Jazzy Jeff & the Fresh Prince (who you may also know now as movie star Will Smith) kept us grooving with "Summertime."
He may want to be known as "Snoop Lion" now, but back in the day Snoop Dogg played up the gangsta/pimp image.
Madonna presented Dr. Dre the award for Best Rap Video during the 1995 MTV Video Music Awards in New York. As a producer he provided some of the hottest beats of the 90s.
Remember when A Tribe Called Quest left their wallet in El Segundo or fell in love with "Bonita Applebum?"
Da Brat was a label mate of Kris Kross on So So Def Records and became one of rap's top selling female artists.
They didn't have a long career in the rap world, but Digable Planets' "Rebirth of Slick (Cool Like Dat)" in 1993 helped introduce a generation to a fusion of jazz and hip-hop.
Wreckx-n-Effect helped popularize the New Jack Swing with their hit "Rump Shaker."
Pete Rock and C.L. Smooth are best known for their hit "They Reminisce Over You" which paid tribute to the death of one of the members of Heavy D & The Boyz.
Das EFX had heads bopping in the 1990s.
prior to his death in 2011.
Here he performs with singer Tyrese at the 2011 BET Hip Hop Awards in Atlanta.
Heavy D, right, fronted Heavy D & the Boyz and was much beloved
Two words for you: "Wild Thing." Tone Loc's hit peaked in 1989, but we were still kind of jamming to it in the 90s.
The Michael Bivins produced group Another Bad Creation was viewed as an attempt to ride the success wave of kid rappers like Kris Kross. Their album "Coolin' at the Playground" was released in 1991.
Christopher 'Kid' Reid and Christopher 'Play' Martin of Kid 'N Play had us all trying to do the kick step.
New Jersey natives Naughty by Nature gave the world the ultimate in party jams and an ode to the genre with "Hip Hop Horray."
Remembering '90s rap
Remembering '90s rap
Remembering '90s rap
Remembering '90s rap
Remembering '90s rap
Remembering '90s rap
Remembering '90s rap
Remembering '90s rap
Remembering '90s rap
Remembering '90s rap
Remembering '90s rap
Remembering '90s rap
Remembering '90s rap
Remembering '90s rap
Remembering '90s rap
Remembering '90s rap
Remembering '90s rap