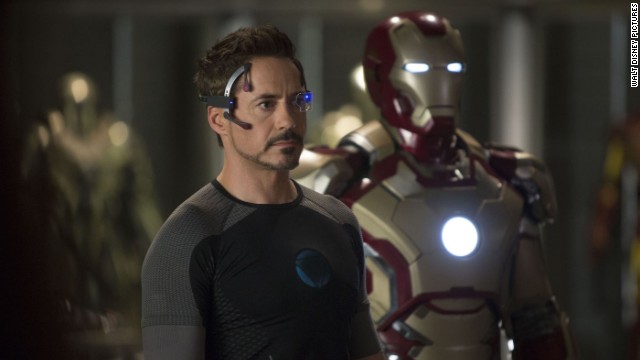 Robert Downey Jr., the star in Walt Disney Pictures' "Iron Man" franchise, seems to have quite a bit in common with the main character, Tony Stark. The actor has a comeback tale of his own.
Downey joined 'Saturday Night Live's" cast for a season. From left, Dennis Miller, Downey and Anthony Michael Hall act out a "Weekend Update" on April 14, 1986.
because of his drug problem
. Here, the couple attend a cocktail party for the Dukakis presidential campaign at Norman Lear's home in Beverly Hills, California, on September 15, 1988.
Actress Sarah Jessica Parker and Downey dated for years during the 1980s, and according to Downey, they broke up in 1991
The actor's 1992 role as Charlie Chaplin in the film "Chaplin," in which he starred with Marisa Tomei, earned him a Best Actor Oscar nomination.
Also in 1992, Downey married actress Deborah Falconer. They had a son, Indio, in 1993.
Downey with his father, director Robert Downey, in 1995. The younger Downey reportedly had his first experience with drugs at age 6, when his father gave him a toke of marijuana (years later, the elder Downey would confess to regretting that decision).
From left, actors Lili Taylor, Downey, Chris Penn and Jennifer Jason Leigh on the set of the film "Short Cuts" in 1993.
In 1996, the actor was arrested for possession of heroin, cocaine and an unloaded .357-caliber Magnum. Despite his drug problems and frequent brushes with the law, Downey has performed in more than 30 movies by 1998. However, in 1999, a missed drug test landed him in the California Substance Abuse Treatment Facility and state prison in Corcoran.
Downey starred with Michael Douglas, left, and Michael Cavadias in "Wonder Boys," released in 2000. In August of the same year, he received an offer to play on the hit TV show "Ally McBeal."
Nearly four months after being released from prison, Downey was arrested in a Palm Springs, California, hotel room on charges of cocaine and Valium possession and being under the influence of drugs. He was released on $15,000 bail the following day. He returned to the "Ally McBeal" set shortly thereafter.
"Ally McBeal" star Calista Flockhart arrives with Downey at the 58th Annual Golden Globe Awards on January 21, 2001.
Downey wins a Golden Globe for best supporting actor in a television show for "Ally McBeal."
Downey was arrested in Los Angeles on a misdemeanor charge of being under the influence of a controlled substance on April 24, 2001. Police found Downey wandering in an alley. "Ally McBeal" producer David E. Kelly let the actor go after the arrest. Prosecutors later said they would treat the incident as a violation of Downey's parole from a prior string of drug convictions and send the matter to state corrections officials.
In 2005, he married producer Susan Levin, whom he met when she served as a producer on the 2003 movie "Gothika."
By 2005, he had critics raving with his performance in films like "Kiss Kiss Bang Bang," in which he starred with Val Kilmer.
In 2008, with actress Gwyneth Paltrow, Downey starred in the first "Iron Man" film.
Downey and his son Indio attend a Los Angeles Lakers playoff game in 2008.
In 2008, Downey (at right with Ben Stiller) was nominated for a Best Supporting Actor Oscar for his role in "Tropic Thunder," in which he portrayed an actor who had "pigmentation alteration" surgery.
In 2009, Downey took on the role of Sherlock Holmes.
From left, Downey's mother, Elsie, wife Susan, Downey and his mother-in-law attend a hand- and footprint ceremony at Grauman's Chinese Theater in Hollywood on December 7, 2009.
In 2012, Downey and wife Susan became parents of a son, Exton. The 48-year-old's resilience, charm and talent have earned him a high-ranking spot in the box office with "Iron Man 3," which had the second-best opening weekend, behind "The Avengers' " $207.4 million bow on this weekend a year ago. "The Daily Show's" Jon Stewart had a straight face when he told the actor "You are Iron Man. You are."
Robert Downey Jr.'s highs and lows
Robert Downey Jr.'s highs and lows
Robert Downey Jr.'s highs and lows
Robert Downey Jr.'s highs and lows
Robert Downey Jr.'s highs and lows
Robert Downey Jr.'s highs and lows
Robert Downey Jr.'s highs and lows
Robert Downey Jr.'s highs and lows
Robert Downey Jr.'s highs and lows
Robert Downey Jr.'s highs and lows
Robert Downey Jr.'s highs and lows
Robert Downey Jr.'s highs and lows
Robert Downey Jr.'s highs and lows
Robert Downey Jr.'s highs and lows
Robert Downey Jr.'s highs and lows
Robert Downey Jr.'s highs and lows
Robert Downey Jr.'s highs and lows
Robert Downey Jr.'s highs and lows
Robert Downey Jr.'s highs and lows
Robert Downey Jr.'s highs and lows
Robert Downey Jr.'s highs and lows