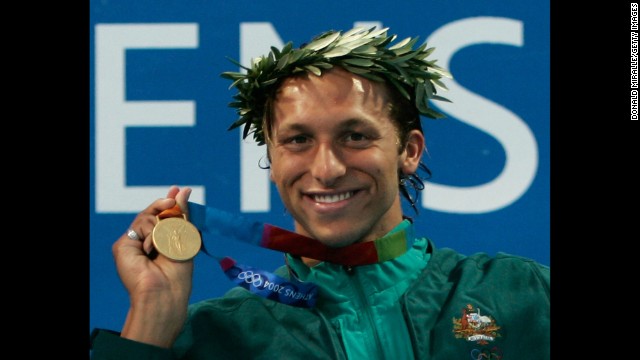 Swimmer Ian Thorpe, seen here in 2004 with one of his five Olympic gold medals, told an Australian news outlet that he is gay in an interview that aired on Sunday, July 13. Click through to see other openly gay athletes.
Former Missouri defensive end Michael Sam told ESPN and The New York Times that he is gay on February 9. Sam later became the first openly gay player to be drafted by a NFL team when he was taken by the St. Louis Rams in the seventh round.
Robbie Rogers became the first openly gay male athlete to play in a professional American sporting match when he took the field for Major League Soccer's Los Angeles Galaxy during a match against the Seattle Sounders on May 26.
Sheryl Swoopes, a retired WNBA star and coach of the Loyola University Chicago's women's basketball team, came out in 2005.
Brittney Griner
, selected No. 1 in the 2013 WNBA draft by the Phoenix Mercury, is openly gay.
came out as gay
after rumors circulated in the media.
In an exclusive interview with CNN, former San Francisco 49ers player Kwame Harris
Rugby player Gareth Thomas of Wales spoke about being gay to a British news channel in 2009.
Justin Fashanu became the first openly gay soccer player in Europe when he came out in 1990. Eight years later, he took his own life.
Tennis great Martina Navratilova came out in 1981.
After his retirement in 2007, basketball player John Amaechi announced he was gay.
After retiring from professional football in 1972, David Kopay acknowledged to the Washington Star that he was gay.
Villanova University's Will Sheridan came out to his teammates in 2003.
In 2012, U.S. women's soccer player Megan Rapinoe confirmed in Out magazine that she was a lesbian.
Champion figure skater Johnny Weir confirmed in his 2011 memoir, "Welcome to My World," that he was gay.
Australia's Matthew Mitcham came out in an interview with the Sydney Morning Herald in 2008.
In 2012, Orlando Cruz became the first active professional fighter to publicly announce that he was gay.
Openly gay British dressage rider Carl Hester helped his team win gold at the 2012 Olympics.
English cricketer Steven Davies announced he was gay in 2011.
Germany's Judith Arndt won the silver medal in cycling at the 2012 Olympics.
Billy Bean, a former Major League Baseball player, discussed being gay in a 1999 New York Times article.
Tennis legend Billie Jean King was outed by a former female partner in 1981.
In 2002, professional football player Esera Tuaolo came out on HBO's "Real Sports."
French tennis player Amelie Mauresmo came out in 1999.
Greg Louganis, who won four Olympic golds for the United States during his diving career, has been openly gay since 1995.
Openly gay athletes
Openly gay athletes
Openly gay athletes
Openly gay athletes
Openly gay athletes
Openly gay athletes
Openly gay athletes
Openly gay athletes
Openly gay athletes
Openly gay athletes
Openly gay athletes
Openly gay athletes
Openly gay athletes
Openly gay athletes
Openly gay athletes
Openly gay athletes
Openly gay athletes
Openly gay athletes
Openly gay athletes
Openly gay athletes
Openly gay athletes
Openly gay athletes
Openly gay athletes
Openly gay athletes
Openly gay athletes
STORY HIGHLIGHTS
Will Cain and Chris Kluwe debate having openly gay athletes in the locker room
Cain: Larry Johnson's discomfort with openly gay athletes in the NBA is understandable
Kluwe: A person's sexual orientation shouldn't be a problem in a professional setting
Cain: Gay athletes shouldn't have to live a lie, but some people will be uncomfortable
Editor's note: Will Cain is a CNN contributor and co-host of Real News at The Blaze. Chris Kluwe is a punter for the Minnesota Vikings of the National Football League. He is an ambassador for Athlete Ally, an organization working to end homophobia in sports, as are Brendon Ayanbadejo of the Baltimore Ravens and Scott Fujita of the New Orleans Saints.
(CNN) -- On Monday, NBA player Jason Collins disclosed that he is gay, making him the first active openly homosexual athlete in the four major American pro team sports.
His coming out has been the big sports story of the week and has lots of people talking -- CNN contributor Will Cain and Minnesota Vikings punter Chris Kluwe are no exception. Here's their discussion:
Will Cain: Chris, you, Brendon Ayanbadejo and Scott Fujita have done a noble job offering support to closeted gay NFL players. If I played in the NFL -- preferably for the Dallas Cowboys -- I would join you. A few months ago, you wrote a column on CNN.com laying out your position. I could not have joined you on that. I think you went too far when you said:
Players -- Those of you worried about a gay teammate checking out your ass in the shower, or hitting on you in the steam room, or bringing too much attention to the team -- I have four simple words for you. Grow the f*** up.
I am a pro-gay marriage conservative. And I'm pretty damn confident in my sexuality. If we all get naked and go to brunch, I'm not going to be uncomfortable. But that's not a standard I expect of everyone. Yet, all of sudden, this seems to be the standard.
Anyone uncomfortable sharing a locker room -- being naked -- with someone else who is potentially attracted to them is labeled "afraid of gay people," insecure or a homophobe. This is what happened to former NBA player Larry Johnson this week when he tweeted:
I don't Jason Collins personally but he seems like a great guy. Me personally gay men in the locked room would make me uncomfortable .
I think we're asking too much. Johnson's discomfort isn't illogical. And I bet he's hardly the only one who feels this way.
Chris Kluwe: I would counter that with this -- there was a time when white men were uncomfortable showering with black men, or having them in the locker room. But as long as someone respects your personal space and doesn't harass you (verbally, physically or sexually), I fail to see what their sexuality, religion, race or personal beliefs have to do with any comfort or discomfort you might feel.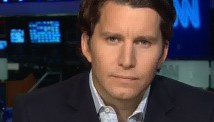 Will Cain
Will: I don't think the black people-white people analogy is a good parallel. That was discomfort driven by racism. This is discomfort driven by potential sexual attraction. The better analogy is gender. Why do we have separate bathrooms for men and women?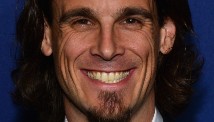 Chris Kluwe
Chris: No, this is discomfort driven by sexism. Has there ever been a single reported case of sexual harassment in a professional sports environment by one player toward another? What makes you think that because all of a sudden a player is allowed to openly be himself that he's immediately going to start mounting every guy in sight? Isn't that the very definition of narcissistic tendencies by straight men who think that way? What makes you think you're that player's type, or that he would ever be attracted to you?
One of the reasons we have separate bathrooms for women and men is because men have a long history of violent behavior toward women, particularly when they feel women are vulnerable. And so we have separated the sexes in those situations.
Are you telling me that a professional athlete wouldn't be able to defend himself in the shower if a gay teammate suddenly decided, despite every single social norm we are raised with, that he was going to start humping his teammate's leg in a work environment?
Will: No. I'm not telling you that. I'm not making any of the arguments you just blasted.
You're right, one of the reasons we have separate men and women bathrooms is the potential for violence. But another reason is due to the discomfort of being checked out by someone who could be attracted to you. No honest straight man can say if he was put in a locker room full of naked ladies he wouldn't check out one, a few, or all of the women. It wouldn't be creepy, it wouldn't be deviant -- it would be normal. And no one would suggest in that situation: Get over yourselves ladies, don't be so narcissistic, your discomfort is your problem.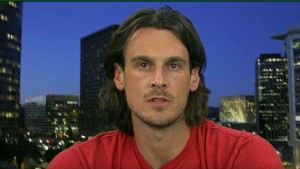 Kluwe: Risk in being openly gay in NFL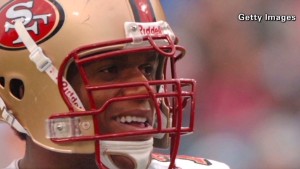 Former NFL player comes out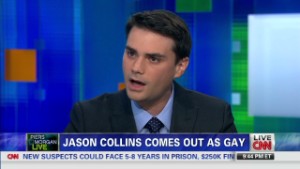 Ben Shapiro: Jason Collins not a hero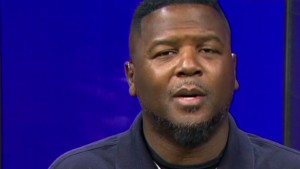 Butler: Speech axed over Collins tweet
The argument that I'm actually making is that potential sexual attraction creates a new dynamic in the locker room. And while it doesn't make me uncomfortable, I think it's absurd to say someone like Larry Johnson's discomfort is illogical.
In the end, I don't have a solution to this problem. It isn't for players to live a lie and stay in the closet. But the lack of a solution doesn't require us to veer so far into political correctness to pretend there isn't a problem.
Chris: But here's the thing. There have been gay athletes before. We know this because several of them have come out (Jason Collins while active, others after they were done playing). Simple statistics say there have to have been many others that never came out. And yet, somehow, there's never been a single reported incident of one athlete sexually assaulting another athlete, whether it's in the shower or anywhere else in the locker room.
Essentially, what you're arguing is that because something that has never before happened in the entire history of professional sports might possibly maybe potentially happen if someone were to absolutely lose their mind and ignore every standard of decency and common behavior that we learn from a very young age, that we should force people to live a lie.
I find I can live with the discomfort of people who can't wrap their minds around the idea that the world does not revolve around them. They can always shower somewhere else if it bugs them that much. I'll be in there dropping the soap, perfectly secure in the knowledge that I have a wife who loves me, whom I love back, and that there is an HR department in my organization I can turn to if something inappropriate were to occur. In fact, I'd probably be flattered if someone told me I looked good.
I'm comfortable with who I am. Other people deserve the same chance.
Will: No, again, that's not what I'm arguing. I didn't mention sexual harassment. I certainly didn't mention sexual assault. I did specifically mention "living a lie" and said no one should be forced to do that.
I am only recognizing reality and human nature and observing that people will get checked out. Getting checked out would flatter you. It would flatter me. But I'm pretty sure it wouldn't flatter everyone. Take a quick poll of all the ladies you know about how they feel when they're ogled. Would they all feel flattered?
I don't care if gay guys are in the locker room. I care about intellectual consistency. If people like Larry Johnson, who are uncomfortable, get labeled as homophobes ... then any ladies who have a problem with you in the locker room are prudes.
Again, I don't care ... we can all meet up in the showers at the YWCA this afternoon. Or we become more understanding of other's discomfort. You get it one way or the other. Trying to split the difference is just politically correct emotionalism.
Follow @CNNOpinion on Twitter.
Join us at Facebook/CNNOpinion.
The opinions expressed in this commentary are solely those of Will Cain and Chris Kluwe.