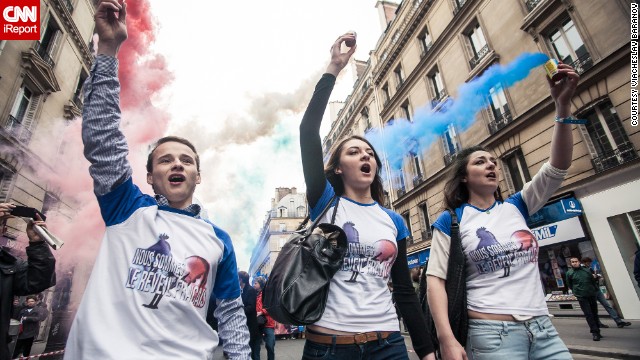 Hundreds of supporters of Marine Le Pen, leader of France's far-right National Front party, took to the streets on May Day Wednesday as part of the day's celebrations in images captured by
iReporter Batareykin
.
A police officer and demonstrator clash during May Day demonstrations in Seattle on Wednesday, May 1. A peaceful protest turned violent, and police say they sprayed demonstrators with pepper spray after they threw everything from metal pipes to fireworks at officers. Hundreds of thousands of people across the globe take to the streets on May 1 to demand better working conditions during what is known as International Workers' Day.
iReporter TTeixeira
captured this image from a May Day protest in Porto, Portugal. "People protested with great order, but showed discontent against the government who they blame for this economic crisis," she said. "They want the government to resign and the Troika out of this country."
Tens of thousands of workers and labor activists march through the central business district in Jakarta, Indonesia.
Michael Kandel
was out at the May Day protest in Washington yesterday evening when protesters veered off the marching path and stormed a GAP store. Police intervened to secure the entrance and a skirmish broke out, according to CNN.
Photographer
Demonstrators in Madrid take part in a Labor Day protest against the Spanish government's austerity policies.
Indonesian workers wearing ant costumes to depict the exploitation of workers participate in a march to the presidential palace in Jakarta.
In Taipei, Taiwan, more than 20,000 workers staged a protest against President Ma Ying-jeou's pension reforms.
Police prepare behind a line of barbed wire before thousands of Indonesian workers arrive outside the presidential palace in Jakarta.
Members and sympathizers of the Hungarian communist party, the "Munkaspart," march in Budapest.
A protestor holds an oversized mask of billionaire tycoon Li Ka-shing, the chairman of Hutchison Whampoa, as hundreds of dock workers protest pay and working conditions in Hong Kong.
People march in a May Day demonstration Athens.
Participants raise their fists during a demonstration in Athens.
A May Day protestor uses catapults during clashes in Istanbul.
Supporters of the nationalist party Red and Black march in Tirana, Albania, demand the resignation of Premier Sali Berisha.
An elderly activist attends a traditional May Day Communist rally in Moscow.
Government employees protest for better pay and job security in Srinagar, India.
Demonstrators march against the Spanish government's austerity policies in Barcelona.
A Cambodian worker stands on a vehicle as he attends a May Day protest in Phnom Penh.
Indian members of the All India Trade Union Congress take part in a rally in Hyderabad.
Russian communist party activists carry red flags and banners during their traditional May Day rally in Moscow.
In pictures: May Day protests around the world
May Day protests around the world
In pictures: May Day protests around the world
May Day protests around the world
In pictures: May Day protests around the world
May Day protests around the world
May Day protests around the world
May Day protests around the world
May Day protests around the world
May Day protests around the world
May Day protests around the world
May Day protests around the world
May Day protests around the world
In pictures: May Day protests around the world
May Day protests around the world
May Day protests around the world
In pictures: May Day protests around the world
May Day protests around the world
May Day protests around the world
May Day protests around the world
May Day protests around the world