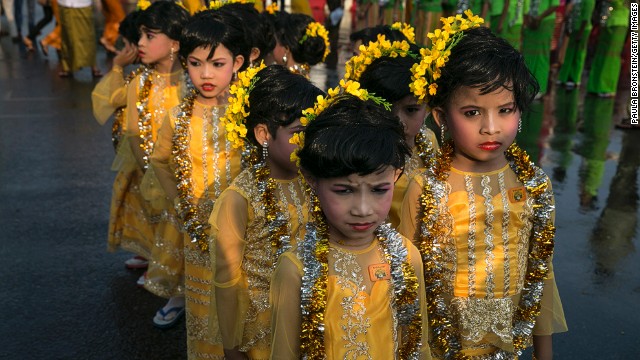 APRIL 17 - YANGON, MYANMAR: Young Burmese dancers wearing traditional clothing wait to take part in the closing ceremony on the fourth day of the Burmese new year water-throwing festival called Thingyan on April 16.
"blood moon"
crossed the earth's shadow Tuesday, giving a rare glimpse of the total lunar eclipse -- or tetrad -- visible to people in North and South America. J. David Osorio photographed the different phases in Los Angeles, including the image shown.
See more of his images here.
APRIL 16 - CALIFORNIA, UNITED STATES: A
APRIL 15 - LONDON, ENGLAND: Competitors perform at the World Irish Dance Championship on April 13. The 44th contest is currently running at the Hilton London Metropole hotel and will host approximately 5,000 dancers competing in solo, Ceili, modern figure choreography and dance drama categories during the week-long event.
APRIL 11 - RIO DE JANEIRO, BRAZIL: A model wears a creation from the Salinas collection during Fashion Week. The 25th edition of Rio's fashion show is themed around the spirit of the city, which is trying to establish itself as an emerging capital of fashion.
tour of New Zealand and Australia
with his parents, the Duke and Duchess of Cambridge.
WELLINGTON, NEW ZEALAND: Britain's Prince George plays during a visit to a parents group, his first ever public engagement. The eight-month-old future king is on a
814 million eligible voters will decide
between a controversial but popular Hindu nationalist and a member of the Nehru-Gandhi dynasty.
APRIL 8 - DIBRUGARH, INDIA: A woman casts her vote during the Indian election, the world's biggest poll ever. The country's
APRIL 3 - LIMA, PERU: A fisherman naps on a bunch of fishing nets near the mining port of Iquique. Chilean authorities said there was surprisingly light damage after a magnitude 8.2 quake struck and a tsunami warning was issued in the Pacific Ocean.
APRIL 2 - NOGALES, ARIZONA: Cardinal Sean O'Malley blesses a family after mass on April 1, along the U.S.-Mexico border wall. O'Malley was among several bishops who served along the border to bring awareness to immigration reform and to remember those who have died trying to cross the border in previous years.
APRIL 1 - BALI, INDONESIA : A young Balinese man tries to kiss a woman during the Kissing Festival known as "Omed-Omedan" at Sesetan village in Denpasar. The kissing festival is held annually, one day after Balinese Hindus celebrate the Nyepi Day of Silence. During the festival, Balinese youths gather first to pray, then to kiss and dance as spectators douse the teenagers with water. The festival is intended to fend off bad luck in the year ahead.
England and Wales are among 15 countries
as well as parts of the United States and Mexico that allow gay marriage.
MARCH 31 - LONDON, UK: Gay couple Peter McGraith (right) and David Cabreza speak to the press after getting married shortly after midnight at Islington Town Hall at one of the UK's first same-sex weddings on March 29.
MARCH 28 - KABUL, AFGHANISTAN: Afghan lawmaker Habiba Sadat from Helmand province poses under pictures of former presidents of Afghanistan's parliament. During the Taliban rule, women rarely left their homes. In this year's presidential election, three leading candidates have chosen women as their running mates.
MARCH 27 - SULTAN KUDARAT, PHILIPPINES: Two boys walk past Moro Islamic Liberation Front rebels during a rally in support of the peace agreement on the southern Philippine island of Mindanao. The biggest Muslim rebel group in the country signed the historic pact, ending one of Asia's longest and deadliest conflicts.
FEODOSIA, CRIMEA: Ukrainian marines leave their base in Crimean Feodosia. Ukrainian soldiers piled onto buses and began their journey to mainland Ukraine, as former comrades saluted them from outside a base overrun by Russian forces in the past few days.
MARCH 26 - BAIKONUR, KAZAKHSTAN: An Orthodox priest conducts a blessing service in front of the Soyuz TMA-12M spacecraft at the Baikonur Cosmodrome. The start of the new Soyuz mission to the International Space Station (ISS) is scheduled for March 27.
current crisis in Crimea
shifted the agenda dramatically.
MARCH 24 - AMSTERDAM, NETHERLANDS: U.S. President Barack Obama arrives in Amsterdam ahead of his first visit to the EU institutions. Obama visits Europe to discuss nuclear security and EU-U.S. trade links, but the
MARCH 21 - SEOUL, SOUTH KOREA: A worker sets up lotus lanterns at the Jogyesa Temple ahead of celebrations marking the Buddha's birthday on May 6. Buddhism is one of the country's largest and most active religions. Although the exact date is unknown, the Buddha's official birthday is celebrated on April 8 of South Korea's lunar calendar.
MARCH 20 - TEHRAN, IRAN: An Iranian man lights fireworks during a celebration, known as "Chaharshanbe Soori," held on the eve of the last Wednesday before spring, in Pardisan Park. The first day of spring is known as Nowruz -- the Persian new year.
MARCH 19 - KABUL, AFGHANISTAN: An Afghan woman, Hanifa, sits down to have her picture taken to register for the upcoming presidential elections in a school on March 18. Afghanistan's election is set to take place on April 5 and is the third presidential poll since the fall of the Taliban with 11 candidates in the running. Current president Hamid Karzai will not be standing again.
MARCH 18 - JERUSALEM: Ultra-Orthodox Jewish men in costumes dance at a yeshiva, a Jewish school, during Purim celebrations. The festival commemorates the rescue of Jews from genocide in ancient Persia, recorded in the book of Esther in the Bible.
Holi, the Hindu festival of colors.
The occasion also marks the advent of spring.
MARCH 17 - GAUHATI, INDIA: With faces smeared with colored powder, Indians dance during celebrations marking
children of Syria
during a candlelight vigil marking the third anniversary of the Syrian uprising. The participants called for more humanitarian support to be given to the young victims of the crisis.
MARCH 13 - SEOUL, SOUTH KOREA: South Korean students pay silent tribute to the
MARCH 12 - PARIS, FRANCE: The Eiffel tower and the roofs of Paris are only just visible through a haze of pollution. City officials said people prone to health problems, children and seniors should remain indoors as three environmental organizations filed a lawsuit against the city for "
NATORI, JAPAN - MARCH 11: Dove-shaped balloons are released into the air during a memorial service for tsunami victims on the third anniversary of the massive earthquake that hit northern Japan. Nearly 19,000 people died in the aftermath of the disaster.
MARCH 7 - BEIJING, CHINA: Portrait of the late Communist leader Mao Zedong is reflected on a bus passing through Tiananmen Square -- the venue for the annual National People's Congress of China. The agenda is focused mainly on the key economic reforms outlined last year.
Happy Burmese New Year
Did you see it?
Let's dance!
Palm Sunday mass
Fashionable
Copa Libertadores
First engagement
The biggest election
Remembering
2.5 million
A nap
Border blessings
Kiss me quick
England, Wales: 'We do'
Women in power
Future without arms
Leaving
Blessing before a long journey
Busy week ahead
Buddha's birthday
Happy Nowruz!
Preparing to vote
Party like it's Purim
India's color explosion
Playing with Pope
Hope for Syria
Paris in gray
Doves above Fukushima
Women celebrated
Towards a change?