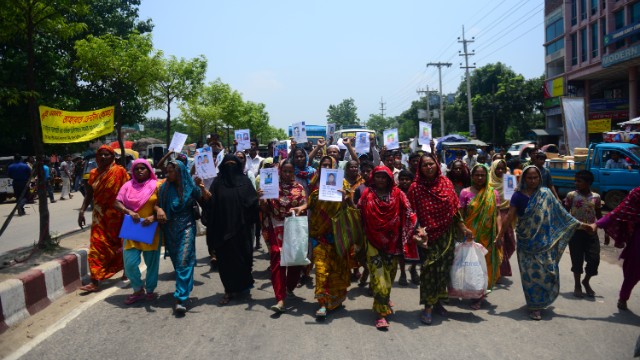 Marching Bangladeshis hold up portraits of relatives missing in the Rana Plaza building collapse on Tuesday, May 14. They're demanding wages for the missing garment workers and the death sentence for the building owner. Rana Plaza collapsed on April 24 in Savar outside Dhaka;
the final death toll stands at 1,127.
Family members of missing workers march on May 14. The Bangladeshi army has wrapped up its search for bodies.
Bangladeshi property tycoon Sohel Rana, center, is escorted to the High Court in Dhaka wearing police-issued body armor as protests calling for his prosecution continue, Tuesday, April 30.
Bangladeshis march on April 30, demanding capital punishment for Rana in Savar, Bangladesh, outside the capital, Dhaka.
Garment workers block a street during a protest Monday, April 29.
Bangladeshi garment workers protest in Savar on Saturday, April 27. Four people were arrested and four others are being questioned by police. The building owner has gone into hiding.
Bangladeshi army personnel and police from villagers on Friday, April 26, after protests broke out at the site of a building collapse 48 hours earlier in Savar, outside Dhaka.
Garment workers block a street in Savar, demanding the arrest of the owner of the Rana Plaza building.
Bangladeshi police fire tear gas at protesters amid the rubble of the building.
Garment workers block a street as they march to demand the arrest of the owner of the Rana Plaza building.
Plainclothes Bangladeshi police brandish sticks as they attempt to break up protests.
Firefighters work after protesters set fire to a spinning mill in Gazipur.
A man cleans up a restaurant after protesters broke its windows.
Bangladeshis protest building collapse
Bangladeshis protest building collapse
Bangladeshis protest building collapse
Bangladeshis protest building collapse
Bangladeshis protest building collapse
Bangladeshis protest building collapse
Bangladeshis protest building collapse
Bangladeshis protest building collapse
Bangladeshis protest building collapse
Bangladeshis protest building collapse
Bangladeshis protest building collapse
Bangladeshis protest building collapse
Bangladeshis protest building collapse
STORY HIGHLIGHTS
Rescuers burst into tears when a woman's body is carried out of ruins
They had tried for hours to save her only for a fire to dash their efforts
She had survived in the collapsed building for more than four days
The collapse last week killed hundreds and many more are still missing
Savar, Bangladesh (CNN) -- After so much horror and heartache, the woman's death was more than the rescue workers could take.
They had toiled stoically for days in the heat and dust of the collapsed building's wreckage, recovering 2,400 survivors but also hundreds of dead bodies from the deadliest industrial accident in Bangladesh's history.
The minimal gear they used -- a hard hat, a face mask and a can of air freshener to dilute the pervasive stench of decaying bodies -- indicated the grimness of their task.
But when the body of Shahina, as she was known to rescuers, was carried out of the rubble on Monday, many of them burst into tears.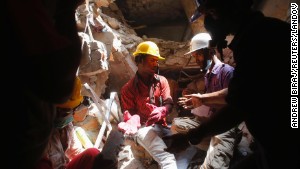 Did Western brands fail factory workers?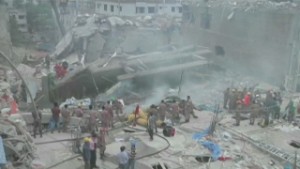 Bangladesh tragedy sparks protests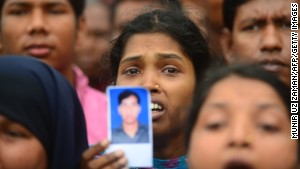 Trauma beneath Dhaka factory rubble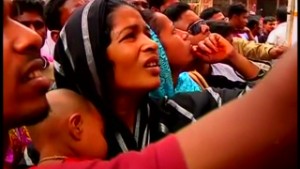 Calls for action after factory collapse
She had been discovered Sunday, just as hopes of finding more survivors were fast evaporating. Four days had passed since the nine-story building that housed garment factories in Savar had collapsed.
Shahina provided a flicker of optimism as authorities were preparing to shift to the grisly process of hauling the structure's debris away with heavy machinery to uncover the unknown number of bodies entombed within.
The Bangladeshi news media quickly reported her situation, tuning in people around the country to the race to save her.
The rescue workers, a mix of volunteers and fire service members, tunneled into the area where she was trapped amid huge chunks of concrete.
To have held on so long was extraordinary, and her ordeal of more than 100 hours had left her weak. She begged the rescuers to save her so that she could see her infant son again.
They gave her food, liquid and oxygen to help her hold on while they used a machine to try to cut away the concrete that prevented them from pulling her out.
Hope and despair
After about 10 hours of efforts to free Shahina, a deputy director of the fire service, Nurul Haque, came out of the ruined structure on Sunday night and told those waiting anxiously outside that she might be brought out in about an hour.
Hopes ran high.
But after he went back inside, a fire suddenly broke out, reportedly set off by sparks generated by an attempt to cut through a metal rod. The rescuers trying to save Shahina had to flee the flames, which fed on the fabrics stored in the building.
Firefighters battled desperately to extinguish the fire, which sent thick smoke belching out of the rubble.
By the time the rescuers were able to go back into the area, it was too late for Shahina. They brought out her body on Monday and took it to the nearby schoolyard that has become a makeshift morgue.
It was unclear whether she had died from the fire or another cause, but her death came as a heavy blow to those who had tried so hard to save her.
Delwar Mia, a volunteer rescuer at the site described her as "very spirited."
"When she talked to us, she repeatedly talked about her son and said she wanted to live for her son," he said.
Bodies await
After her death, hopes of finding more survivors appeared to fade away.
The scores of family members of those missing in the disaster who have converged on the area to wait in anguish for any sign of their loved ones seemed to have given up on the prospect of seeing them alive again.
Now, they say they just want to find the remains and take them back to their local community to bury them.
But many of the bodies being pulled from the rubble are severely damaged and decomposed, making the task of identifying them all the harder.
The number of people confirmed dead stands at 398, making it a more lethal disaster than the Triangle Shirtwaist Factory fire in New York in 1911 that led to labor reforms in the United States.
Rescuers say they fear that hundreds more bodies are still inside the ruined structure in Savar.
Building owner accused
Blame for the disaster in the Bangladeshi news media is focusing on Sohel Rana, the owner of the building who was arrested at the weekend as he tried to flee the country.
Rana, a local leader of the ruling Awami League, is accused of telling the garment factory owners that it was safe for workers to reenter the building on April 24, the day it collapsed, even after cracks had appeared in the structure the day before.
He has denied pressuring the factory owners, according to the Bangladeshi news website bdnews24.com.
"It was them who forced me, saying they will face huge loss and shipments will be canceled if the factories were closed even for a day," the website cited him as saying Sunday.
At least six others, including three factory owners have also been arrested.
Also facing scrutiny are the Western clothing retailers who sourced their products from factories in the building, and Bangladeshi authorities accused by labor activists of allowing such disasters to happen through lax safety regulations.
In November, a fire at Tazreen Fashions Factory in another suburb of Dhaka killed at least 112 people.
The Bangladeshi government said Monday that it had decided to inspect the safety and security of all garment factories in the country.
CNN's Jethro Mullen reported and wrote from Hong Kong. Journalists Farid Ahmed and Morshed Ali Khan in Savar, Bangladesh, and CNN's Saeed Ahmed in Atlanta contributed to this report.