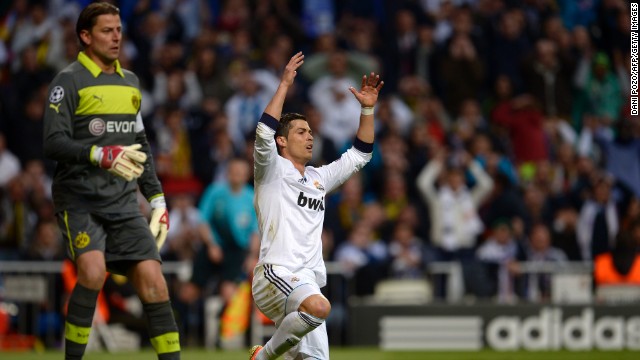 Cristiano Ronaldo had a wonderful chance to put Real in front early on but sent his volley straight at Dortmund keeper Roman Weidenfeller.
Mesut Ozil reacts after missing a glorious opportunity to give Real the lead after breaking clear of the Dortmund defense only to drill his effort wide of the post.
Substitute Karim Benzema finally made the breakthrough in the 82nd minute when he slotted home Ozil's pass from close-range to make it 1-0 on the night and 2-4 on aggregate.
Sergio Ramos set up a nervous finale when he rifled home with two minutes of normal time remaining. That strike left Real needing one more to pull off an unlikely comeback.
Real piled forward in search of a dramatic winner but not even the mercurial Ronaldo could find that elusive third goal.
Dortmund manager Jurgen Klopp celebrates with his players following the 2-0 defeat which allowed his side to qualify for the final 4-3 on aggregate. It is the first time since 1997 that Dortmund has reached the final when it defeated Juventus 3-1.
Dortmund will face either Barcelona or Bayern Munich at Wembley on May 25. Bayern, which has already won the Bundesliga title, will take a 4-0 lead into the second leg at the Camp No Wednesday.
Rueful Ronaldo
Off target from Ozil
Bang on Benzema
Ramos ready
Not my night
Wembley way
Party time
STORY HIGHLIGHTS
Borussia Dortmund is through to the Champions League final at Wembley
German side beaten 2-0 on the night but go through 4-3 on aggregate
Karim Benzema and Sergio Ramos were on target for Spanish champions
Dortmund will face either Bayern Munich or Barcelona in its first final since 1997
(CNN) -- Jose Mourinho, the self-appointed "Special One", was the man charged with winning the European Champions League and finally recognizing the dream of "La Decima."
Instead, should he leave this summer, his epitaph will read "decimated".
Just minutes after watching his Real Madrid blow its chance of an unprecedented tenth triumph in Europe's elite competition Tuesday, Mourinho was already busy plotting his escape route from the Spanish capital following his fifth semifinal defeat in seven attempts.
"I want to be where people love me to be," he told ITV immediately after the game.
Just quite how much love there is in Madrid for Mourinho is open for debate, but his side's 2-0 victory was not enough to earn him the opportunity to become the first man to win the competition with three different clubs.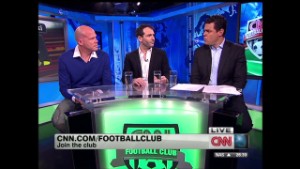 CNN Football Club: German giants rise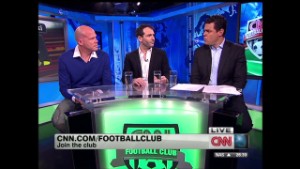 CNN Football Club: German giants rise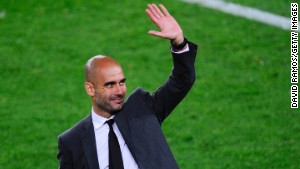 Do Bayern Munich need Pep Guardiola?
Read: Dortmund deliver fatal sting
Last week's humiliating 4-1 defeat in Dortmund left Real with an uphill struggle and despite late goals from Karim Benzema and Sergio Ramos, it failed to take advantage of the number of glorious chances which came its way.
Now, all eyes are on Mourinho, with former employers Chelsea just one of several high profile clubs likely to be interested in employing the Portuguese coach.
But the 50-year-old, who left Stamford Bridge in September 2007 in acrimonious circumstances, insists he will wait until the end of the season before making a decision.
Real sits 11 points behind league leader and arch rival Barcelona in the title race, while it faces city neighbor Atletico Madrid in the final of the Copa del Rey, the country's top domestic cup competition.
"I didn't make a decision because I have a contract and more than that, because in football people break contracts when they want to, is the respect I have for the club and the president," he told a press conference.
"It's why I want to play the [Copa del Rey] final and win the cup and finish second in the league. I want to sit with my president, my friend, and decide the best for me."
Last year's league title win seems a long time ago now.
Read: Is the Champions League a prelude to German World Cup triumph?
Mourinho's reign has been tempestuous from the very moment he arrived in May 2010. Style of play which has frustrated supporters, a falling out club captain Iker Casillas and a constant war of words with the Spanish media has not helped his case.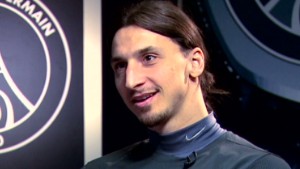 Exclusive: What makes Ibrahimovic tick?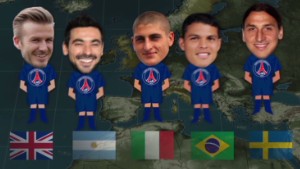 PSG: One year on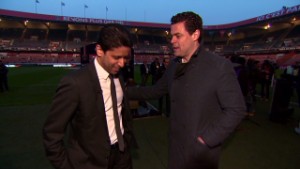 Behind the scenes at Paris St Germain
"I know in England I am loved by the fans, the media they treat me in a fair way," he explained to reporters.
"I know I am loved by some clubs, especially one. In Spain the situation is a bit different because some people hate me.
"Many of you are in this room. It's difficult to make a decision because I like the club and we made a fantastic team that is ready to do big things.
"I need to be honest and fair. At the end of the season I will speak."
Mourinho's mood may have been different had Real profited from the number of opportunities gifted to it by a youthful and inexperienced Dortmund side.
Robert Lewandowski's four-goal salvo in Germany last week had given the visiting side a cushion of comfort heading into the encounter.
But manager Jurgen Klopp was left sweating on the touchlines as his players held on to amidst a barrage of pressure from the home side.
Read: Real Madrid usurp Man Utd as world's most valuable club
"It isn't too hard to reveal what I thought during those last 10 minutes: if God wished it then we would qualify for the final," he told a press conference.
"But it has to be said that it was a crazy match, from start to finish."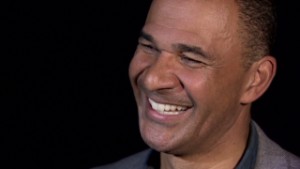 Gullit: Mourinho will return to Chelsea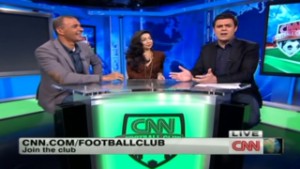 CNN FC: Beckham back on big stage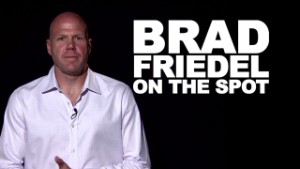 Friedel: 'Bale can be world's best'
Trailing 4-1 from the first leg, Real needed a fast start and it almost got one when Gonzalo Higuain ran through on goal only to shoot straight at Dortmund keeper Roman Weidenfeller.
Dortmund, which was forced into an early change following an injury to influential playmaker Mario Goetze, appeared nervous as Real continued to pile on the pressure.
Those nerves should have been increased when Mesut Ozil escaped the Dortmund defense, but fired his effort wide of the post with just the goalkeeper to beat.
Ronaldo was next to go close, this time sending a close range volley straight against Weidenfeller when he looked certain to score.
With the home side consistently failing to take its chances, Dortmund began to grown in stature and Jakub Blaszczykowski should have done better after meeting Lukasz Piszczek's cutback.
Dortmund, which drew 2-2 in Madrid during the group stage of the competition, continued to create opportunities after the break and Lewandowski fired over when well placed.
The Polish striker should have given his side the lead on the night just minutes later when he burst clear of the Real defense, but his thunderous effort cannoned against the crossbar and bounced down to safety.
Read: Goetze set to join Bayern Munich
The German side then went close again when Ilkay Gundogan's close-range effort forced Diego Lopez into a stunning save to keep the scores level.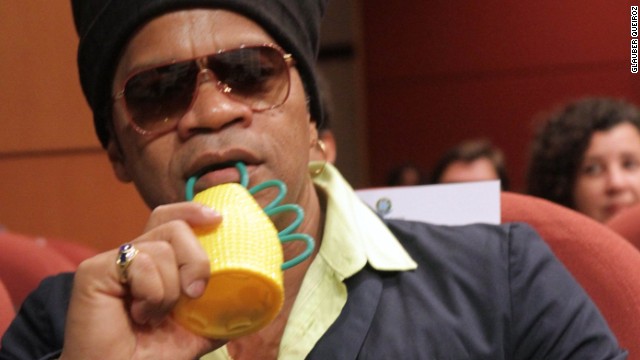 The World Cup in Brazil will be filled with many noises. But what sound will the caxirola, which will be musical instrument of choice for the 2014 World Cup, make?
Designed by Brazilian composer Carlinhos Brown the caxirola make a sound similar to maracas or rainsticks.
Vuvuzelas are used regularly at football matches in South Africa but when the 2010 World Cup came to town a vuvuzela frenzy was born. But the magic of the monotone plastic horn didn't last long and they were soon banned from many grounds.
These happy fans are on their way to the English FA Cup final in 1952 but they would not be allowed to support their team using rattles or loudhailers at many global stadiums today.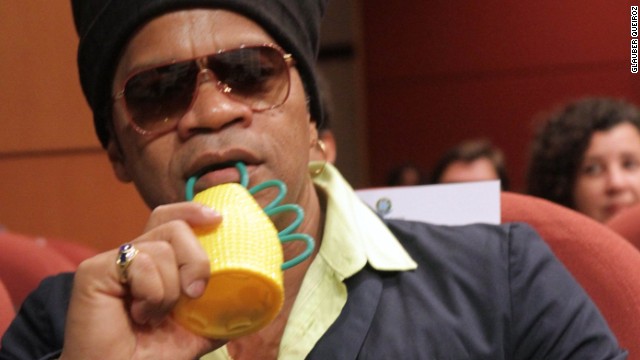 Sounds of the soccer ground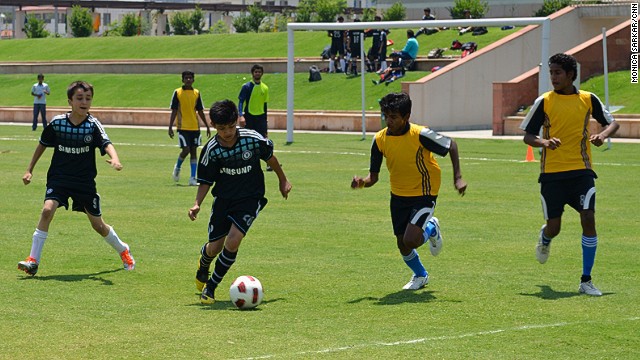 Young, aspiring footballers play a match at the Baichung Bhutia Football School at the Jaypee Sports Complex, Greater Noida, New Delhi in May 2012. Many youngsters are avid supporters of European and South American teams, but few dream of playing in their home country of India.
The academy was set up by Bhutia, one of India's greatest sporting stars. Pictured here with children at the academy in May 2012, Bhutia had a short spell playing for the English club Bury FC in 1999 and made more than 100 appearances for the national team.
The 36-year-old Bhutia, who co-owns the I-League club United Sikkim, has several football schools.
Former Liverpool and England stars Steve McMahon opened his own football academy in Noida, New Delhi, India. International clubs, such as Liverpool, Manchester United and Barcelona are investing in a market of 1.2 billion people where football is the second most popular sport.
Young players train on the grounds of Steve McMahon Football Academy.
The Manchester United Soccer School in Mumbai pictured during its development stages in May 2012. Head coach Chris O-Brien says: "It's not talent identification -- it's open to all abilities, gender and ages to appreciate what Manchester United is all about. If we develop players from that, fantastic."
The Eden Gardens stadium in Kolkata hosts many of India's international cricket matches. Cricket's popularity is often claimed to overshadow Indian football.
Kolkata's Saltlake football stadium is one of the largest in Asia, with a capacity of 120,000. Pictured here, supporters of the oldest team in the country -- Mohun Bagan A.C. -- watch their team play an I-League match against Pune F.C in May 2012. Kolkata is the birthplace of Indian football, with British soldiers introducing the sport in the 19th century.
Outside of Saltlake Stadium, a fan wears the Mohun Bagan A.C. shirt and celebrates the last match of Brazilian player Jose Ramirez Barreto. Thousands of Barreto fans arrived to express their adoration, despite the fact that the revered footballer was simply switching teams and not leaving the game altogether.
The All India Football Federation -- AIFF -- headquarters in the sub city of Dwarka in southwest Delhi. The federation has governed Indian football for more than 75 years.
The AIFF was responsible for appointing the country's first technical director, Dutchman Rob Baan, in 2011.
The official emblem of I-League club Mohun Bagan, displayed at its grounds. Established in 1889, Mohun Bagan is the oldest club in India. A derby match against arch rival East Bengal F.C. can pack out the 120,000-capacity Saltlake stadium.
A photograph on the wall of the Mohun Bagan headquarters shows club secretary Anjan Mitra greeting legendary Argentine footballer Diego Maradona on December 6, 2008.
A poster at the Mohun Bagan club grounds celebrates the team's 1911 victory over the East Yorkshire Regiment in the IFA Shield -- one of the oldest football tournaments in the world, organized by Kolkata's IFA (Indian Football Association). The association used to govern the sport in the country, but now manages football in Kolkata.
An old, torn poster hangs on a fence at the Mohun Bagan club grounds, dreaming of qualification of the national team in the 2014 FIFA World Cup. India has yet to qualify for the tournament, but hopes present developments will ensure its future presence.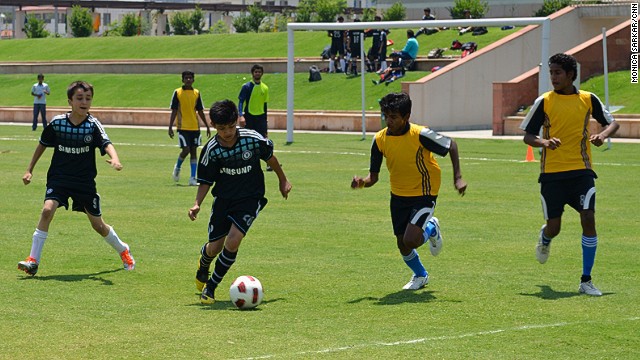 India: Football's 'sleeping giant'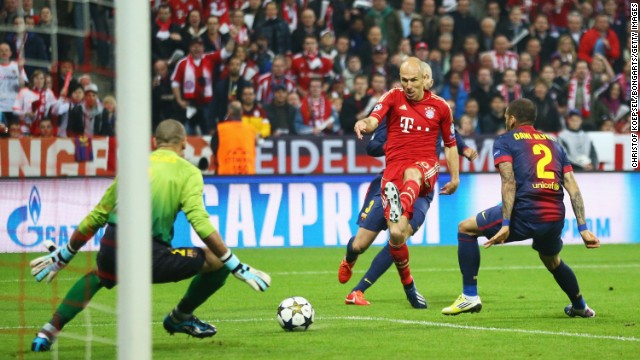 Arjen Robben wasted a glorious opportunity in the opening stages when he raced through the Barcelona defense before firing straight at Victor Valdes.
Bayern dominated the opening exchanges and Thomas Muller gave the German side a 25th minute lead when he seized on Dante's downward header to nod home at the far post.
Muller wheels away to celebrate as Barcelona duo Jordi Alba and Dani Alves look on.
Mario Gomez turned home Bayern's second four minutes after the break -- despite appearing to be in an offside position. The Germany international converted from two yards after Muller had headed towards goal.
Leo Messi, still clearly struggling with the hamstring injury he sustained during the quarterfinal tie with Paris Saint-Germain, failed to inspire the Catalan giant as Bayern dominated.
Robben added Bayern's third with 17 minutes remaining with a neat finish, despite teammate Muller clearly fouling Alba in the build up to the goal. Muller sent Alba sprawling as Robben went through on goal, but the effort was allowed to stand.
Bayern star Muller slid in to convert David Alaba's cross and round off an astonishing 4-0 win for the home side.
Bayern's Allianz Arena hosted last year's Champions League final where the German side suffered a heartbreaking penalty shootout defeat to Chelsea.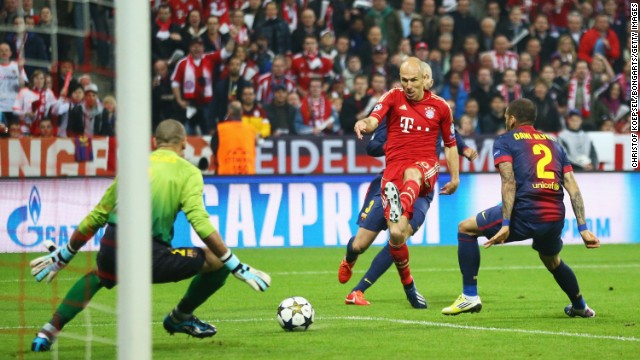 Barca blitzed by Bayern
Mourinho threw on Kaka and Benzema to try and inspire Real and the pair gave the home side a fresh impetus going forward.
Twice Angel Di Maria went close before Real finally made the breakthrough with eight minutes remaining.
After watching Lewandowski go close at the other end, the home side broke at pace and Benzema swept the ball past Weidenfeller after connecting with Ozil's pass.
Benzema then set up Ramos six minutes later to leave Real within touching distance, but that elusive goal just wouldn't come.
"It's a shame," Ramos told reporters. "Sometimes you lose, that is football.
"In Dortmund we should have played the way we did tonight. We feel for the fans. It's a shame to have been so close but the missed chances in the first half were costly."
For Mourinho, the tie was lost on German soil a week ago, a result which condemned Real to becoming the first team to suffer three consecutive semifinal defeats.
He told ITV: "In football you win or you lose. I think we could have won. They had a couple of big chances but that was a consequence of the way we were playing late on where we risked everything.
"Today we were a team with character and desire and we could have done it.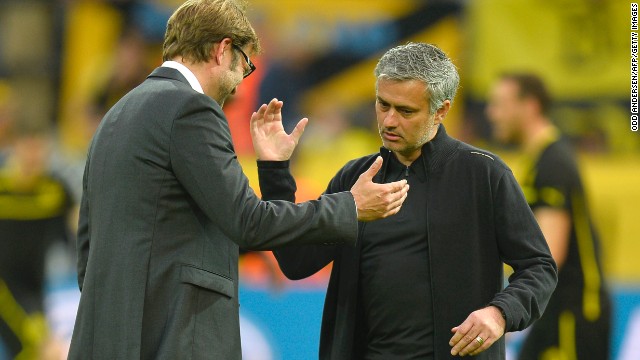 Dortmund coach Jurgen Klopp and Real boss Jose Mourinho had a pre-match chat on the field while their teams went through the warm-up ahead of the tie.
Borussia Dortmund fans are famed across the globe for their flags, banners and chants. Their team, which last won the competition in 1997, defeated Malaga in dramatic fashion in the quarterfinals to make it through to the last four.
Dortmund fans showed their support for Mario Goetze just over 24 hours since it was confirmed he will leave the club at the end of the season for great rival Bayern Munich. The 20-year-old has agreed a $48 million deal with the new German champions.
Dortmund made the perfect start when Robert Lewandowski fired home an eighth-minute opener from close range.
Cristiano Ronaldo celebrates scoring an equalizer seconds after Dortmund felt it should have had a penalty when Marco Reus went down inside the Real penalty area.
Dortmund regrouped at half-time and Lewandowski turned home his second of the night five minutes into the second half after escaping the Real offside trip.
Just five minutes later Lewandowski made it 3-1 when he showed remarkable skill to turn inside the penalty area and lash the ball home past the helpless Diego Lopez. The Poland international is the first man to score a hat-trick against Real in the Champions League.
Just 12 minutes later Dortmund was given a penalty after Marco Reus was fouled by Xabi Alonso and Lewandowski stood up to fire home from 12-yards.
Dortmund's players celebrate with Lewandowski after he becomes the first player to score four times in a semifinal of the competition since Ferenc Puskas in 1960.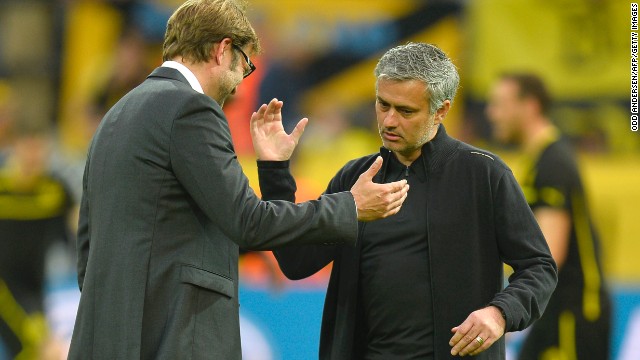 Dynamic Dortmund destroys Real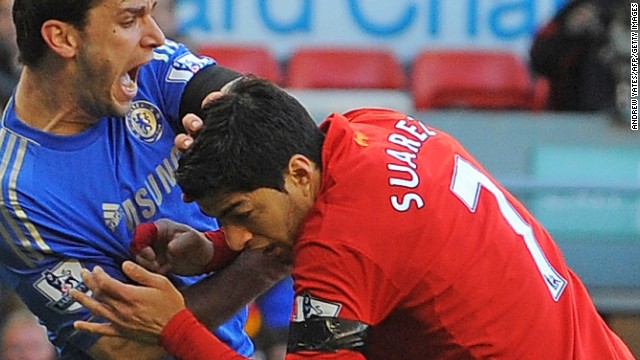 Liverpool's Luis Suarez has been banned for 10 games by the English Football Association for biting Chelsea's Branislav Ivanovic during Sunday's match at Anfield. It was the latest example of a player displaying questionable behavior in front of a vast array of television cameras. As football coverage has grown over the last two decades, so has the scrutiny placed on the stars of the "beautiful game." In this gallery, CNN highlights times when players have seemingly forgotten the eyes of the world are watching...
Suarez's reputation as a pantomime villain dates back to the 2010 World Cup in South Africa. The striker used his hand to block a goal-bound shot in the last minute of extra-time in a quarterfinal tie between Uruguay and Ghana. Suarez was given a red card and Ghana were awarded a penalty. But Asamoah Gyan missed the spot kick and Uruguay won the resulting penalty shootout to reach the semifinals, breaking African hearts in the process. Suarez also has previous when it comes to biting opponents, after he bit PSV's Otman Bakkal while playing for Ajax in November 2010. He was given a seven-match ban.
Manchester United's Eric Cantona suffered a moment of madness during an EPL match at Crystal Palace in January 1995. Cantona had been given a red card for kicking an opponent and, while making his exit from the pitch, the Frenchman jumped over the advertising boards and aimed a scissor kick at a fan who he claimed was shouting insults at him. Cantona was banned for nine months and also served 120 hours community service.
Paolo Di Canio has often courted controversy during his career. The Italian, who recently faced allegations of holding fascist views following his appointment as Sunderland manager, pushed referee Paul Alcock to the floor during a match against Arsenal in September 1998. Di Canio was given a red card and suspended for 11 games.
It is not just acts of violence which can make players unpopular. Brazil's Rivaldo was criticized, and ridiculed, following a group stage match against Turkey at the 2002 World Cup. Rivaldo went to the floor claiming Hakan Unsal had kicked the ball into his face, despite replays showing it had clearly hit him in the leg. Unsal was given a second yellow card and sent off, while Brazil went on to win the match 2-1. FIFA retrospectively punished Rivaldo with a fine, but the playmaker had the last laugh as Brazil went on to lift football's biggest prize for a record fifth time.
Portugal's Joao Pinto drew criticism during the 2002 World Cup after punching a referee in the stomach. Pinto, who had been given a red card during the match against tournament co-hosts South Korea, was suspended for six months by football's global governing body FIFA.
Zinedine Zidane. a world and European champion and a three-time FIFA World Player of the Year, ended his career in infamy at the 2006 World Cup. With the scores level at 1-1 in the final between France and Italy, the playmaker headbutted Italy's Marco Materazzi and was given a straight red card. France went on to lose the match on penalties and Zidane never played again. Materazzi later admitted to provoking Zidane by making remarks about his mother and sister.
Real Madrid defender Pepe has a notoriously short fuse. The Portuguese star was handed a 10-match ban in April 2009 for violent conduct, after kicking Getafe's Javi Casquero in the back while he lay on the floor. Moments before, Pepe had brought down Casquero to concede a penalty.
Belgian midfielder Axel Witsel was banned for eight matches after breaking Marcin Wasilewski's leg while played for Standard Liege against FC Brussels in 2009. Witsel has since joined Russia's Zenit St Petersburg.
Valentin Eysseric, who plays for French club Nice, was hit with an 11-match suspension following last month's match against Saint Etienne. The midfielder broke Jeremy Clement's leg and shattered several ankle ligaments following a shin-high tackle. Saint Etienne's fans have since displayed a banner saying "Support Clement" during their matches.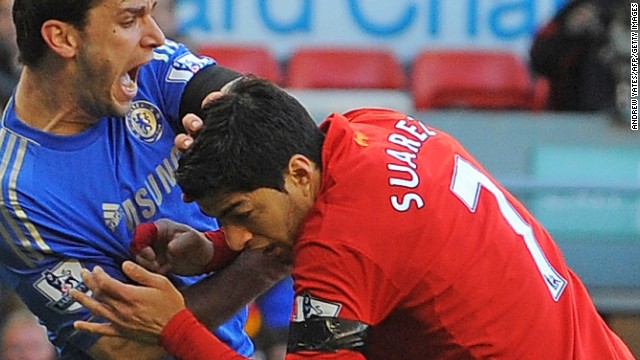 Moments of madness: Soccer stars behaving badly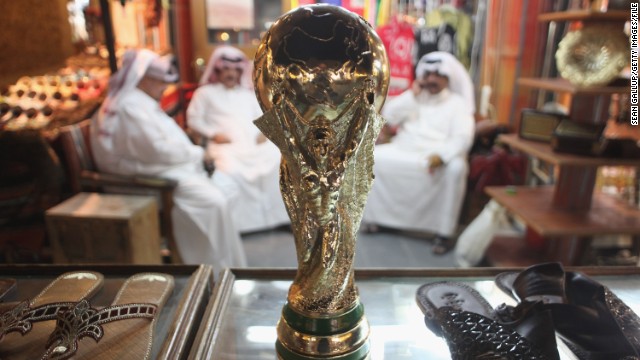 The announcement by FIFA in 2010 that Qatar would host the 2022 World Cup finals has brought greater exposure for the tiny emirate.
In particular the plight of the country's migrant workers, who make up 90 per cent of Qatar's population, has been highlighted by the International Trade Union Confederation. The ITUC has called for FIFA to strip Qatar of the 2022 World Cup unless it significantly improves its record on worker rights.
The ITUC points to Qatar's system of sponsorship which ties workers to employers and has been abused in the past. They also point to the high number of worker deaths and the conditions that many find themselves in. Temperatures on building sites in the summer months can hit 50 degree Celcius.
Qatar's economy has boomed since it started exporting liquefied natural gas in 1997 -- only Luxembourg has a higher gross domestic product per capita. But the 2022 World Cup has sparked a construction boom in a race to ready Qatar's infrastructure for the tournament.
Qatar's ambitious plans include building brand new, state of the art stadiums that would rival any in the world.
To combat the intense desert heat in the summer, each stadium would be equipped with zero carbon cooling technology that would cool the pitch and the stands.
But costs have spiraled and the technology has yet to be successfully deployed in full. Qatar's 2022 World Cup organizing committee recently requested that the number of new stadiums it builds be reduced to eight or nine from the currently planned 12.
The Qataris have also been busy investing in football abroad. The Qatar Investment Authority bought a majority shareholding in French football club Paris Saint-Germain in May 2011, immediately making it one of the richest teams in Europe. Ex-Milan and Inter coach Leonardo, center, was appointed director of football, while Carlo Ancelotti (left) is now coach.
Qatar has its own 12-team top division, with the leading four clubs at the end of the season going into the Qatar Crown Prince Cup. Football is the most popular sport in the kingdom, with nearly 700,000 attending matches in any one season.
Sheikh Abdullah Bin Nassar Al-Thani (left), a member of the Qatari royal family, bought Spanish club Malaga for €36 million ($48 million) in June 2010. The investment brought with it a place in this season's UEFA Champions League. Malaga went on to reach the quarterfinals.
Al Sadd's victory in the 2011 Asian Champions League final vindicated Qatar's decision to plough money into its coaching set-up rather than splash out on top overseas names. Just five of Al Sadd's playing roster were non-Qatari nationals.
Mohammed bin Hammam, Qatar's former high-ranking member of FIFA's executive committee as president of the Asian Football Confederation, was banned from football after being found guilty of trying to bribe delegates ahead of the 2011 presidential election in which he was to be Sepp Blatter's only opponent.
The issue of how migrant workers are treated has long been a hot topic in the Gulf. The UAE, Saudi Arabia, Kuwait and Bahrain have all been criticized in the past for their poor treatment of guest workers. But the 2022 World Cup has focused attention on Qatar. Here one Indian worker proudly shows his ticket for a match at the 2011 Asian Cup finals, hosted in Doha.
Thousands of Indian workers were given the day off by their employers and given free tickets to watch India play at the tournament, even though most were ardent cricket fans. Many spoke of their relief at working in Doha, rather than any of the other Gulf cities near by.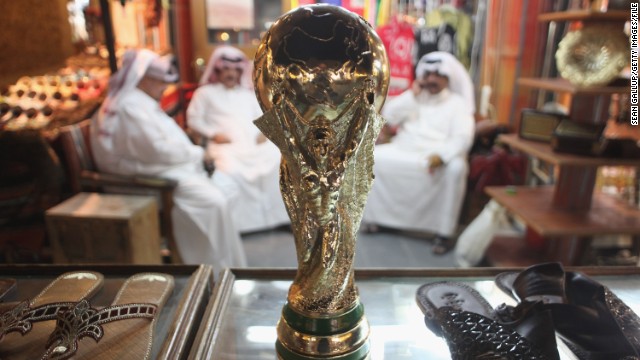 "I don't forget the first match, we were very bad and we were punished because of the result of the first leg."
The prospect of an all-German final now looms large with Bayern Munich taking a 4-0 lead to the Camp Nou to face Barcelona Wednesday.
Read: Brilliant Bayern batters Barcelona
But while Bayern still has work to do, Dortmund can now relax in the knowledge they have booked a dream date with destiny, despite suffering a first defeat of the competition.
"We knew if they scored a goal in the first half, the crowd would get euphoric and loud," Mats Hummels told ITV.
"We had the game under control but with the goal the whole game changed - like the game against Malaga.
"It's unbelievable; something everyone in the team dreamed of since being an child. Some of us are still children. We are looking forward to Wembley."