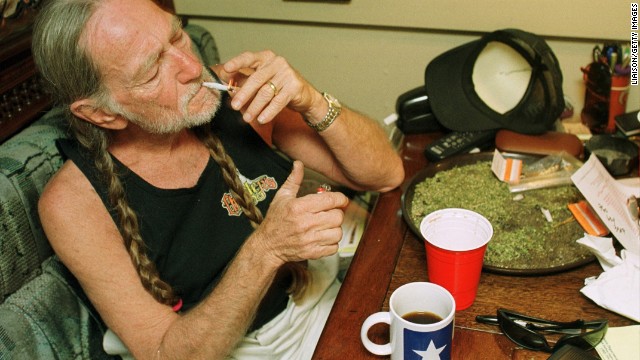 Willie Nelson takes a drag while relaxing at his home in Texas in this photo circa 2000s. Click through to see Nelson throughout his career.
Nelson performs during Keith Urban's fourth annual We're All For The Hall benefit concert on April 16, 2013, in Nashville.
Nelson performs during Willie Nelson's Country Throwdown Tour 2011 on June 3, 2011, in Nashville.
Former President Jimmy Carter and Nelson talk at the taping of "CMT Homecoming: Jimmy Carter in Plains," in December 2004.
Nelson sits in his motor coach, listening to an IRS tape after all his property was seized by the agency because he failed to pay $16.7 million in back income taxes.
Left to right: Nelson, Waylon Jennings, Johnny Cash, and Kris Kristofferson perform together in Rotterdam in 1992.
Neil Young and Nelson perform together at Farm Aid in Indianapolis in 1990.
Nelson performs circa 1980.
Nelson and Waylon Jennings enjoy a drink together in New York in 1978.
Nelson performs circa 1975.
Nelson and country singer Larry Gatlin work during a recording session in February 1973 at the Atlantic Records studio in New York City.
A young Nelson poses for a portrait circa 1960s.
Willie Nelson: Still on the road
Willie Nelson: Still on the road
Willie Nelson: Still on the road
Willie Nelson: Still on the road
Willie Nelson: Still on the road
Willie Nelson: Still on the road
Willie Nelson: Still on the road
Willie Nelson: Still on the road
Willie Nelson: Still on the road
Willie Nelson: Still on the road
Willie Nelson: Still on the road
Willie Nelson: Still on the road