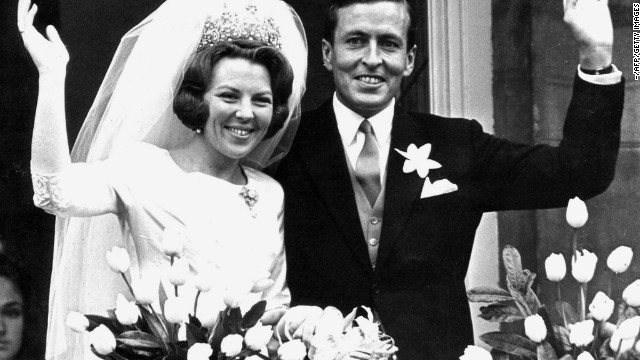 Newly wed Beatrix and Prince Claus in Amsterdam on March 10, 1966. Prince Claus died aged 76 on October 6, 2002 at a hospital in Amsterdam.
Prince Claus holds his son Willem-Alexander in 1968.
Beatrix is pictured in 1979 at Drakensteyn Castle, the year before she became queen.
Beatrix, Friso and Mabel pose at the Palace Huis ten Bosch with the couple's new baby, countess Luana, on April 24, 2005.
Beatrix walks with Prince Johan Friso's wife Princess Mabel as they arrive on February 24, 2012, at the University Hospital in Innsbruck, to visit Prince Johan Friso, who was seriously injured in an avalanche while skiing.
Willem-Alexander (right) talks to soldiers during a visit to Gilze Rijen airbase on November 13, 2012.
Willem-Alexander and Maxima pose with their daughters as the Dutch royal family celebrates Christmas 2012 in Villa la Angostura, Argentina.
Princesses Alexia, Catharina-Amalia and Ariane pose for Christmas celebrations in 2012.
Willem-Alexander, Maxima, Beatrix, Alexia, Amalia and Ariane appear at the annual winter photocall on February 18, 2013 in Lech, Austria.
Queen Beatrix attends the 50th anniversary celebrations of the European School, Bergen on March 12, 2013.
Willem-Alexander, Beatrix and Maxima arrive for the 125th anniversary of the Concertgebouw concert hall and orchestra in Amsterdam on April 10, 2013.
Orange cows are placed on a traffic island in Wassenaar, the hometown of Willem-Alexander and Maxima, on April 17.
A crown is hung in the center of Amsterdam on April 23, 2013 ahead of Beatrix's abdication.
An employee removes a portrait of Beatrix in a Rotterdam courtroom on April 26, ahead of her abdication.
An aerial view shows Drakensteyn Castle and its 20-hectare (49 acre) grounds, where Beatrix will live after her abdication. Beatrix bought the castle in 1959 and moved in four years later, continuing to live there after marrying her husband Prince Claus in 1966.
The Dutch royal family in photos
The Dutch royal family in photos
The Dutch royal family in photos
The Dutch royal family in photos
The Dutch royal family in photos
The Dutch royal family in photos
The Dutch royal family in photos
The Dutch royal family in photos
The Dutch royal family in photos
The Dutch royal family in photos
The Dutch royal family in photos
The Dutch royal family in photos
The Dutch royal family in photos
The Dutch royal family in photos
The Dutch royal family in photos