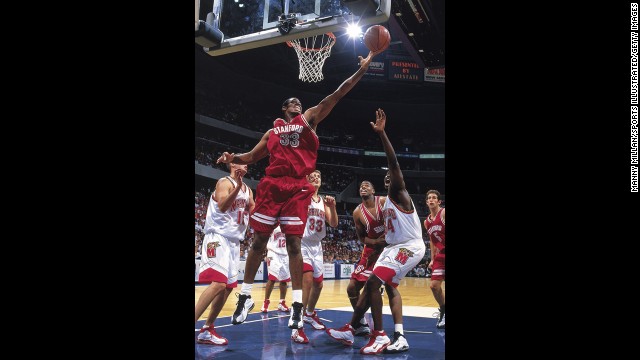 Jason Collins, who played with the NBA's Washington Wizards this season, has disclosed that he is gay, making him the first active openly homosexual athlete in the four major American pro team sports. Collins (No. 33) played college ball for Stanford, here against Maryland in 1998. He has been in the NBA for 12 seasons.
With the New Jersey Nets, Collins guards the Lakers' Shaquille O'Neal in 2002 in Los Angeles. Collins played for the Nets from 2002 through 2008.
Collins and his twin brother, Jarron, pose for a portrait during the 2004 NBA All-Star Weekend.
Dwight Howard of the Orlando Magic steals the ball from the Nets' Collins in 2005 in Orlando, Florida.
Collins poses for a portrait during Nets Media Day in 2005 at the team's training center in East Rutherford, New Jersey.
Collins takes a breather during the 2005 Real Training Camp at the Nets' practice facility.
From left, Jason Kidd, Richard Jefferson, Nenad Krstic, Jason Collins and Vince Carter of the New Jersey Nets pose during Media Day in 2006.
Collins wipes his face after Game Five of the Eastern Conference Quarterfinals during the 2007 NBA Playoffs in Toronto.
Collins practices during the Eastern Conference Semifinals of the 2007 NBA Playoffs in New Jersey.
From left, Richard Jefferson, Vince Carter and Collins walk across the court during a 2007 game against the Portland Trail Blazers on in Portland, Oregon.
Collins, then with the Minnesota Timberwolves, helps children with diabetes prepare meals at Way Cool Cooking School in Eden Prairie, Minnesota, in 2009. He played for the Timberwolves during the 2008-09 season.
The Atlanta Hawks' Collins warms up before a 2011 game against the Golden State Warriors at Oracle Arena in Oakland, California. Collins was on the Hawks' roster from 2009 to 2012.
Collins, No. 34, and Al Horford of the Atlanta Hawks battle for a rebound against Brandon Bass of the Orlando Magic during Game Six of the Eastern Conference Quarterfinals in the 2011 NBA Playoffs in Atlanta.
Collins joined the Boston Celtics for the 2012-13 season.
Collins competes with Ioannis Bourousis of Armani during the NBA Europe Live game in 2012 in Milan, Italy.
Collins stretches before a game against the Golden State Warriors in 2012 at Oracle Arena in Oakland, California.
Collins, with the Washington Wizards, rebounds against the Chicago Bulls this year in Chicago. The center is now a free agent.
Jason Collins' NBA career
Jason Collins' NBA career
Jason Collins' NBA career
Jason Collins' NBA career
Jason Collins' NBA career
Jason Collins' NBA career
Jason Collins' NBA career
Jason Collins' NBA career
Jason Collins' NBA career
Jason Collins' NBA career
Jason Collins' NBA career
Jason Collins' NBA career
Jason Collins' NBA career
Jason Collins' NBA career
Jason Collins' NBA career
Jason Collins' NBA career
Jason Collins' NBA career
STORY HIGHLIGHTS
Collins thanks supporters on Twitter
President Obama calls the 34-year-old veteran center
Next step in Collins' hoops career is uncertain
Collins writes he is happy to start a conversation
(CNN) -- It's the biggest move of his career and it's off the court.
Jason Collins, who played with the NBA's Boston Celtics and Washington Wizards this season, has disclosed that he is gay, making him the first active openly gay male athlete in the four major American pro team sports.
The center, who said he is now a free agent, made the disclosure in a column appearing in the upcoming issue of Sports Illustrated.
"I didn't set out to be the first openly gay athlete playing in a major American team sport. But since I am, I'm happy to start the conversation. I wish I wasn't the kid in the classroom raising his hand and saying, 'I'm different.' If I had my way, someone else would have already done this. Nobody has, which is why I'm raising my hand," he wrote.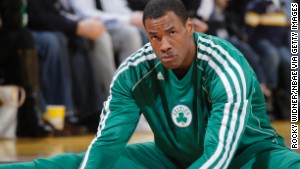 Navratilova: Collins paves way for others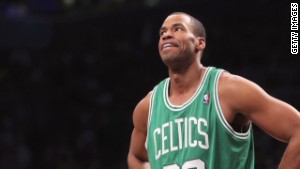 Sexuality a 'non-issue' for many clubs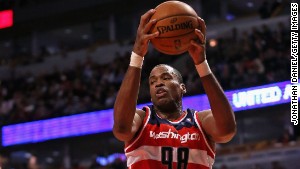 More deals for Collins after coming out?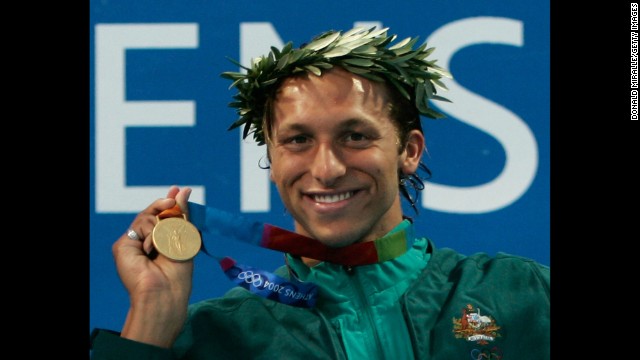 Swimmer Ian Thorpe, seen here in 2004 with one of his five Olympic gold medals, told an Australian news outlet that he is gay in an interview that aired on Sunday, July 13. Click through to see other openly gay athletes.
Former Missouri defensive end Michael Sam told ESPN and The New York Times that he is gay on February 9. Sam later became the first openly gay player to be drafted by a NFL team when he was taken by the St. Louis Rams in the seventh round.
Robbie Rogers became the first openly gay male athlete to play in a professional American sporting match when he took the field for Major League Soccer's Los Angeles Galaxy during a match against the Seattle Sounders on May 26.
"I didn't set out to be the first openly gay athlete playing in a major American team sport. But since I am, I'm happy to start the conversation," NBA player Jason Collins said in a Sports Illustrated article.
Sheryl Swoopes, a retired WNBA star and coach of the Loyola University Chicago's women's basketball team, came out in 2005.
Brittney Griner, selected No. 1 in the 2013 WNBA draft by the Phoenix Mercury, is openly gay.
In an exclusive interview with CNN, former San Francisco 49ers player Kwame Harris came out as gay after rumors circulated in the media.
Rugby player Gareth Thomas of Wales spoke about being gay to a British news channel in 2009.
Justin Fashanu became the first openly gay soccer player in Europe when he came out in 1990. Eight years later, he took his own life.
Tennis great Martina Navratilova came out in 1981.
After his retirement in 2007, basketball player John Amaechi announced he was gay.
After retiring from professional football in 1972, David Kopay acknowledged to the Washington Star that he was gay.
Villanova University's Will Sheridan came out to his teammates in 2003.
In 2012, U.S. women's soccer player Megan Rapinoe confirmed in Out magazine that she was a lesbian.
Champion figure skater Johnny Weir confirmed in his 2011 memoir, "Welcome to My World," that he was gay.
Australia's Matthew Mitcham came out in an interview with the Sydney Morning Herald in 2008.
In 2012, Orlando Cruz became the first active professional fighter to publicly announce that he was gay.
Openly gay British dressage rider Carl Hester helped his team win gold at the 2012 Olympics.
English cricketer Steven Davies announced he was gay in 2011.
Germany's Judith Arndt won the silver medal in cycling at the 2012 Olympics.
Billy Bean, a former Major League Baseball player, discussed being gay in a 1999 New York Times article.
Tennis legend Billie Jean King was outed by a former female partner in 1981.
In 2002, professional football player Esera Tuaolo came out on HBO's "Real Sports."
French tennis player Amelie Mauresmo came out in 1999.
Greg Louganis, who won four Olympic golds for the United States during his diving career, has been openly gay since 1995.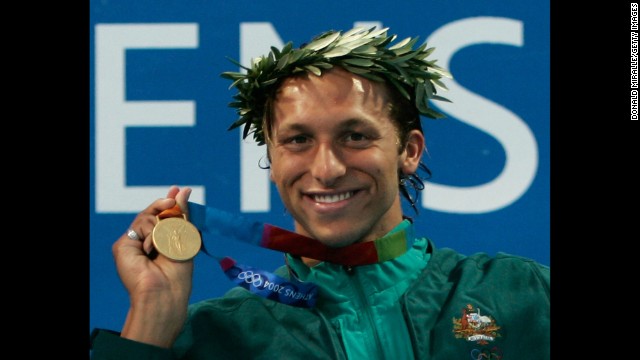 Photos: Openly gay athletes
Collins also wrote that the killing of three people at the Boston Marathon persuaded him to make an announcement. Things can change in a moment, so why not start living more truthfully, he wrote.
On Twitter, Collins thanked everyone who sent him messages of support.
"All the support I have received today is truly inspirational. I knew that I was choosing the road less traveled but I'm not walking it alone," he wrote.
Sports Illustrated's managing editor said Collins was reticent about being a flag bearer.
Spike Lee slams the Collins hate machine
"It is a much simpler, more personal reason. He wants to have a family," Chris Stone told CNN. "He wants the same life that his twin brother, Jarron, has. This is a secret he's kept for a very long time. He didn't even inform his brother that he was gay until late last summer. ... So much for twin telepathy."
Jarron, who played in the NBA for 10 seasons and was Jason's teammate at Stanford, tweeted to his brother: "Very proud of you."
"Jason Collins has forever changed the face of sports," said the Human Rights Campaign, a civil rights group fighting for gay rights.
It likened the announcement to Jackie Robinson, the first African-American to play in major league baseball in the modern era.
"At a time when millions are reflecting on the life and legacy of Jackie Robinson, Jason Collins is a hero for our own times," the group said.
Former NBA player Charles Barkley, now an analyst for "Inside the NBA" on TNT, told CNN on Monday night that active players shouldn't be surprised that a teammate is gay.
"I think anybody who thinks they never played with a gay player is an idiot," he said on "AC360." "I played with several gay players. It's their own business, and I think they should get to be who they want to be."
Collins is a 7-footer who has played with six NBA teams -- the Wizards, Celtics, Atlanta Hawks, Minnesota Timberwolves, Memphis Grizzlies and New Jersey Nets -- over the past 12 seasons. He has averaged 3.6 points and 3.8 rebounds in 713 career games, and he has had a great deal of playoff experience with the Nets (who have since moved to Brooklyn) and the Hawks.
Momentum had been growing in recent months for an active player in the National Football League, National Hockey League, National Basketball Association or Major League Baseball to come out.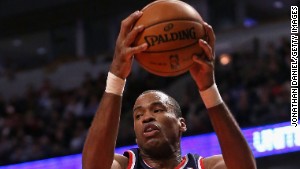 NBA player comes out of the closet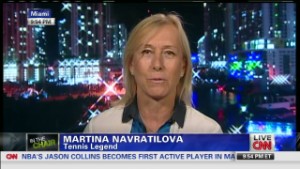 Navratilova: Collins making a difference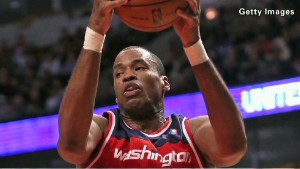 Barkley: Jason Collins will open debate
Just a few weeks ago, the NHL announced a new program teaching tolerance and giving support to gay athletes.
Commissioner Gary Bettman said the agreement made the NHL's policy of inclusiveness "clear and unequivocal."
"While we believe that our actions in the past have shown our support for the LGBT community, we are delighted to reaffirm through this joint venture with the NHL Players' Association that the official policy of the NHL is one of inclusion on the ice, in our locker rooms and in the stands," Bettman said in the joint statement with You Can Play.
And NFL player Brendon Ayanbadejo, The New York Times reported, has been in contact with closeted players in several sports.
"What we're trying to facilitate is to get them together and do what they want to do, do what is right for them," he told the Times.
Collins paves way for gay athletes
In February, former professional soccer player Robbie Rogers announced on his blog that he is gay. His former U.S. teammates showed solidarity in response to the news.
Though reaction to Collins' announcement also was overwhelming support, not everyone had a positive response.
ESPN basketball analyst Chris Broussard said the Bible calls homosexuality a sin.
"If you're openly living in unrepentant sin, whatever it may be, not just homosexuality, adultery, fornication, premarital sex between heterosexuals, whatever it may be. I think that's walking in open rebellion to God and to Jesus Christ," he said.
NFL receiver Mike Wallace tweeted Monday: "All these beautiful women in the world and guys wanna mess with other guys SMH."
He tweeted again, saying he was being misinterpreted.
"Never said anything was right or wrong I just said I don't understand!! Deeply sorry for anyone that I offended," he wrote.
The Dolphins, Wallace's employer, issued a statement saying the team has spoken with Wallace about the tweets. The team said it will address its policy of inclusion with all of its players.
NBA Commissioner David Stern said Collins, a 34-year-old veteran, is widely respected in the league.
"We are proud he has assumed the leadership mantle on this very important issue," he said in a statement.
Washington Wizards President Ernie Grunfeld said the team is "extremely proud of Jason and support his decision to live his life proudly and openly."
"He has been a leader on and off the court and an outstanding teammate throughout his NBA career. Those qualities will continue to serve him both as a player and as a positive role model for others of all sexual orientations," Grunfeld said.
Boston Celtics head coach Doc Rivers called Collins "a pro's pro" and one of his favorite players he ever coached.
"If you have learned anything from Jackie Robinson, it is that teammates are always the first to accept," Rivers said. "It will be society who has to learn tolerance."
Bill Clinton called the announcement an "important moment for professional sports and in the history of the LGBT community."
Clintons welcome announcement from friend Jason Collins
Collins, who had been traded by the Celtics to the Wizards this season, wrote in his essay that U.S. Rep. Joe Kennedy, D-Massachusetts, helped prompt his decision to come out as gay. Kennedy and Collins were roommates at Stanford. He recounts hearing about Kennedy, who is not gay, marching in Boston's Gay Pride Parade.
"For as long as I've known Jason Collins he has been defined by three things: his passion for the sport he loves, his unwavering integrity, and the biggest heart you will ever find," Kennedy said. "I'm proud to stand with him today and proud to call him a friend."
President Barack Obama called Collins "to express his support and said he was impressed by his courage," a White House official said.
Active players posted their approval on Twitter. The Los Angeles Lakers' Kobe Bryant said: "Proud of @jasoncollins34. Don't suffocate who u r because of the ignorance of others." Steve Nash, also a Laker, said: "The time has come. Maximum respect."
Two Wizards players, Garrett Temple and Bradley Beal, said in tweets they were "proud" of Collins. "Much respect to my teammate," Temple said. "Great teammate, mentor and better person," said Beal.
Collins' announcement comes after the end of the Wizards' season, and he is no longer under contract. He is an "old" player by NBA standards who has never been a star. So will he play in the NBA this fall?
ESPN.com said only six of 14 team officials reached for an unofficial poll Monday thought he would be back in the league. If he does return, he probably will play only a few minutes a game for a team that needs a veteran leader, the other executives told ESPN.com.
Twitter reacts to the revelation
Some male athletes have come out as gay after they've left professional sports. One is John Amaechi, a former NBA player.
Amaechi told CNN he hopes Collins will be a catalyst for a wider acceptance of openly gay athletes, saying he believes Collins is better equipped than anyone who came before him to handle the attention that will come his way. But it may take more, Amaechi said.
People like to believe one iconic figure can change things, he said, "but the reality is that when there's this tipping point, or enough people coming together deciding that change is necessary, that's when change happens."
The Women's National Basketball Association, the women's pro league, has had its share of milestones and openness as far as gays are concerned. In 2005, Sheryl Swoopes, a top player in the WNBA, announced she was gay.
Brittney Griner, the No. 1 pick in this year's WNBA draft, recently said in an interview with Sports Illustrated that she is gay. Griner finished her college career as the NCAA's all-time leading shot-blocker with 748 and as the No. 2 all-time scorer with 3,283 points.
Opinion: Openly gay player is not a distraction
CNN's Brianna Keilar, Jason Hanna and Jill Martin contributed to this report.