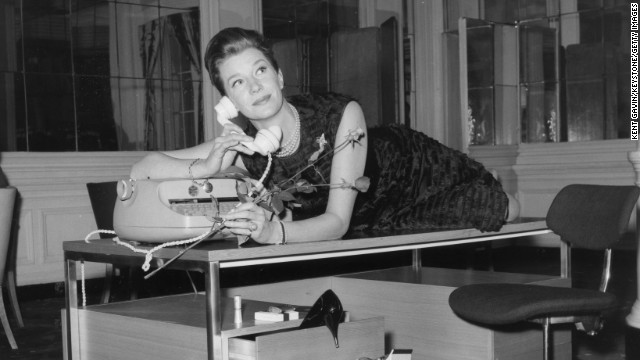 James Bond's boss, M, had one heck of a secretary. Miss Moneypenny, played by Lois Maxwell in most James Bond films of the 1960s and '70s, was actually a lieutenant, a rank that was necessary for her to be able to read all the top-secret reports involving British super-spies. Information management and presentation development is
still a highly sought skill
for administrative assistant positions.
fill in for their bosses
during meetings, in addition to analyzing data and managing office operations.
"Mad Men's" Joan Holloway, as played by Christina Hendricks, makes a big impression on her bosses through her sex appeal and discretion. But when it comes to keeping the stenographer pool in check at the Sterling Cooper Draper Pryce ad agency, she does so with smarts and strong office management skills. Executive assistants are often required to
In 1980, Dolly Parton, Jane Fonda and Lily Tomlin made sweeping improvements to office morale and efficiency in the movie "Nine to Five." Sure, their characters -- secretaries Doralee Rhodes, Judy Bernly and Violet Newstead -- did so by kidnapping their boss and forging memos, but the ability to influence productivity and positivity is the sort of thing that keeps modern offices running like well-oiled machines. Which might make you think differently the next time you see that office birthday cake e-mail float through your inbox.
As Janine Melnitz, the receptionist for a band of bumbling scientists in the 1984 movie "Ghostbusters," Annie Potts channeled a bored but dedicated New York working girl. As the person who essentially granted access to ectoplasmic salvation during a ghost-splosion, she showed the kind of skill employers are still looking for. Administrative assistants are the gatekeepers who guard their bosses' time and skills.
When icy magazine editor Miranda Priestly, played by Meryl Streep in the film "The Devil Wears Prada," needed a new assistant, aspiring journalist Andy Sachs (Anne Hathaway) seemed to fit like an ill-made knockoff shoe. Sachs learns that grabbing Starbucks for the boss and pre-release Harry Potter manuscripts for the boss' children are the least of her worries. The fashion industry is truly international, and knowing the proper way to greet colleagues from around the world is a must. It's a skill that is needed for administrative assistants at any company with international staff and clientele.
As one of "Ugly Betty's" frienemy co-workers, Marc St. James (played by Michael Urie) spent his time looking fabulous, sneering at fellow assistant Betty Suarez and dreaming of being promoted to junior editor at fictional fashion magazine Mode. But behind the foppish facade was a hard-working creative mind who helped his boss make dramatic presentations, organize photo shoots and magazine layouts. Many administrative assistants need to be just as adept at document generation and using programs like PowerPoint.
"World's Most Beautiful Woman" Gwyneth Paltrow
), is used to keeping an eye on the day-to-day of Stark Industries, you can bet she's also behind the Las Vegas-style events her boss likes to throw. Whether it's a large business meeting, the company Christmas party or a black tie gala, administrative assistants will be the ones making sure microphones work, catering is delivered and the entertainment stays classy.
The main character of the "Iron Man" comic and movie series is an eccentric mogul who has a penchant for flashy technology and dancing girls. And while Tony Stark's secretary, Pepper Potts (played by
Miss Moneypenny: Generating reports
Joan Holloway: Executive assistance
Judy, Violet and Doralee: Office morale
Janine Melnitz: Gatekeeping
Tess McGill: Research, money management
Andy Sachs: Multicultural ettiquette
Marc St. James: Presentations
Pepper Potts: Event coordination