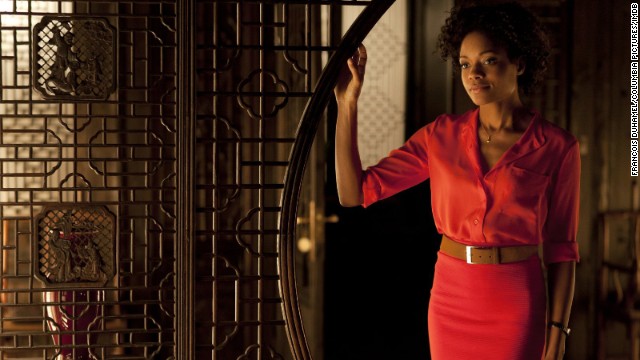 James Bond's boss, M, has one heck of a secretary. Eve Moneypenny, here in 2012's "Skyfall," is actually a field agent who understands top-secret reports involving British super-spies. Information management and presentation development is
a highly sought skill
for administrative assistant positions.
Gary Walsh is a personal aide and perpetual approval-seeker of Vice President Selina Meyer on the HBO comedy series "Veep." As a so-called body man, Walsh totes around Meyer's every need -- from lipstick in the perfect shade to hand sanitizer -- in a massive bag nicknamed the "Leviathan." Whether it's offering her a hot cup of her preferred varietal after an exhausting day on the Hill, or blocking a brown-nosing politico by pretending the President is calling, Walsh is always one step ahead.
In NBC's "The Office," Pam Beesly, right, doesn't particularly like her job as the receptionist at Dunder Mifflin paper company in Scranton, Pennsylvania. But as her confidence grows, she lands jobs as a saleswoman and office manager. All the while, she balances her romance with salesman Jim Halpert, their two children -- and the crazy bosses of Dunder Mifflin.
In 1980's "Nine to Five," secretaries Doralee Rhodes, Judy Bernly and Violet Newstead make sweeping improvements to office morale and efficiency. Sure, they do so by kidnapping their boss and forging memos, but let's not quibble over details. Maintaining office productivity and positivity is what really matters here.
Jack Donaghy, right, meets with his executive assistant, Jonathan, in NBC's "30 Rock." Jonathan often goes beyond the call of duty, like the time he drove around Pennsylvania in search of a program from a high school play so Jack could give Liz Lemon the perfect Christmas gift. And of course, even when Jack's job changes, Jonathan follows.
fill in for their bosses
during meetings, in addition to analyzing data and managing office operations.
Joan Holloway keeps the stenographer pool in check at the Sterling Cooper Draper Pryce ad agency, and does so with discretion and smarts. Executive assistants are often required to
Janine Melnitz, the receptionist for a band of bumbling scientists in the 1984 movie "Ghostbusters," plays a bored but dedicated New York working girl. As the person who essentially grants access to ectoplasmic salvation during a ghost-splosion, she shows the kind of skill highly valued by employers. After all, administrative assistants are the gatekeepers who guard their bosses' time and skills.
As one of "Ugly Betty's" frenemy co-workers, Marc St. James spends his time looking fabulous, sneering at fellow assistant Betty Suarez and dreaming of being promoted to junior editor at fictional fashion magazine Mode. But behind the foppish facade is a hard-working creative assistant who helps his boss look good with dramatic presentations and first class magazine layouts. Many administrative assistants need to be just as adept, even if their work appears only in a PowerPoint presentation.
When icy magazine editor Miranda Priestly in the film "The Devil Wears Prada" needs a new assistant, aspiring journalist Andy Sachs seems to fit like an ill-made knockoff shoe. Sachs finds herself grabbing Starbucks for the boss and pre-release "Harry Potter" manuscripts for the boss' children. In the truly international fashion industry, it's important to know the proper way to greet colleagues from different parts of the world. It's a skill useful to administrative assistants at any company with international staff and clientele.
The main character of the "Iron Man" comic and movie series is an eccentric mogul with a penchant for flashy technology and dancing girls. And while Tony Stark's secretary, Pepper Potts, played by Gwyneth Paltrow, is used to keeping an eye on the day-to-day of Stark Industries, you can bet she's also behind the Las Vegas-style events her boss likes to throw. Whether it's a large business meeting, the company Christmas party, or a black tie gala, administrative assistants are often the ones who make sure microphones work, catering is delivered and the entertainment stays classy.
Sarcasm bomb April Ludgate starts at the bottom as an intern in the Pawnee, Indiana, "Parks and Recreation" department. She rises through the ranks quickly by being at the right place at the right time, while putting in the least amount of effort possible. Boss Ron Swanson makes April his assistant when her biting personality keeps others at bay and out of his face -- the perfect trait in Ron's eyes. April eventually takes a position assisting a campaign manager in Washington where her charms are a perfect fit for the job.
In her ditzy, yet efficient way, receptionist Lucy Moran helps police solve a murder in the TV series "Twin Peaks." The baby-voiced blonde also spices up the social atmosphere of the small town law enforcement agency in a romance gone awry with deputy sheriff Andy Brennan. As the center of a love triangle turned paternity tug of war, Moran gives residents something to gossip about, aside from who killed Laura Palmer.
As the boozy, nasal voiced assistant to designer Grace Adler, assistant Karen Walker shows the importance of being honest and speaking your mind regardless of professional status. Knowledge of fine wines and cocktails doesn't hurt either.
Fictional secretaries, real skills
Gary Walsh: One step ahead
Pam Beesly: Leaning in
Judy, Violet and Doralee: Office morale
Jonathan: Absolute loyalty
Joan Holloway: Keeping the troops in line
Janine Melnitz: Gatekeeping
Tess McGill: Research, money management
Marc St. James: Presentations
Andy Sachs: Multicultural ettiquette
Pepper Potts: Event coordination
April Ludgate: Office pit bull
Lucy Moran: Gossip generator
Karen Walker: Always honest