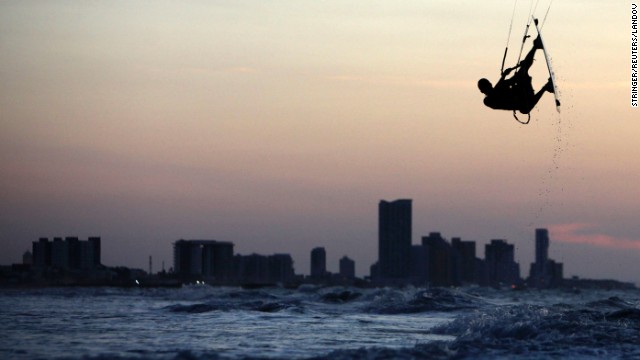 A coastal country with deserts and mountains between its borders, Colombia draws the adventurous tourist with its varied terrain. Bocagrande beach in Cartagena is popular with kitesurfers during the warm season, which lasts from December till April. Kitesurfer Ken Ruiz practices at Bocagrande beach in December 2012.
Thousands of people in Cali, Colombia earn their living from the salsa industry -- whether working at dance schools, ballrooms and party rooms or as tailors or other related jobs. Here, members of Argentina's "Bien chevere" dance school perform during the 7th World Salsa Festival held in Cali in September 2012.
The Caribbean port city of Cartagena hosted the Sixth Summit of the Americas in April 2012, during which leaders in the Americas discussed how to better connect the different countries.
A visitor walks past a statue of the Virgen del Perpetuo Socorro (Our Lady of Perpetual Help) in the Nemocon salt mine in September 2012. The mine is one of Colombia's most popular tourist attractions.
Colombian bullfighter Sebastian Vargas performs a pass during a bullfight at La Santamaria bullring in Bogota in January 2012.
The municipality of Medellin presented an artistic project called Heroes Without Borders, an exhibition of 23 photographs placed in different facades and roofs, to prevent the recruitment of children by illegal groups in January 2012.
A horse is pictured during a traditional folk festival in San Martin in the province of Meta in November 2012. The annual event has at least 272 years of history and commemorates the native people's struggle for freedom against Spanish colonization.
The 500-meter-long escalator in Commune 13 in Medellin, divided into several sections, was set up to facilitate the travel of residents living in the mountainside favelas. The notorious slums of Medellin have gone through urban and educational projects to improve the quality of life for residents.
Tourists walk past a sculpture by Fernando Botero in Cartagena's old city in April 2012.
Austrian paraglider pilot Othmar Dickbauer flies above the mountains in Roldanillo, Valle del Cauca department, Colombia, during the Paragliding World Cup Superfinal, January 2013.
Colombian policemen patrol on horseback near Cartagena's historic walls in April 2012.
A woman visits the aquarium of Explora Park in Medellin, Colombia, in March 2013. In 2012, Medellin competed with cities including New York and Tel Aviv, to win the title of "Innovative City of the Year" from the Urban Land Institute in partnership with The Wall Street Journal and Citigroup. The city's modern transportation system, including gondolas that shuttle residents from steep mountainside neighborhoods to the city below, was cited as a key factor.
A mural enlivens a wall in the midst of Medellin's hillside slums, near the celebrated architecture star Biblioteca Espana in January 2013.
A costumed performer takes part in a traditional folk festival in San Martin in the province of Meta in November 2012.
People sit outside restaurants and bars situated on the corner of a small square inside the city walls in January 2012 in Cartagena.
A general view shows Medellin from above in March 2013.
Touring Colombia
Touring Colombia
Touring Colombia
Touring Colombia
Touring Colombia
Touring Colombia
Touring Colombia
Touring Colombia
Touring Colombia
Touring Colombia
Touring Colombia
Touring Colombia
Touring Colombia
Touring Colombia
Touring Colombia
Touring Colombia