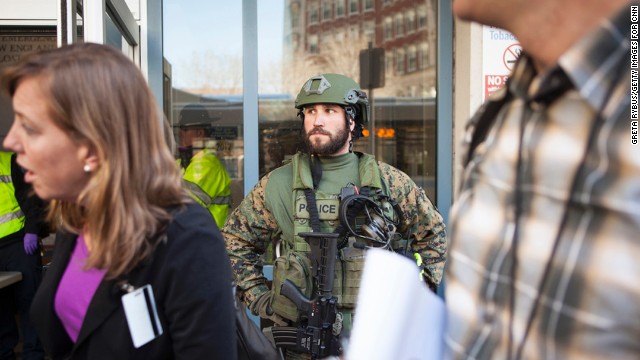 SWAT team member Scott Brooks guards the entrance of Tufts Medical Center, one of several hospitals that received patients after the Boston Marathon bombings on Monday, April 15.
Tufts Medical Center treated about 20 patients injured by the Boston Marathon bombings.
Dr. Horacio Hojman, surgical director of the intensive care unit at Tufts Medical Center, was called into surgery the day of the bombings.
Security was heightened at the Tufts Medical Center, with SWAT teams roaming hallways.
Flowers were delivered for patients at the Tufts Medical Center intensive care unit.
Tufts nurse Stephen Segatore worked with Asaiante at the scene of the bombings to treat victims.
SWAT team members guard the Tufts entrance.
Lindsay Crossley and Janice McLaughlin watch their colleague Horacio Hojman talk during a news conference at Tufts.
Former Army nurse Jim Asaiante was among the volunteer first responders at the scene of the bombings.
A bomb scare after the marathon bombings sent Tufts staff and patients into the street.
Boston's first responders
Boston's first responders
Boston's first responders
Boston's first responders
Boston's first responders
Boston's first responders
Boston's first responders
Boston's first responders
Boston's first responders
Boston's first responders
STORY HIGHLIGHTS
Within minutes after the bombings, a runners' medical tent became a triage center
First responders tried to save lives -- and limbs -- before transporting victims to hospitals
Hospital trauma teams put training -- and emergency plan -- into action as patients arrive
Some are taken to emergency surgery; others are wheeled into the street after bomb scare
Boston (CNN) -- The instant Jim Asaiante heard the first explosion, he flashed back to Iraq.
"That was an IED," he said to no one in particular.
The former Army nurse fought the urge to rush toward the wounded. He knew there would be a second blast. Tending to soldiers blown up by roadside bombs had taught him that.
Asaiante paused and waited a few seconds. The ground shook again, a percussive explosion that sent more people scrambling, more smoke roiling down Boylston Street. While most ran for their lives, first responders like Asaiante swooped into action.
In the days to come, first responders would face down suspects in a massive manhunt that paralyzed a city. One officer would lose his life in a gunbattle, another would be critically wounded, while halfway across the country 10 emergency workers would be killed in a giant fertilizer plant explosion.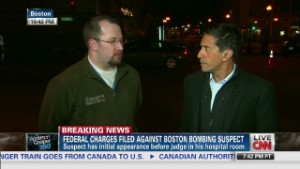 Doctor treated Boston suspects, victims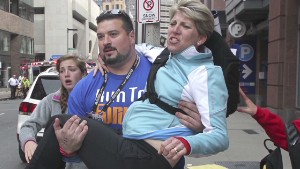 The people who saved others in Boston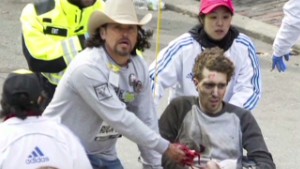 Man in cowboy hat helps injured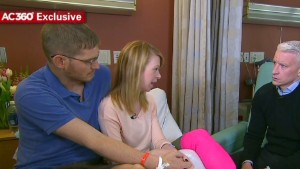 Boston survivor vows to dance again
On Monday, Boston fell silent to mark the bombings and remember the victims. But in that moment exactly one week ago, helpers ranging from marathon volunteers to police officers to runners stopped in their tracks to help.
Asaiante had been a volunteer assigned to care for elite athletes in a tent just feet from the finish line. To him, the Boston Marathon was a rite of spring -- a way to celebrate everything great about the city.
He'd volunteered for 17 marathons starting in 1996 -- the 100th running of the iconic race. The only one he missed was in 2007, when he was working in combat hospitals in Iraq.
Tragedy in Boston: How to help
Asaiante had been paired with Stephen Segatore, a nurse from Tufts Medical Center. Up to that point, the two had treated runners mostly for dehydration. A few soldiers had blisters on their feet from running in full uniform, boots and all. One elite Kenyan was too cold; they gave him warm chicken broth.
Monday had been a perfect day. Clear skies with temperatures in the 40s and 50s, a relief after record highs nearly forced a cancellation of last year's race.
At 9 a.m., the nearly 25,000 runners observed a moment of silence for 26 seconds, in honor of the 26 people killed in the elementary school massacre in Newtown, Connecticut.
By 9:17 a.m., the race had begun with wheelchair participants, followed by the elite athletes. The rest of the runners were released in waves.
Fans who had gathered along Boylston witnessed a thrilling finish, with 23-year-old Lelisa Desisa of Ethiopia beating out two others in a sprint to the end. His winning time of 2 hours, 10 minutes, 22 seconds earned him the $150,000 winner's prize.
Over the next two hours, as the rest of the runners made that same glorious sprint -- the crème de la crème of marathon moments -- they were greeted by a cool sea breeze whipping down Boylston and jubilant fans rooting them on.
Near the finish line, Krystle Campbell, 29, had her eye on the race. Ever since she was a little girl, there was something about the resilience of people who huffed 26.2 miles that she found fascinating.
Ron Brassard was in the crowd, too. He'd come with his wife, daughter and others to watch a friend complete the race. They were soaking in the celebratory mood of Patriot's Day, a holiday he loved to share with family.
Less than a mile away, Horacio Hojman, the surgical director of the intensive care unit at Tufts Medical Center, was on call.
Then came the blasts. It was 2:50 p.m.
'We can't let this young girl die'
Asaiante and Segatore rushed from the medical tent to the finish line to tend to the wounded. The stench of burning flesh hung in the air. Blood pooled on the sidewalk.
People bleeding from lost limbs were already being carried toward the tent, so the two nurses stopped and headed back.
Runners were moved out of the area, and space was made for the wounded. Spanning the length of a football field, the tent was instantly turned into a massive triage center. It had 100 cots.
"No one was expecting they would have to treat trauma victims from an IED explosion," Asaiante said. "But you do what you have to do. You don't think. You just do."
Watch first responders describe the bombing scene
Asaiante grabbed a roll of 6-inch elastic ACE bandage and used his shears to cut off a man's jeans. The man had suffered an arterial wound to his left leg and was in danger of losing the limb.
The nurse used the bandage as a makeshift tourniquet.
In an ideal world, emergency personnel have 15 minutes to save a limb after a tourniquet is tied. Asaiante used a pen and wrote down the time on what was left of the man's jeans, so hospital staff would know how many minutes they had left when he arrived. It was shortly before 3 p.m.
The wounded were labeled by number for the ambulances -- 1, 2 and 3 -- 1 being the highest priority.
Segatore had just worked to save a man who had lost both his legs when a woman arrived in critical condition, struggling to breathe.
The father of seven children looked at her face. Her freckles, wide eyes and body type reminded him of his 19-year-old daughter.
"We can't let this young girl die," he kept thinking.
Along with a doctor and emergency medical technician, Segatore scanned her wounds, mostly on the left side of her body. One leg was twisted backwards, and she had a wound near her left hip. She had black markings on her head, possibly residue from being so close to the blast.
She had already been given several minutes of CPR by those who rushed her into the tent. Segatore offered her comforting words before taking over CPR.
I'm a nurse, he told her. You're in a tent at the finish line.
He tried to resuscitate her. They stopped CPR briefly to hook up a heart monitor. The screen showed squiggly lines, but the heart wasn't pumping blood. There was no pulse. The physician said to stop. "We knew what we had," Segatore said.
All at once, a wave of sadness and anger coursed through the three men. In exasperated unison, they shouted, "Fuck!"
"You don't expect them to die of a bomb blast in the middle of your own city," Segatore reflected.
He covered her with a blanket. Eventually, he and a National Guardsman moved her cot to a private area. They worried it might get tipped over or her blanket pulled off.
Even amid the chaos, they thought to give her dignity. "In death, we want people to be as respected as they are in life," he said. "We do that by treating them as we would want to be treated, as if they're our family members."
But there was little time to reflect. The patients kept coming, wave after wave.
Some were so stunned they couldn't speak. They would respond to questions, but their faces were covered with blank stares. Sometimes, they mouthed words but no sound came out.
One man, Ron Brassard, had blood pouring out of a leg. He screamed in pain and yelled, "I'm not going anywhere without my daughter."
He repeated it over and over and over.
Opinion: 'No more hurting people'
More 'Apollo 13' than 'ER'
"There was an explosion at the finish line."
That was the message relayed to Dr. Horacio Hojman, the associate director of trauma and the surgical director of the intensive care unit at Tufts Medical Center.
He and his staff instantly activated the hospital's emergency response plan. Four trauma teams, each consisting of four medical staff -- an ER attendant, two residents and an intern -- scrubbed in. They quickly cleaned the emergency room, wiping everything down, mopping the linoleum floors and preparing the rooms. Patients already there were moved to other parts of the hospital.
In less than 10 minutes they were ready.
Born in Argentina, Hojman had treated patients of mass shootings and explosions in his homeland. He's lived in the United States for more than 20 years and has always preached to his staff about the need to be prepared for worst-case scenarios.
Everyone on his emergency team has gone through what he calls "the simulator" at Tufts medical school to prepare for a moment like this. It's a facility designed just like an ER to teach doctors to keep calm under pressure.
The idea, he said, is to make the training "so difficult that, by comparison, this seems to be easy."
"When we think we have these things nailed down, we train a little bit more."
Soon, ambulances were radioing in: About 20 patients were headed their way, including at least four in danger of losing limbs.
The Hollywood version of chaotic emergency rooms, Hojman said, gets it all wrong.
"This is absolutely not the way it happens in a real trauma situation."
He tells his residents to think of the movie "Apollo 13" and how calm NASA engineers remained when they were told, "Houston, we have a problem."
The emergency room, he said, is more choreographed than synchronized swimming.
A brief silence filled the ER, and then the ambulances arrived.
Staff set up four trauma bays. One doctor was in charge of assigning patients to each bay to make sure patients didn't back up.
Each patient was marked by ambulance EMTs with red, yellow or green -- red for the most critical. Patients were stripped of clothes, examined and evaluated quickly. The four critical patients were sent to emergency surgery on a separate floor to try to save their legs.
Later, Hojman would be called into surgery for a fifth patient, the weight of saving the patient's limb -- and life -- paramount.
"In every surgeon's mind," he said, "you think, 'I need to do everything possible to save this limb.' I think that we as surgeons refuse to accept failure. ... But the injuries were very, very serious."
Boston pride buoys city amid tragedy
Another problem soon arrived -- one the simulator hadn't prepared them for. About 30 minutes after the first patients arrived, a suspicious package was found in the emergency room. An evacuation was ordered, and police swept the facility.
Patients were moved outside to the street.
Hojman and a colleague went from room to room to make sure no patients were left behind. He stopped to tell two officers near the room with the package that they should leave, too.
"If there's an explosion, there's no way you or your buddy will be able to survive," he told them.
Both gave the doctor stern looks, like he was crazy. "When I had the sense that I was probably going to get arrested," he said, "I decided to leave."
Once outside, he looked at the glass windows of the hospital's façade. He knew that in the twin embassy bombings in Kenya and Tanzania in 1998, the worst wounds came from shards of glass.
Looking up at the building he loved, Hojman now worried that if a bomb exploded, the patients lined up outside might be wounded again -- this time by flying glass.
He ordered the patients moved to the hospital lobby. All the while, the trauma teams worked to keep everyone alive, monitoring their vital signs and making sure they remained hooked up to IVs.
The hospital went into lockdown moments after the patients filled the lobby. "That created another problem," he said. One resident physician got locked out.
"Again, it's all training. It's all focus," he said. "At the end of the day, you have to remember you're treating human beings and that's the reason we're doing it. We're not doing it for anything else."
Learning his patients' fate
Ron Brassard, 51, was missing a chunk of his left leg when he arrived at Tufts. Runners had sprinted to his side, taking off their shirts and wrapping his leg, before he reached Segatore in the medical tent, screaming for his daughter. From there, EMTs rushed him to Tufts.
Hojman's trauma team worked to save him and his limb. He was among the four patients taken to emergency surgery.
The next day, from his bedside, he recalled watching the marathon, having a good time with everyone "laughing and smiling, and then all of a sudden. ..." The first bomb, he said, went off about 10 feet away.
"It was so close that you couldn't hear after the explosion," he told CNN's Anderson Cooper, his left leg wrapped and propped up. "The noise was, I think, scarier than the blast itself because it was so loud."
Immediately after the blast, an incredible pain shot through his leg, and an unbearable thought kept going through his mind: Where is my daughter?
His wife told him their daughter, Krystara, 20, was right there, he recalled later, but at the time he couldn't hear because the blast left him briefly deaf.
He didn't look at his leg "because I knew something was wrong." He just remembers that every time he took a step there was a puddle of blood the "size of a dinner plate."
It wasn't until he made it to the hospital that he got the courage to look at his wound. "It wasn't anything fun to look at."
It was also at the hospital where he found out his daughter was alive. She had shrapnel wounds from head to toe, and her mother, Karen, had two large shrapnel pieces embedded in both of her legs. They'd been taken to Boston Medical Center.
But two of their friends suffered much worse. Sydney Corcoran -- a 17-year-old high school senior who had survived being hit by a car in 2011 -- had her legs shredded in the blast; her mother, Celeste, had both legs amputated below her knee.
Segatore, who'd heard Brassard screaming for his daughter in the medical tent, learned from the news that he and his family had survived. He was glad to know Brassard's leg was saved, too, especially at the hospital where he works.
But there's one image he can't shake -- and that's of the woman who couldn't be saved. "Her face, because I was right there over her," he said, "it's in my memory."
He had searched for identification but found nothing on her body. He's since learned that she was Krystle Campbell, one of three people killed in the attack. He recognized her photo in the news instantly because of "her big blue eyes and blue eye shadow." He wants her family to know that she didn't die alone.
Asaiante, the Iraqi war veteran, wished the terror had never struck his city, but he was proud to be able respond. "All of us found ourselves in extraordinary circumstances, and we just did what we had to do," he said.
Just like pushing through the pain of conquering the infamous Heartbreak Hill at mile 20, Bostonians are resilient and will work together to recover from the tragedy. "Push on through it," he said, "don't forget it and make a positive."
More than 260 people were treated for their wounds at hospitals. Fourteen have had limbs amputated. Authorities have said the death toll likely would have been much higher if it weren't for the actions of so many first responders.
Back near the finish line, at the foot of police barricades, a makeshift shrine sits at the corner of Boylston and Berkeley streets. Mourners come to pay their respects and leave flowers and other mementoes.
One sign carries the famous quote of childhood TV show icon Mr. Rogers: "When I was a boy and I would see scary things in the news, my mother would say to me, 'Look for the helpers. You will always find people who are helping.' "
Last Monday, the helpers sprang forward.
CNN's Elizabeth Cohen and William Hudson contributed to this report