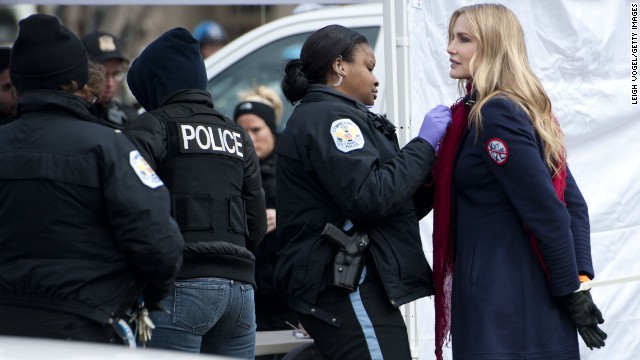 Actress Daryl Hannah was handcuffed and arrested while protesting the Keystone XL Pipeline in Washington, D.C., in February. She's also the executive producer of the documentary, "Greedy, Lying Bastards," which explores climate change denial. She's just one of many celebs who've taken a stand or taken a chance to change the way the we power the planet.
"exceeded my expecations,"
Pitt said in 2010. "Now every house you see here, last month, every one but one was producing more energy than it was consuming."
After Hurricane Katrina leveled New Orleans' Lower 9th Ward, actor Brad Pitt announced a plan to build 150 ecologically sustainable homes there. The homes, an initiative of his Make It Right Foundation,
made the environment his cause
decades ago, whether campaigning to keep land from commercial development, to save Alaskan wildlife refuges or to stop global warming. Here, Redford spoke at the opening of the Natural Resources Defense Council building in Santa Monica, California, in 2003 -- it's named the Robert Redford Building.
Actor Robert Redford
Actor and environmentalist Ed Begley Jr. has made a living going green with shows like "Living with Ed." He dropped meat, avoids driving and tries to live off the electrical grid in a self-sufficient home. In February, he spoke during the "Forward on Climate" rally in Los Angeles for action on climate change/
In 2010, the Sydney Theatre Company in Australia, switched on the new rooftop solar panels on its historic home, The Wharf theater. Sustainability is part of the vision of the theater's artistic directors, actress Cate Blanchett and her husband, Andrew Upton.
Actor Leonardo DiCaprio gets green cred for his solar house and hybrid car, but he also produced and narrated the documentary, "The 11th Hour." The film detailed problems caused by global warming, and considered ways to heal the environment. DiCaprio attended an event for the film at the Cannes Film Festival in 2007.
Actor Morgan Freeman has spoken up over the years about finding clean, safe energy sources, and lent his voice to several projects, including PBS' "e² energy" series. He also owns a Tesla Model S, the high-end electric sportscar, The Hollywood Reporter said.
Sure, he's well-known because he's former Vice President Al Gore. But he won a Nobel Peace Prize in 2007 for his efforts to combat climate change, and his 2006 global warming-warning film, "An Inconvenient Truth," won an Oscar for best documentary.
took a hit
after the band's bus driver was accused of dumping human waste into the Chicago River, with some sludge raining on a tour boat. (Ew.) The band wasn't on the bus, but after a lawsuit, the band agreed to pay a settlement, and made big donations to groups supporting the the river and parks.
Dave Matthews Band had a long reputation of eco-responsibility, using a biodiesel tour bus, offering organic cotton fan merch and using carbon offsets for its tour. That reputation
Actor Orlando Bloom falls into that hybrid-driving, solar-supporting celeb camp. He's a regular at green events -- like this 2010 Cinema for Peace Green Evening in Berlin -- and supports initiatives like Global Cool, an organization with a mission to raise awareness about climate change.
Daryl Hannah
Brad Pitt
Robert Redford
Ed Begley Jr.
Cate Blanchett
Edward Norton
Leonardo DiCaprio
Cameron Diaz
Environmentalist celebs
Al Gore
Dave Matthews Band
Orlando Bloom