STORY HIGHLIGHTS
New $123 million package covers humanitarian aid, nonlethal military aid
Secretary of State John Kerry announces the aid after meeting with Friends of Syria
Kerry's news comes as 11 nations from the Friends of Syria meet Syrian opposition leaders
Istanbul (CNN) -- The United States doubled its nonlethal aid to the Syrian opposition on Saturday, as the opposition and its main foreign backers struggled to overcome deep divisions and present a unified strategy on how to end the two-year civil war.
Secretary of State John Kerry said in a statement the United States would funnel another $123 million in aid to the Syrian Opposition Coalition, including an expansion of direct aid to armed rebels battling forces loyal to President Bashar al-Assad.
"We want to see the coalition lead the way by ramping up its ability in order to be able to provide assistance, deliver services and respond to the needs of the Syrian people," Kerry told reporters after a meeting of 11 nations from the Friends of Syria group and Syrian opposition leaders.
Kerry did not offer specifics, but administration officials said President Obama has signed off on items such as body armor, night vision goggles, advanced communications equipment and other military equipment that is defensive in nature, but could be used to in combat to aid Syrian rebels battling regime forces. The package falls short of the heavy weapons and high-tech equipment sought by the rebels, however.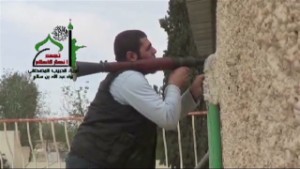 Babacan: Syrian regime will fall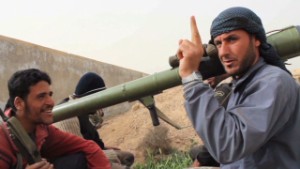 A Syrian town ruled by rebels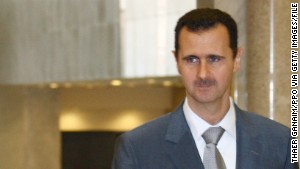 Al-Assad: West 'will pay heavy price'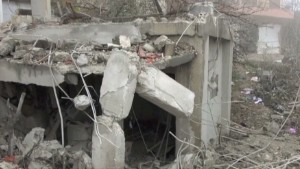 Observers: Syria targets civilians
Still, the move by Washington to expand assistance to the armed rebels reflects a growing international effort to change the military balance on the battlefield in Syria and increase pressure on al-Assad to step down.
Britain and France are leading efforts to lift a European Union arms embargo on Syria, which expires in May. Both nations have suggested they could join nations such as Qatar in providing the rebels with weapons, arguing such a step would strengthen the hand of moderate members of the opposition and make them less reliant on well-armed extremist elements within their ranks.
In a statement after the talks, the 11 ministers recognized the "need to change the balance of power on the ground" and pledged to "enhance and expand their support to all coalition institutions," including increased support to the coalition's military council.
They also urged the United Nations to immediately investigate allegations chemical weapons had been used in Syria, promising "severe consequences" if the claims proved to be true.
Before the gathering, Kerry held a private meeting with coalition president Moaz al-Khatib. One diplomat said Kerry has been very vocal about pushing the opposition to become more unified and inclusive in order to present itself to Syria's minority communities as an alternative to the regime.
The benefactors also sought commitments from the opposition that recipients of international aid are fully vetted so the aid does not end up in the hands of extremist groups such as Jabhat al-Nusra, which has links to al Qaeda.
Gen. Salim Idriss, the head of the opposition's military council, provided a military briefing to the ministers. In a statement after the meeting, the Syrian National Coalition said it firmly rejected "all forms of terrorism" and vowed to guarantee that any weapons it receives will not "fall into wrong hands."
The opposition presented its own list of demands at the talks, which are likely to remain unmet. In addition to more military and civilian aid, the opposition wants a U.N. Security Council resolution condemning the regime's air attacks and possible use of chemical weapons and a no-fly zone to protect civilians from further air and missile attacks.
The United States and other nations have repeatedly said they will not intervene militarily and Russia has repeatedly blocked U.N. resolutions on Syria.
After the talks, al-Khatib said the international support, while appreciated, was not enough.
"We call on the international community to be more forthcoming and unreserved to fulfill its responsibilities in extending support that is needed by the Syrian people," he said.
Syria's allies are struggling to overcome their divisions about which rebel groups to aid, the scope of the assistance and what commitments to seek from the opposition in return. Saturday's talks ran more than five hours, as nations argued over what one diplomat called "competing agendas" among the donors.
Some European nations remain skeptical about arming the rebels. German Foreign Minister Guido Westerwelle said in Istanbul on Saturday that his government was concerned the weapons would fall into the hands of radicals.
"We expect from the opposition that they clearly distance themselves in Syria from terrorist and extremist forces," he told reporters.
Moreover, Western governments and many Middle East nations believe some nations that are arming the rebels, particularly Qatar, are allowing some of the weapons to flow to extremist groups like Jabhat al-Nusra. Diplomats said Turkey and Qatar have thrown their support behind Syria's Muslim Brotherhood, a move that has concerned Saudi Arabia.
Kerry said after the meeting the donors and the Syrian opposition reached agreement that all future military aid to the rebels would be channeled through the coalition's supreme military command.
After Istanbul, Kerry will travel to Brussels, where he will discuss the Syria crisis with NATO and EU foreign ministers. He will also meet with Russian Foreign Minister Sergei Lavrov. The Obama administration sees Moscow as one of Syria's most important backers, along with Iran. Kerry said earlier this week he had not abandoned hope Russia could end its support for al-Assad.