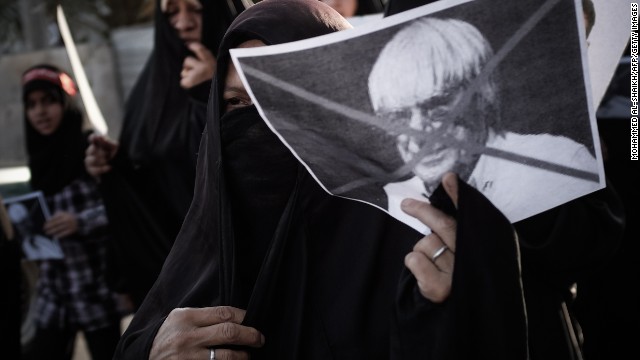 There have been protests against Formula One's arrival in Bahrain as the race returned in 2013. Some protesters, pictured here on April 16, wanted F1 chief Bernie Ecclestone to cancel the race.
Ecclestone and FIA president Jean Todt both attended the race in 2012 when it returned to the calendar after it was called off in 2011 because of civil unrest -- but this time only Ecclestone attended the grand prix.
Sebastian Vettel won the 2013 race for Red Bull as he went 10 points clear in the championship standings.
Vettel also won last year's race as the German went on to wrap up a third successive world title.
The Sakhir circuit was constructed in the desert outside the capital of Manama which means sand often blows across the track -- those conditions can be hard work for Formula One's engines and tires
The imposing Sakhir Tower looms over the cars as they race on the Bahrain International Circuit.
Nico Rosberg was fastest in Saturday qualifying to claim the second pole position of his career, and Mercedes' second in a row after Lewis Hamilton was quickest in Shanghai.
Lotus driver Kimi Raikkonen was the fastest man on the track during Friday's afternoon practice session, and finished second behind Vettel on Sunday despite starting from eighth place.
Inside the Formula One paddock, and away from the protests, the teams and drivers got on with business as usual. Ferrari driver Felipe Massa spoke to the press on Thursday as a two-time winner in Bahrain.
F1 makes uncertain Bahrain return
F1 makes uncertain Bahrain return
F1 makes uncertain Bahrain return
F1 makes uncertain Bahrain return
F1 makes uncertain Bahrain return
F1 makes uncertain Bahrain return
F1 makes uncertain Bahrain return
F1 makes uncertain Bahrain return
F1 makes uncertain Bahrain return
STORY HIGHLIGHTS
Mercedes driver Nico Rosberg earns second pole position of his career in Bahrain
He will start ahead of fellow German Sebastian Vettel, who was second for Red Bull
Ferrari's Fernando Alonso is third quickest as he, like Vettel, opts to conserve his tires
Reports say protests against Bahrain rulers and the F1 race continued into Saturday morning
(CNN) -- Nico Rosberg has claimed a surprise pole position for Sunday's Bahrain Grand Prix, but qualifying positions were once again almost a secondary consideration in a race already overshadowed by ongoing protests in the Gulf kingdom.
The German was more than two-tenths of a second faster than triple world champion Sebastian Vettel, who admitted he held back at the end when he saw how far ahead the Mercedes driver was in Saturday's final session.
"When I got told the gap to P1, it was clear that even with a perfect lap he was unbeatable today, but nevertheless I'm very happy," said the Red Bull star, who won last year's race from pole at the Sakhir circuit.
"We managed to save some tires throughout qualifying and it will be about tire degradation tomorrow, so we'll see what happens."
F1 interactive: Explore Sakhir's highlights
Rosberg won the second pole of his career, but downplayed his hopes of repeat last season's success of winning from the front of the grid in China.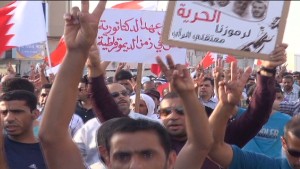 Formula One not so welcomed in Bahrain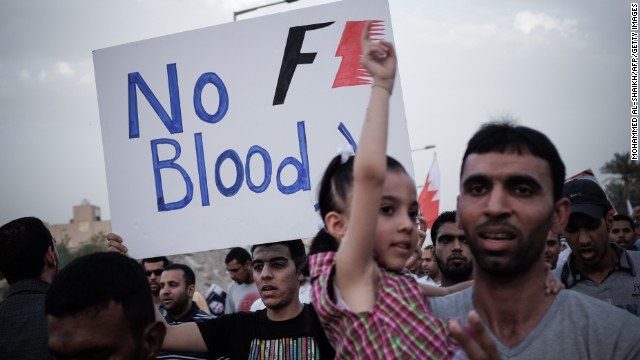 A Bahraini protestor holds up a poster against the country's upcoming Formula One Grand Prix during a demonstration in the village of Jid Ali, north-east of Isa Town. Protesters in Bahrain plan to step up demands for reform ahead of Sunday's race.
Tires placed on the road by anti-regime protestors burn during clashes with riot police in the village of Diraz, west of Manama. Bahrain riot police fired tear gas and stun grenades at protesters, who hurled petrol bombs during protests against the staging of the race.
Away from the protests, Lotus driver Kimi Raikkonen was the fastest man on the track during Friday afternoon's practice session.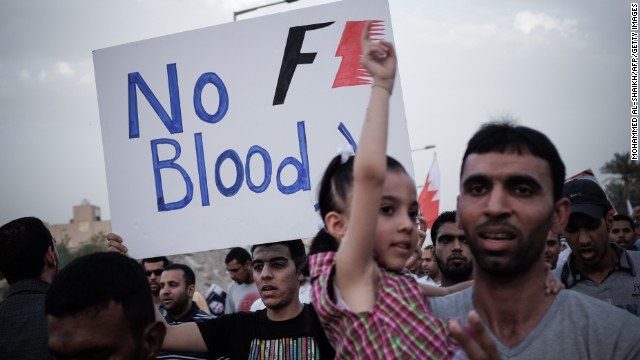 Bahrain Grand Prix: The protests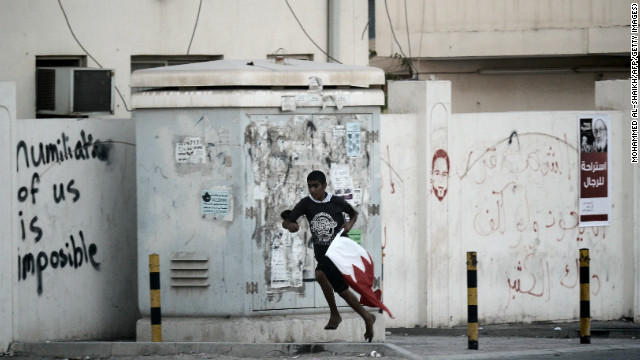 A Bahraini Shiite protester runs for cover from riot police after a crackdown on an anti-government demonstrator. They were protestsing against the killing of 16-year old Ali Abbas Radhi in the village of Diraz, west Manama on November 9, 2012.
Bahraini riot policemen walk past graffiti reading in Arabic: 'Peace on our martyrs' as they try to disperse protesters. The teenager was killed as police attempted to stop pposition supporters from joining a mass during weekly Friday prayers.
A Bahraini Shiite man inspects his car, which was damaged during clashes between riot police and protesters.
A Bahraini Shiite man lies in his house after being wounded in the clashes.
A Bahraini Shiite woman performs her weekly Friday prayers in the village of Diraz, west of Manama.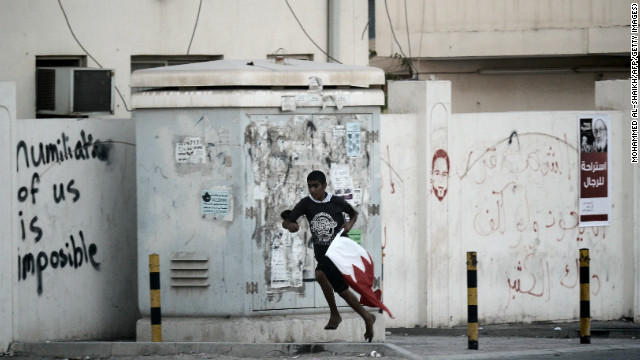 Clashes in Bahrain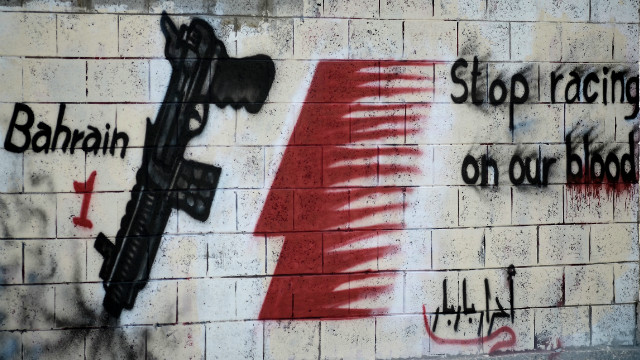 Protests against the Bahrain GP have intensified in recent weeks. This graffiti was posted on a wall in the village of Barbar, west of the capital Manama, in April.
Bahraini Shiite Muslims in the town of Muharraq take part in a demonstration calling for the cancelation of Sunday's race.
Hundreds of supporters of Bahrain's main Shiite opposition group Al-Wefaq demonstrated against the government on April 15, 2012.
However, Bahrain International Circuit chairman Zayed Alzayani told CNN that staging the race was not a big risk, and that F1 was not linked to the protesters' concerns.
Bernie Ecclestone, the head of Formula One Management, told CNN that sport and politics do not mix after announcing that the Bahrain race would go ahead.
CNN's Fred Pleitgen went to Bahrain to report on the situation, and accompanied riot police as they confronted protesters in the streets.
Bahraini Shiite demonstrators hold posters of jailed activist Abdulhadi al-Khawaja during a protest calling for his release in the village of Jidhafs, west of Manama, on April 6, 2012.
Al-Khawaja has been on hunger strike for almost two months, and his daughter told CNN she fears for his health.
Bahrain first held a Formula One race in 2004, but last year's event was canceled due to the civil uprising against the government.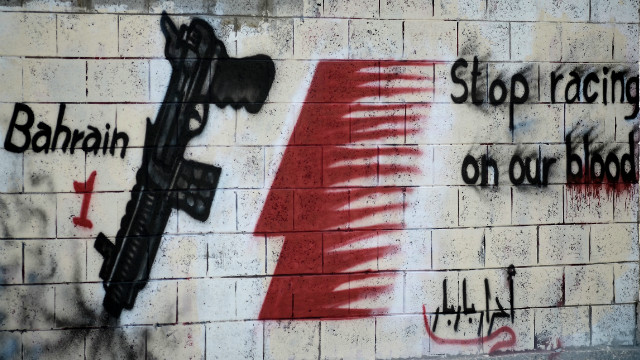 Controversy over Bahrain's Formula One race
"For the first time this season everything went perfectly today and that's a great feeling," he said.
"The race tomorrow is a different story. It will be difficult, especially with the rear tires, and we know that other teams were stronger than us on the long runs on Friday. It will be a big challenge to stay ahead, but starting from the front helps."
Fernando Alonso will start third for Ferrari, and the Spaniard is confident of repeating his victory last time out in Shanghai after also deciding to conserve his tires by giving up his final run, with track temperatures rising above 40C and playing havoc with the rubber.
"At the last corner, I saw I was half a tenth to one-tenth slower so we decided to come in and save one lap on those tires -- you never know if you'll have to use it in the race," Alonso said.
Read: F1 chiefs confirm Bahrain race will go ahead
He will start the race alongside teammate Felipe Massa after Mercedes' Lewis Hamilton was dropped five places from fourth -- having needed a new gearbox after problems in final practice -- and Red Bull's Mark Webber was demoted from fifth to seventh because of his grid penalty following a collision in the China race.
"I started on the hard (tires), it can be that I gain positions on the first stint because of that," said Massa, who took a different tire strategy to Alonso.
The Force India duo of Paul Di Resta and Adrian Sutil will start fifth and sixth respectively, while Lotus' Kimi Raikkonen -- who was fastest in Friday's practice sessions -- will be eighth.
Hamilton will be alongside 10th-placed former McLaren teammate Jenson Button, who succeeded him as world champion in 2009.
"The best chance to gain some positions will come at the start and then we'll see how it goes," said Hamilton, who won pole in Shanghai. "Tire degradation will be a huge factor so it's going to be a very interesting race."
Several media outlets reported that human rights protesters clashed with Bahrain's security forces into the early hours of Saturday morning.
Bernie Ecclestone, the head of Formula One Management, told a group of television reporters that the Bahrain government was "stupid" to host the race because it can be used "as a platform for people to use protesting."
"The government here were stupid, in a lot of ways, to put this race on," the 82-year-old said Saturday ahead of the qualifying sessions in response to a question from a BBC reporter
The race was canceled in 2011 after violent protests by factions of the majority Shiite population against Bahrain's Sunni rulers. F1 bosses tried to reschedule it for later that year but backed down in the wake of widespread criticism and a lack of evidence that the situation had stabilized.
Last year's race passed without incident, though there were again protests before it was held.
The Bahrain government insists the race will bring long-term benefits to its people.
"F1 brings significant benefits to everyone in Bahrain, especially economically," it said in a statement Friday. "Bahrain upholds the right to peaceful protest. It is a country made up of many communities with different views on its development.
"This is why it has launched a dialogue between all political groups to address political issues in a manner that will ensure the country develops in a sustainable way. It should be noted that in some cases protests encouraged by extreme opposition groups result in deliberate and targeted violence."