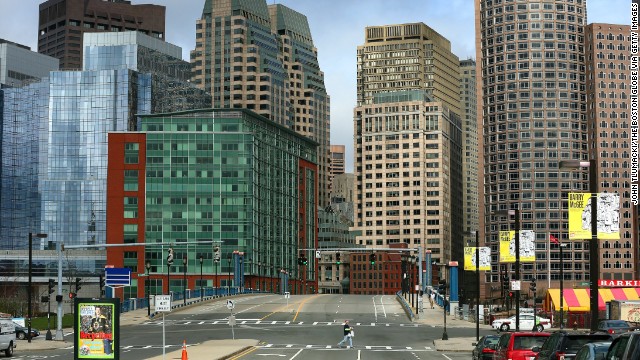 Summer Street in downtown Boston is empty as authorities hunt for the surviving marathon bombing suspect on Friday, April 19. Much of the Boston area was closed or in lockdown during the investigation and residents were asked to stay inside.
See all photography related to the Boston bombings.
A man crosses a vacant Beacon Street across from the Boston Common on April 19.
Federal Street is mostly empty on April 19 in the Financial District.
The Boston Red Sox postponed a game with the Kansas City Royals scheduled for April 19 because of the manhunt.
Moody Street in Waltham is deserted as the lockdown continues on April 19.
Congress Street in Boston appears mostly empty on April 19, looking toward Post Office Square.
Beacon Street, with a view toward the Massachusetts State House, has no pedestrians and little vehicular traffic on April 19.
The area near Boston's Downtown Crossing would usually be filled with lunchtime crowds.
The Boston Public Garden is largely empty on April 19.
Congress Street at Milk Street is deserted during the lunchtime hour on April 19.
Paths are empty at the Boston Public Garden on April 19.
The area around the North Station next to the TD Garden is deserted April 19 with public transportation shut down in the Boston area.
Only a few pedestrians cross the Harvard Bridge, known locally as the Massachusetts Avenue Bridge, on April 19.
A lone bicyclist makes his way across the Longfellow Bridge to Boston from Cambridge on April 19.
Watertown Square is deserted at about 6 a.m. April 19 as the manhunt intensifies.
With public transportation suspended, Friend Street near North Station is empty.
A flower sits near the site where an MIT police officer was killed in Cambridge. Police say they think the bombing suspects were responsible for the shooting on Thursday night, April 18.
Ceasar McDowell, an urban studies professor at MIT,
says he went for a walk Friday on Massachusetts Avenue in Cambridge, only to find everything closed except for a CVS drugstore and a Dunkin' Donuts. "I don't know how to describe it," said McDowell, a CNN iReporter. "(I)t was eerie that quietness."
Traffic appears nonexistent on Massachusetts Avenue in Cambridge.
The area around North Station had few people around 9:40 a.m. on April 19.
The day Boston became a ghost town
The day Boston became a ghost town
The day Boston became a ghost town
The day Boston became a ghost town
The day Boston became a ghost town
The day Boston became a ghost town
The day Boston became a ghost town
The day Boston became a ghost town
The day Boston became a ghost town
The day Boston became a ghost town
The day Boston became a ghost town
The day Boston became a ghost town
The day Boston became a ghost town
The day Boston became a ghost town
The day Boston became a ghost town
The day Boston became a ghost town
The day Boston became a ghost town
The day Boston became a ghost town
The day Boston became a ghost town
The day Boston became a ghost town
The day Boston became a ghost town