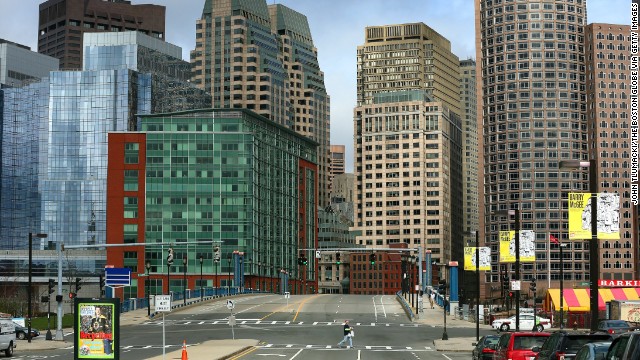 Summer Street in downtown Boston is empty as authorities hunt for the surviving marathon bombing suspect on Friday, April 19. Much of the Boston area was closed or in lockdown during the investigation and residents were asked to stay inside.
See all photography related to the Boston bombings.
A man crosses a vacant Beacon Street across from the Boston Common on April 19.
Federal Street is mostly empty on April 19 in the Financial District.
The Boston Red Sox postponed a game with the Kansas City Royals scheduled for April 19 because of the manhunt.
Moody Street in Waltham is deserted as the lockdown continues on April 19.
Congress Street in Boston appears mostly empty on April 19, looking toward Post Office Square.
Beacon Street, with a view toward the Massachusetts State House, has no pedestrians and little vehicular traffic on April 19.
The area near Boston's Downtown Crossing would usually be filled with lunchtime crowds.
The Boston Public Garden is largely empty on April 19.
Congress Street at Milk Street is deserted during the lunchtime hour on April 19.
Paths are empty at the Boston Public Garden on April 19.
The area around the North Station next to the TD Garden is deserted April 19 with public transportation shut down in the Boston area.
Only a few pedestrians cross the Harvard Bridge, known locally as the Massachusetts Avenue Bridge, on April 19.
A lone bicyclist makes his way across the Longfellow Bridge to Boston from Cambridge on April 19.
Watertown Square is deserted at about 6 a.m. April 19 as the manhunt intensifies.
With public transportation suspended, Friend Street near North Station is empty.
A flower sits near the site where an MIT police officer was killed in Cambridge. Police say they think the bombing suspects were responsible for the shooting on Thursday night, April 18.
Ceasar McDowell, an urban studies professor at MIT,
says he went for a walk Friday on Massachusetts Avenue in Cambridge, only to find everything closed except for a CVS drugstore and a Dunkin' Donuts. "I don't know how to describe it," said McDowell, a CNN iReporter. "(I)t was eerie that quietness."
Traffic appears nonexistent on Massachusetts Avenue in Cambridge.
The area around North Station had few people around 9:40 a.m. on April 19.
The day Boston became a ghost town
The day Boston became a ghost town
The day Boston became a ghost town
The day Boston became a ghost town
The day Boston became a ghost town
The day Boston became a ghost town
The day Boston became a ghost town
The day Boston became a ghost town
The day Boston became a ghost town
The day Boston became a ghost town
The day Boston became a ghost town
The day Boston became a ghost town
The day Boston became a ghost town
The day Boston became a ghost town
The day Boston became a ghost town
The day Boston became a ghost town
The day Boston became a ghost town
The day Boston became a ghost town
The day Boston became a ghost town
The day Boston became a ghost town
The day Boston became a ghost town
STORY HIGHLIGHTS
NEW: Area pro baseball and hockey games postponed, as well as circus performance
Boston shuts down all modes of public transportation, including subways, buses and ferries
Harvard, MIT, local colleges and Boston Public Schools among those canceling classes
Taxis service restored after being suspended earlier, police say
(CNN) -- The manhunt for the suspect in Monday's marathon bombings has led officials to shut down transportation, hospitals and other services and events throughout the city of Boston and its suburbs. Among them:
• The Boston Bruins hockey game, Red Sox baseball game and Big Apple Circus performance scheduled for Friday have been postponed, Boston police said.
• The Massachusetts Bay Transit Authority tweeted that all "modes" of transport -- including rail, subway, buses and ferries -- would be suspended until further notice. Later, the authority tweeted, "Please DO NOT Wait at Bus and Station Stops."
• The MIT campus, where a university police officer was killed, said that all classes were canceled. "All employees are encouraged to use their best judgment about whether they are prepared to come in to work today: any absence today will be considered excused. MIT is working now to plan a gathering later today on campus. Once we have determined the time and place, we will communicate with you all," a statement said.
• Harvard later did the same, announcing, "In consideration of the manhunt that is underway, we are asking members of the Harvard community to remain home from work and classes today." Boston Public Schools also followed suit, announcing that all system functions, including administrative offices and family resource centers, would be canceled.
• While police requested residents of Boston and all its suburbs remain at home, the Massachusetts State Police specifically singled out Boston, Watertown, Cambridge, Allston Brighton, Belmont and Newtown. The governor's office added Waltham to the list of places where the people should "stay indoors with your doors locked."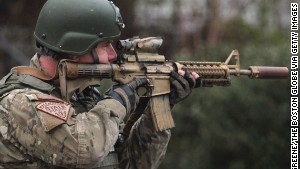 Police: 1 suspect dead, 1 on the run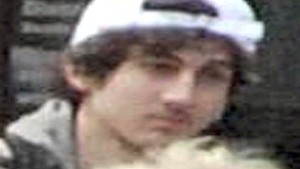 Neighbor: Dzhokhar was a 'lovely kid'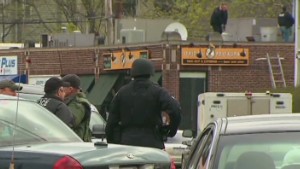 Events leading up to Boston manhunt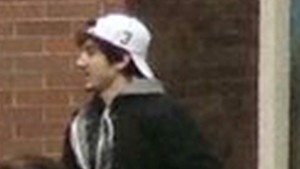 Friend: Suspect justified terrorism
• Later, the Boston Police Department would announce that "all vehicle traffic" in Watertown was suspended. The department also announced on Twitter that "all taxi service in the city of Boston has been suspended," though the department announced taxi service was restored shortly before 11 a.m.
• The Federal Aviation Administration ordered a 3.5-nautical-mile temporary flight restriction over Boston "to provide a safe environment for law enforcement activities." The restriction is from surface to 3,000 feet, according to the FAA.
• Amtrak suspended service between Boston and Providence, Rhode Island, and between Boston and New York City until further notice.
• Boston's Logan International Airport is operating normally under heightened security, according to airport spokesman Matthew Brelis. "It's open and operating and flights are operating," he said. "Airlines are waiving fees for passengers who don't want to or can't fly today. ... Taxis are coming and going. Call your airline for your flight status before you leave for the airport, which is what we say anyway, but allow yourself a little extra time."
• Massachusetts General Hospital was on lockdown, with just one entrance open, said Kory Zhao with the press office. Access was limited to doctors and staff members with identification; patients ready for discharge were being advised to stay put.
• Boston Medical Center says inpatient care has not been interrupted though it is on lockdown and everyone entering the facility is being screened, according to representative Gina DiGravio. The emergency department is open, and patients are not being discharged at this time, though outpatient appointments have been canceled for the day.
• Brigham and Women's Hospital was on total lockdown, said Jess Maki of corporate communications.
• At Beth Israel, "business is proceeding as usual" within the confines of the city, which itself was on lockdown, said Bonnie Prescott of the communication office.
• At Tufts Medical Center, Julie Jette, director of media relations and publications, said "minimum entrances" were remaining open. "Services are available for patients who need them."
• At St. Elizabeth's Medical Center and Steward Hospital Services, operations were on lockdown, meaning that elective surgeries and visitor access were canceled, but emergencies were being treated, said marketing director Jennifer Kovalich.
• Boston Children's Hospital's main campus in the Longwood Medical Area was locked down, meaning that patient appointments were canceled and patients would not be discharged, said Rob Graham, director of media relations and national strategy.
• Boston Children Hospital's Waltham facility and its Martha Eliot Health Center in Jamaica Plain were closed.
• But six miles south of the focus of police activity, operations were continuing as normal at Lemuel Shattuck Hospital, an operations manager told CNN.
CNN's Marnie Hunter, Caitlin Hagan, Ben Tinker and Caleb Hellerman contributed to this report.