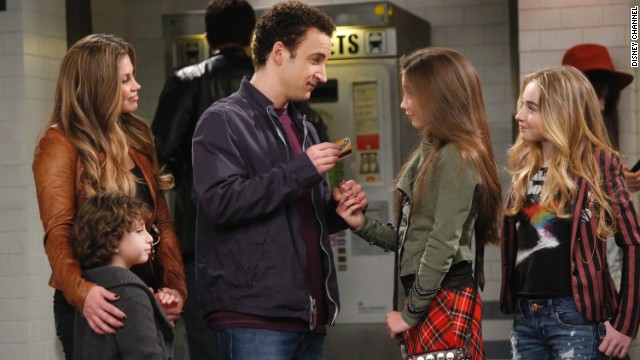 We'll admit it: The real reason we're checking out The Disney Channel's "Boy Meets World" spinoff "Girl Meets World" is because we always wanted to see how "Boy Meets World's" Cory and Topanga turned out. On June 27, we'll get our wish as the two characters, played by Danielle Fishel, left, and Ben Savage, center, reprise their roles in the new series. With this "Boy Meets World" reunion, maybe there's hope for some of our other favorite shows. Here are nine more we want to see reunite.
Claire Danes, left, is likely too busy (fighting terrorism as Carrie Mathison on "Homeland") to play Angela Chase on a "My So-Called Life" reboot, but we'll settle for a reunion special. What do you think, Danes? (Bess Armstrong, who played Patty Chase on the series, is also pictured.)
Loyal fans of Paul Feig's "Freaks and Geeks" have been waiting for a reboot since the show was unceremoniously canceled in 2000, after just one season on NBC. Some of the cast, such as Seth Rogen and Jason Segel, went on to appear in Judd Apatow's "Undeclared," which also only ran for one season -- this time on Fox.
The cast members of "Party Down," including Lizzy Caplan, left, and Adam Scott, have been hard at work on their respective film and TV projects since the Starz series was canceled in 2010. Despite low ratings, the comedy received rave reviews.
Fans of Joss Whedon's "Firefly" have been begging for a reboot of some sort since the drama went off the air in 2003. Nathan Fillion, center, now stars on ABC's "Castle."
"Saved by the Bell"
reunion could be pretty spectacular. Mark-Paul Gosselaar must think so, too. Why else would he have appeared on "Late Night With Jimmy Fallon" as Zack Morris in 2009? Come on,
Tiffani Thiessen
. Do it for us.
Before you note how upsetting "Saved by the Bell: The College Years" was -- and don't even get us started on "The New Class" -- a
We love watching Connie Britton, left, on the small screen as Rayna James in "Nashville," but we'd be lying if we said we didn't miss Tami Taylor in "Friday Night Lights." And maybe series star Kyle Chandler, right, could take a break from appearing in movies such as "Argo" and "Zero Dark Thirty" to appease us?
"Smash"
has been canceled, maybe she'd be up for reprising her role on "Will & Grace." The comedy -- starring Megan Mullally, Sean Hayes, Messing and Eric McCormack -- ran for eight seasons on NBC.
Now that Debra Messing's
We miss curling up on the couch with the best mother-daughter duo known to TV. No matter which way you spin it, a "Gilmore Girls" reunion, starring Lauren Graham, left, and Alexis Bledel, is a great idea.
TV reunions we'd like to see
TV reunions we'd like to see
TV reunions we'd like to see
TV reunions we'd like to see
TV reunions we'd like to see
TV reunions we'd like to see
TV reunions we'd like to see
TV reunions we'd like to see
TV reunions we'd like to see