STORY HIGHLIGHTS
Chinese cuisine demands that food be as fresh as possible
But problems arise with the way live poultry is handled, stored and slaughtered
China's public health authorities taking throat swabs from live food dealers
H7N9 strain of bird flu virus has resulted in more than 17 deaths
Hong Kong (CNN) -- China has one of the oldest food cultures in the world and, like that acme of Western food culture French cuisine, the food needs to be fresh.
At Sei Wui, a remote town in western Guangdong Province, a live goose will cost you little more than $US3 a bird.
"They're 18 kwai a piece," said one market trader, using the Chinese vernacular for the renminbi, China's currency, and pointing to her gaggle of geese honking furiously at one end of a bamboo pen. "Buy it now and they'll cook it for you," she added, pointing down the road to a small stall doing a brisk business serving a lunchtime crowd of pavement diners.
READ: Bird flu count rises to 87
In southern China, it's said that people will eat everything with four legs except for the table. Whether it's a chicken, a goose or even a frog, if its heart is still just beating by the time you get it home, all the better.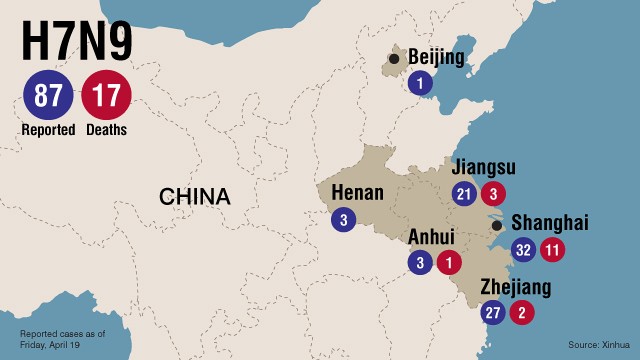 Map: Bird flu spread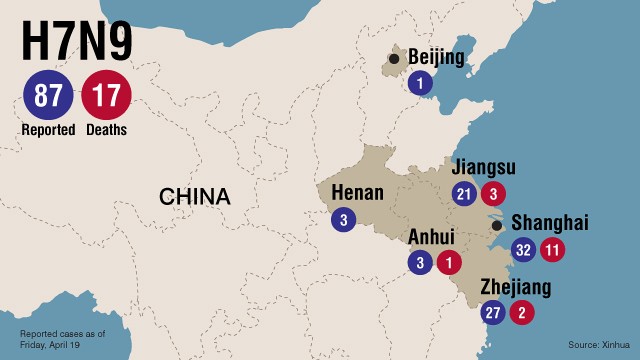 Map: Bird flu spread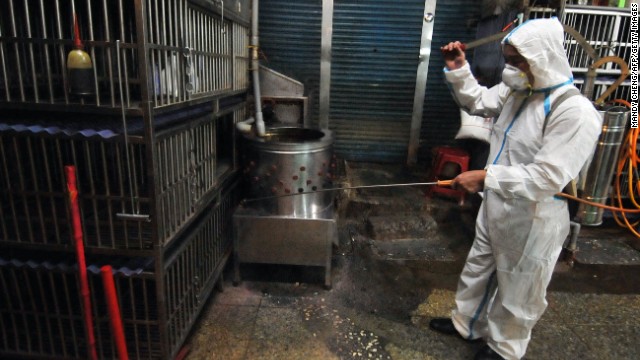 A janitor sprays disinfectant over empty chicken cages at a market in New Taipei City, Taiwan, on Monday, April 29. Asian countries have stepped up vigilance against the spread of H7N9 bird flu after a case of the deadly strain showed up in Taiwan, the first outside mainland China.
A New Taipei City Department of Environmental Protection truck sprays a virus disinfectant in a park on April 29.
Doctors hold a consultation on the treatment for a patient surnamed Luo, the province's first human case of H7N9 avian influenza, at the No. 2 Hospital in Longyan City, in southeast China's Fujian Province, on April 27. Luo, 65, a local resident, showed symptoms of repeated coughing, low fever and a tight chest on April 18. Luo tested positive for the H7N9 virus on Friday by the Chinese Center for Disease Control and Prevention. Thirty-seven people who have been in close contact with Luo have not shown any abnormal symptoms so far.
A vendor stands by her chicken coop in Fuqing, southeast China's Fujian Province on April 26. At least 20 people have died from the virus which, while common in birds, hadn't been detected in humans before the first cases were reported in March.
A woman wearing a medical mask walks past vending machines that sell masks outside National Taiwan University Hospital in Taipei on April 26. A 53-year-old Taiwanese businessman has contracted the H7N9 strain of bird flu while traveling in China, Taiwan's Health Department said on April 24. It's the first reported case outside of mainland China. The man was hospitalized after becoming ill three days after returning from Suzhou on April 9.
Disease control workers examine a chicken in a poultry farm in Fuqing on April 26.
Three people wearing masks walk outside the National Taiwan University Hospital in Taipei on Thursday, April 25. China has reported 83 cases of H7N9 avian influenza.
An H7N9 bird flu patient walks in the corridor of a hospital after his recovery and approval for discharge in Bozhou, in central China's Anhui Province, on Friday, April 19.
Chickens line the walls at a poultry farm on Thursday, April 18, in Yuncheng, China.
A 7-year-old girl, who was the first confirmed bird flu case in Beijing, is discharged from Beijing Ditan Hospital on Wednesday, April 17.
Health workers collect blood samples from chickens at a poultry farm in Taizhou, China, on April 17.
Chickens roost at a poultry farm in Taizhou, China, on Wednesday, April 17.
Pedestrians in Shanghai wear face masks to protect themselves from the H7N9 bird flu virus on Tuesday, April 16.
A man throws ducklings into a stove at a duck farm in Zhangzhou in China's Fujian province on Sunday, April 14. The farm has had to kill more than 400,000 newborn ducks every week after the H7N9 bird flu affected the domestic poultry market.
A woman uses a lamp to illuminate a batch of eggs in the hatchery of a duck farm in Zhangzhou on April 14.
Cheng Jun, vice president of Beijing's Ditan hospital, shows a video of the first bird flu victim in intensive care during a press conference on Saturday, April 13.
Officials in Hong Kong test poultry at the border with mainland China on April 11 as authorities step up measures against the spread of the deadly H7N9 bird flu.
Empty cages are seen at a closed bird market on April 10 in Shanghai.
A technician conducts tests for the H7N9 bird flu virus at the Kunming Center for Disease Control on April 10 in Kunming, China.
Medical workers take part in a drill that simulates human infection of the H7N9 bird flu virus on April 9 in Hefei, China.
People wear masks to protect themselves from the H7N9 virus, or bird flu, while riding the underground in Shanghai on Tuesday, April 9.
Employees work on the production line of Shufeng Jiedu Capsule, an herbal medicine for treating avian influenza patients, at a workshop of Anhui Jiren Pharmaceutical Co., Ltd on Monday, April 8 in Bozhou, China.
A public park staff carries a cage to catch pigeons at a public area in People's Square, downtown Shanghai on Saturday, April 6. Shanghai municipal government has ordered workers to remove pigeons from public area to prevent the spread of H7N9 bird flu to humans, local media reported.
A boy looks at pigeons at a public park in People's Square in Shanghaion on April 6. Health authorities in China said on Saturday that the country's 16 confirmed H7N9 bird flu cases were isolated and showed no sign that it is transmitted from human to human, Xinhua News Agency reported.
A public park worker catches a dove in People's Square in downtown Shanghai on April 6.
A public park worker places a dove in a cage in Shanghai on April 6.
A masked security guard stands outside Taipei Hoping Hospital on April 6, where new isolation units have been set up to treat potential new avian influenza cases.
Taiwan's Health Minister Chiu Wen-ta checks the negative pressure system in a isolation room as he inspects preparations for the virus in Taipei City Hospital Heping Branch, on April 6.
A woman wears a face mask inside a subway station in Shanghai, China, on Friday, April 5. The Chinese minister of agriculture said Thursday it had discovered the H7N9 virus in samples taken from pigeons at Huhai agricultural market, China's state-run Xinhua news agency reported.
Health workers gather dead chickens at the Huhai poultry wholesale market, where the H7N9 bird flu virus was detected in pigeon samples, in Shanghai on April 5.
Cabin attendants are seen on a thermographic imaging device after their arrival from Shanghai at the quarantine station at Haneda International Airport in Tokyo on April 5.
Men wear face masks at a shopping mall in downtown Shanghai on April 5.
Chinese health workers collect bags of dead chickens at the Huhai wholesale market on April 5.
A policeman goes after a chicken that broke loose as Chinese health workers started culling chickens at Huhai wholesale market on April 5.
A woman cleans a birdcage at a store in Taipei, Taiwan, on Thursday, April 4.
Staff members from Taiwan's Center for Disease Control stand at the entrance of Sungshan Airport in Taipei.
A passenger has her temperature checked by a CDC staff member at the entrance of Sungshan Airport in Taipei.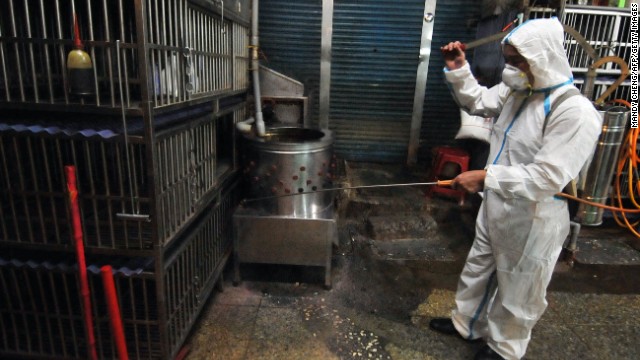 Photos: Bird flu scare spreads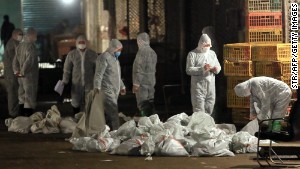 Poultry markets closed over bird flu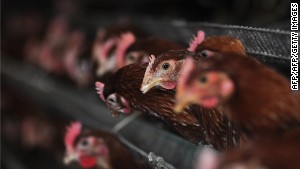 New deadly strain of bird flu in China
It may taste delicious; but the way the birds are handled, stored and slaughtered has the potential to make you very sick.
It's no accident, then, that China's public health authorities are now proactively targeting small towns and villages, taking throat swabs from live food dealers and their customers in wet markets where the rough and ready food culture provides a perfect environment for viruses -- such as H7N9 bird flu -- to flourish.
As with all things in China, the scale of the undertaking is witheringly massive.
China's Ministry of Agriculture, says its medical dragnet has taken samples from poultry markets, farms and slaughterhouses across the country. So far, 84,444 samples have been taken, 47,801 have been tested and 39 samples confirmed as H7N9 positive.
Of these, 38 positive samples came from live poultry markets in the Shanghai municipality and Anhui, Zhejiang and Jiangsu provinces. One sample, worryingly, was found in a feral pigeon; an indication of the virus's ability to spread undetected in wild species.
"Basically, at the moment poultry seems to be the source of the virus so there's a risk if there's direct contact with the poultry or indirect contact with the fecal matter or other products. Of course, if the food is being cooked properly then the risk is limited," said Dr. Leo Poon Lit-man, associate professor, at the School of Public Health at the University of Hong Kong.
While the World Health Organisation has not established a direct link, medical investigators are concentrating their efforts on China's poultry farms and vendors.
"That is the reality," he said. "That is what we learned from H5N1," he added, referring to the outbreak of the bird flu virus in Hong Kong in 1997 that killed six and left 18 seriously ill.
Like most of China, Hong Kong back then liked its chickens fresh. Poultry in bamboo cages on street corners was a common sight and grandmothers could be regularly seen blowing on chickens' anuses -- a common local method of checking the bird's cloaca to gauge its age.
All of these practices have ended in Hong Kong. After 1997, millions of poultry were slaughtered and hundreds of vendors put out of business.
According to Poon, reducing the risk in any market place is not just a matter of improving hygiene, restricting transport and creating overnight "rest days" are all ways of bringing down the viral load in China's ubiquitous wet markets.
We are linked to animals not just by contact but also by the food chain.
Professor Gabriel Leung
"Once a month we leave a day that allows the poultry to sleep and then on that day we have a very thorough cleaning procedure of the market," Poon said, adding that the almost 24/7 nature of many market places in China made it difficult for health authorities to break the cycle of the virus.
"Basically, we come up with a package -- we need more than one single measure to reduce the risk," he added.
Virologists, meanwhile, are now looking at how viruses pass, not just from animals to humans, but from humans to animals and then back to humans again.
According to Professor Gabriel Leung, head of the Department of Community Medicine at Hong Kong University, the spread of disease does not just work in one direction.
He said that dangerous outbreaks of epidemics such as SARS and bird flu are a wake-up call, demonstrating that the fate of humans is inextricably linked with that of the animals we raise and eat.
"It reminds us that human health and veterinary health are one and the same thing and we need to be constantly vigilant," he said. "We are linked to animals not just by contact but also by the food chain."