The right way to wear leggings in school
Join the conversation
CNN iReport
updated 12:20 PM EDT, Tue March 25, 2014
STORY HIGHLIGHTS
Leggings can be school attire when worn correctly, fashion blogger Lucie Zhang writes
Schools should focus on student development rather than wardrobe, she says
Have an essay to share with the world? Submit at CNN iReport
Editor's note: At a school in Illinois, middle schools students are fighting to be allowed to wear leggings to class. Social media strategist and fashion blogger Lucie Zhang originally wrote this defense of leggings in classroom in 2013.
(CNN) -- Our nation is experiencing a Crisis of Sheer Bottoms. Lululemon recently had to recall its popular yoga pants for being see-through, and now schools across the country are banning leggings from the classroom.
Panic everyone! Girls are walking around with the outlines of their panties showing! And while this practice isn't what my mother would call "proper ladylike demeanor," the personal choice of girls to wear leggings has come under attack.
Pajamas in public: The battle of appropriate vs. comfy
It's the result of a common misunderstanding that leggings are pants. They are not. Yet a few girls' confusion on whether or not leggings are pants should not ruin the true comfort and convenience of leggings for those who understand the difference.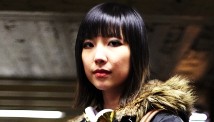 Lucie Zhang (Courtesy Cole Haan)
I ask you, school administrators, if you have ever tried to put on a pair of freshly dried jeans in the morning, after the bliss of wearing your lightweight, loose PJs. The shock of restriction can be depressing. Devastating. Morale-killing. There are simply some days I cannot mentally handle the thought of wearing pants. And it is in these moments of mental weakness that I turn to my knight in shining cotton-spandex-blend: leggings.
LZ Granderson: Parents, don't dress your girls like tramps
I make this choice mainly because of the way leggings create a similar silhouette to pants -- one that cannot be achieved by wearing other trouser-alternatives such as shorts, skirts or dresses -- without creating the dreaded muffin top.
In fact, if you're going to restrict anything, it should be the extremely distracting bulge that occurs when an individual has on a pair of too tight, too low-rise jeans. Muffin tops are universally uncomfortable and unflattering and should be banned as such.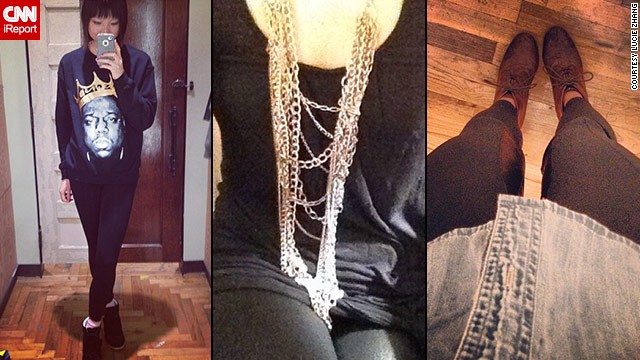 Fashion blogger Lucie Zhang says leggings make perfectly fine attire if worn correctly. Click through the gallery for fashionista-approved ways to rock the garment.
Mila Kunis pairs her leggings with a loose, flowing top for balance.
Model Krista White showcases a Nicole Miller design. Leggings are perfect with a dress that might otherwise be too sheer.
Singer Ciara's leggings work because they're paired with a long tank.
Jeans would be too bulky under this long top, and tights wouldn't be quite enough. Christy Turlington's solution? Leggings, of course.
Olivia Palermo looks comfortable in leggings and a flowing tunic at a Dior fashion show.
Not one for tunics? Pair your leggings with a peplum top, like Lou Doillon here, for a flattering silhouette.
Fashion icon Alexa Chung is no stranger to leggings. Here, their slim silhouette balances out her oversized top.
Kate Moss' top is long and loose enough to make her leggings work, and she's dressed them up with a black blazer.
Gwen Stefani is classy but edgy in leggings and a matching peplum top.
Model Karolina Kurkova shows that leggings can go black-tie, too.
Leggings are a great layering piece. Singer Havana Brown's outfit works equally well with the jacket open or zipped thanks to her long tee.
Georgia Jagger pairs leggings with a long tunic and belt.
Spanish actress Aroa Gimeno's flattering ensemble shows why leggings and tunic sweaters are such a popular combination.
Vanessa Hudgens dresses up black leggings with a fun, swinging tunic at an Alice + Olivia fashion show.
Francesca Senette wears leggings with a loose tunic at a Krizia fashion show.
A model shows leggings under a shirt-dress by Riddle Me This.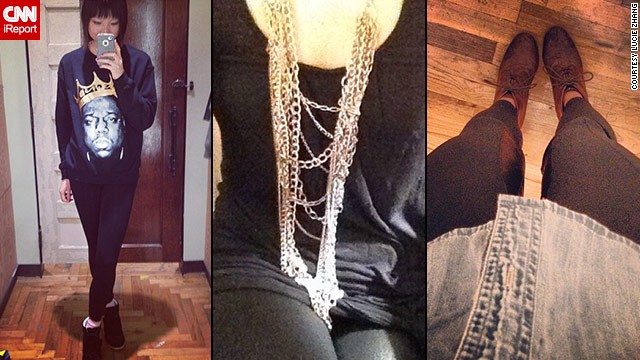 How to wear leggings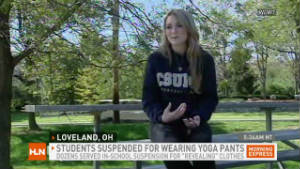 School's yoga pants postion: No Shanti
Leggings, however, fulfill a niche within the wardrobe of every woman. They're neither pants nor tights. When paired with a tunic -- a top that covers the outline of a lady's underwear -- the resulting look is perfectly nondistracting, and shows less skin than shorts or skirts. It's flattering and a more slimming look than the extra thickness leggings would add under a skirt or dress -- the only way some schools want them to be worn.
Ultimately, fashion is a form of self-expression, and students should be allowed to experiment with their personal style, especially during the formative years of middle and high school.
Fashion trucks bring style to you
The problem we have here is an educational one. As places that aim to encourage self-improvement and development, schools should work toward teaching students why social norms -- like not wearing leggings as pants -- develop before they force students into following questionable dress code solutions. Teach a girl that a fish is not a cow before showing her how you would catch it, rather than forcing her to eat the fish with a side of steak in an attempt to demonstrate the difference.
Otherwise, you might just end up with more muffin tops.
The opinions expressed in this commentary are solely those of Lucie Zhang.