10 top guided tours
updated 2:11 PM EDT, Tue April 16, 2013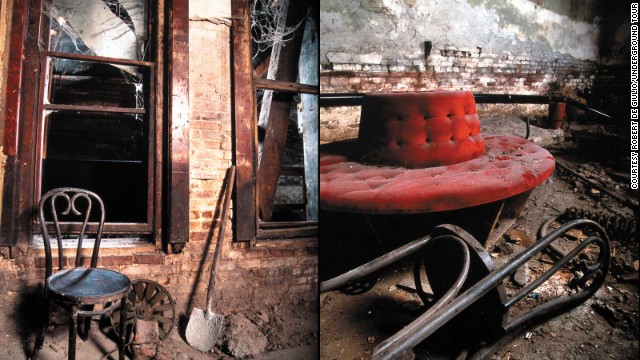 Gogobot
travel recommendation site users chose their
top guided tours
as part of site's Travelers' Favorite Awards. Here are the top 10 picks:
Underground Tour, Seattle, Washington.
The Underground Tour explores Seattle buildings that were covered over when the city rebuilt on top of itself after the Great Fire of 1889. These two photos show some of the relics in areas that were hidden when the street level was raised.
Alcatraz Cruises, San Francisco, California.
A range of tours depart daily to the scenic island that was once home to America's most notorious criminals. Tours often sell out a week or more in advance, so book early.
Architecture River Cruise, Chicago, Illinois.
The Chicago Architecture Foundation's River Cruise floats by some of the city's most remarkable buildings, including the Marina City towers which were designed by Bertrand Goldberg and opened in 1962.
Shakespeare's Globe Theatre, London, United Kingdom.
Guided tours of the open-air playhouse explain the workings of the faithfully reproduced Elizabethan theater. The original Globe was located close by.
Pacific Whale Foundation, Kihei, Hawaii.
A range of whale watching options, including sunrise and full-moon tours, are offered by the Pacific Whale Foundation, a nonprofit research organization.
Maid of the Mist, Niagara Falls, New York.
These boat tours provide stunning views from the base of Niagara Falls. The 2013 season begins April 19.
Shotover Jet, Arthur's Point, New Zealand.
This jet-boat tour operates in the canyons of the Shotover River at speeds of up to 53 miles per hour in water as shallow as 4 inches deep.
Backpacker Concierge, Cairo, Egypt.
Since 2008, Backpacker Concierge has been tailoring unique tours in the Middle East and recently expanded into China, Nepal and Turkey. This photo was taken at the Necropolis of Bagawat near Egypt's Kharga Oasis.
Haunted History Tours, New Orleans, Louisiana.
Take a look at New Orleans' spirited, often sordid history with ghost tours, vampire tours, voodoo tours, cemetery tours and underworld tours.
Fat Tire Bike Tours, Paris, France.
Hop on a bike for a day or night ride through the ever-enchanting City of Light. Guided tours last from four to five hours with frequent stops for conversation and photo ops.
10 tours to check out
10 tours to check out
10 tours to check out
10 tours to check out
10 tours to check out
10 tours to check out
10 tours to check out
10 tours to check out
10 tours to check out
10 tours to check out