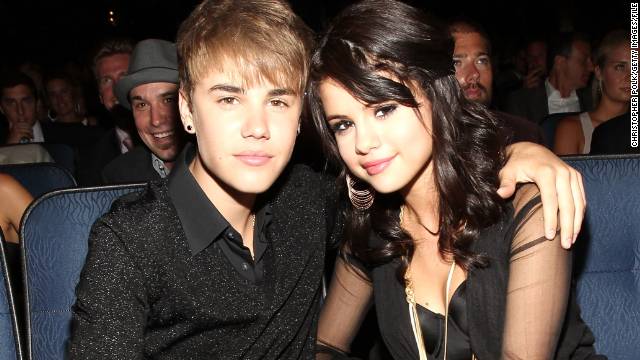 After ending their relationship last year, Selena Gomez and Justin Bieber might be rekindling their romance. The pair were seen
canoodling in Austin, Texas
, in March, and in April they were
spending time in a recording studio together
and
enjoying each other's company at Coachella.
Their quality time appeared to cool off, but in late June, it ramped back up again with
appearances in the studio
,
at the movies
and
the Los Angeles zoo
.
Are Catherine Zeta-Jones and Michael Douglas reconciling? On Tuesday, April 15, the pair went to opening night of the "The Library," a play at The Public Theater in New York. It's the first time they've been seen in public together since they announced their "break" in August. Even if they're not officially back together, it seems these two can't stay apart -- just like these 11 other couples:
with couples therapy
they managed to make it work.
Billy Ray Cyrus and Tish Cyrus have tried to break up twice, and each time they ended up back together. In 2010 they announced they were breaking up after 17 years of marriage, but Billy Ray had a change of heart in March 2011 and wanted to reconcile. In June they tried to break up again, but
Sharon admitting
in 2003 that she had left her husband for a brief spell.
It was deja vu all over again when rumors began flying last year that Ozzy and Sharon Osbourne had broken up. After all, the couple's been down this rocky road before, with
when they announced that they were separating
after 30 years of marriage.
By March 2013
, though, the comedic couple was back together.
Danny DeVito and Rhea Perlman broke fans' hearts in October 2012
We at first thought Justin Timberlake was going to serve us with another "Cry Me A River" single after he and Jessica Biel
filed for divorce in 2011
, it became the
case to watch
. But by January 2013, there wasn't much to see -- the couple smiled and cuddled up at a Golden Globes shindig amid reports that
Vanessa had dropped the divorce
.
When Kobe Bryant's wife, Vanessa,
Hugh Hefner first proposed to Crystal Harris in December 2010, but
Pink and Carey Hart first tied the knot in 2006, and after two years of matrimony the tattooed lovebirds
Megan Fox and Brian Austin Green will celebrate four years of marriage in June, but it's taken them a few tries to get there. The couple, who welcomed son
We all know how this royal fairy tale ends, but in January 2007, Prince William's storybook romance with Kate Middleton seemed less certain. News spread that the
Star couples who can't stay apart
Star couples who can't stay apart
Star couples who can't stay apart
Star couples who can't stay apart
Star couples who can't stay apart
Star couples who can't stay apart
Star couples who can't stay apart
Star couples who can't stay apart
Star couples who can't stay apart
Star couples who can't stay apart
Star couples who can't stay apart
Star couples who can't stay apart