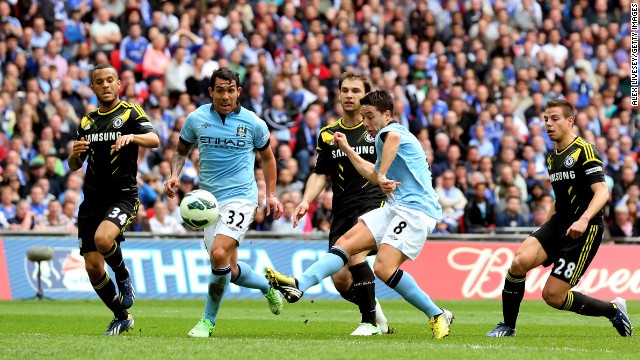 Samir Nasri gave Manchester City a 35th minute lead in its FA Cup semifnal against Wembley at Chelsea. The Frenchman darted into the penalty area before lashing the ball past goalkeeper Petr Cech.
Sergio Aguero's looping header just two minutes after the interval doubled City's lead as Roberto Mancini's men took complete control of the contest.
Demba Ba produced a moment of magic to bring Chelsea back into the game when he fired home an acrobatic strike with 66 minutes on the clock -- but Rafa Benitez's side was unable to find an equalizer as it crashed out of the FA Cup.
Robin van Persie ended his 10-game goal drought by firing Manchester United to a 2-0 win at Stoke City. The Dutchman scored a second half penalty to add to Michael Carrick's opener. United is now 15 points clear at the top with six games remaining.
Sunderland manager Paolo Di Canio celebrates his side's first goal during the 3-0 victory at arch rival Newcastle. Sunderland had not won at St James' Park for 13 years but goals from Stephane Sessegnon, Adam Johnson and David Vaughan gave it all three points.
Di Canio celebrates with his Sunderland players during their crucial victory. Sunderland is now three points clear of the relegation zone with five games remaining.
Cristian Tello scored twice as Barcelona, playing without talisman Lionel Messi, eased to a 3-0 win at Real Zaragoza to keep its title bid on track.
City slicker
Double trouble
Brilliant Ba
Back with a bang
Delight for Di Canio
Smiles for Sunderland
Tello the tormentor
STORY HIGHLIGHTS
Manchester City defeated Chelsea 2-1 in the FA Cup semifinal at Wembley
Samir Nasri and Sergio Aguero on target for City, who will face Wigan in final
Manchester United moves 15 points clear at top of Premier League
Robin van Persie scores for first time in 10 games during 2-0 win
(CNN) -- Manchester City capped off a memorable week by booking its place in the FA Cup final for the second time in three seasons.
City, which defeated fierce rival Manchester United at Old Trafford last Monday, claimed a 2-1 win over Chelsea at Wembley Sunday to set up a final tie with Wigan Athletic.
City last won the country's oldest and most prestigious cup competition back in 2011 when it defeated Stoke 1-0.
On this occasion, Samir Nasri's first half strike and Sergio Aguero's looping header secured victory for Roberto Mancini's men in a thrilling contest against last season's European Champions League winners.
Demba Ba's spectacular 66th minute strike had given Chelsea a sniff of a comeback and manager Rafael Benitez was left seething after claiming his side was denied a clear penalty.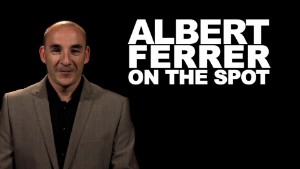 Ferrer: Spain can win 2014 World Cup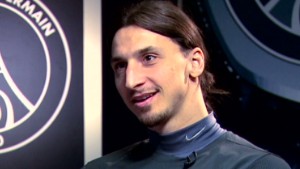 Exclusive: What makes Ibrahimovic tick?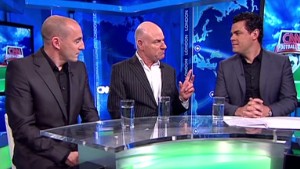 CNN Football Club: Who will be champions?
Read: City stall United's title bid
The Blues looked set to equalize when Fernando Torres raced through only to appear to be wrestled to the ground by City captain Vincent Kompany -- but the officials decided against awarding a spot kick.
"Was it a penalty? Yes clearly. Very clearly," Benitez told ITV.
"The penalty not being given was a key moment in the game as Vincent Kompany could also have been sent off.
"You can see the pictures. We have two situations like that in the second half.
"We played against a very good team, if they had scored another the game would have been over.
"But we keep going and we had chances to be back in the game so these decisions were very important."
Read: Benitez leads Chelsea to third semifinal
Chelsea, which defeated Liverpool in last year's final, was second best for much of the contest and trailed at the break through Nasri's close range finish.
Aguero's effort two minutes after interval increased City's lead before Ba's acrobatic effort ensured a frantic finale.
"It was a difficult game," Mancini told ITV."The players did well to win this game, fighting for every ball until the last second.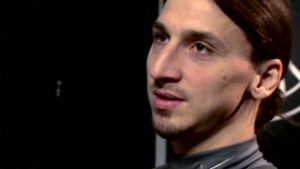 Ibrahimovic reveals biggest weakness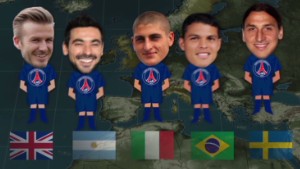 PSG: One year on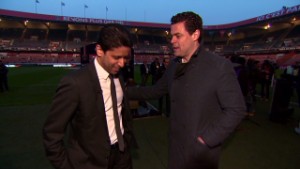 Behind the scenes at Paris St Germain
"In the first half we had everything under control. When Demba Ba scored, it caused us a problem for 10 minutes.
"When we won the FA Cup against Stoke, it was a difficult game, and I expect the same against Wigan.
"But now we have to win the final and finish second in the championship that is our target."
Read: Arsenal climbs to third in EPL
Chelsea's hope of winning a trophy now rests on the Europa League where it faces a semifinal against Swiss side Basel.
"I am really disappointed with the result. When we played with Fernando Torres, the team had more energy," Benitez told reporters.
"If you see the performance in the second-half, the players will know they can do well in the rest of the season. You could see we had energy, quality and desire."
While City was celebrating at Wembley, its arch rival Manchester United was also reflecting on success after claiming a 2-0 win at Stoke -- a win which takes it 15 points clear at the summit of the Premier League.
Read: United pens new multi-million dollar Aon deal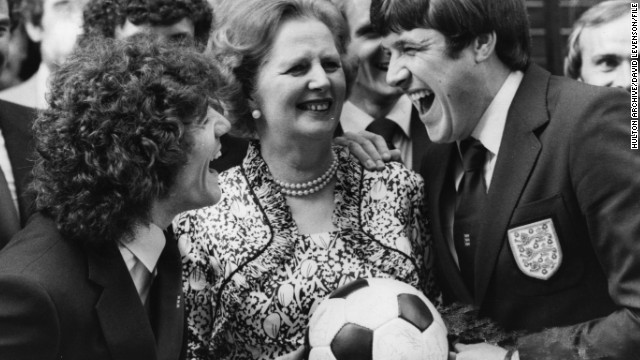 Margaret Thatcher's death has been met with an outpouring of tributes from around the world. But when it comes to the world of sport, there has been little love for the Iron Lady. Here she is pictured with the English national soccer team shortly after winning her first election in 1979.
During her three terms in office, soccer experienced its darkest days. Hooliganism was rife, stadiums in a poor shape. Thatcher responded with draconian measures to stamp out the problem, forever alienating many soccer fans. In this picture she is attending the 1988 Scottish Cup final. Several figures within soccer suggested that this weekend's matches should see a minute silence before kick-off, which prompted a furious reaction from fans.
A minute's silence is usually held before kick off as a mark of respect for well-known sporting figures, or during moments of national tragedy and reflection. Here a Dutch league club observe a minute's silence to honor an amateur linesman who had died after being attacked during a youth match. The death had shocked the Netherlands and made headlines across the world.
In some cases a minute's silence is held for more personal reasons. This Australian rugby team held a minute's silence after the mother of one of the players died suddenly.
Here the England and West Indies cricket teams observe a minute's silence to mark the tragic death of Surrey's 23-year old player Tom Maynard. County cricket teams also refused to hold a minute's silence to mark Thatcher's death.
Liverpool suffered badly under Thatcher's government. But it was the Conservative Party's response to the Hillsborough tragedy in 1989 -- where 96 Liverpool fans were crushed to death at a match -- and the subsequent cover up by the police that was seen as unforgivable by the city's residents.
This weekend marks the 24th anniversary of the tragedy. A minute's silence will be held for the victims of Hillsborough at the Reading versus Liverpool match in the English Premier League.
But there is one soccer club in England that will hold a minute's silence for Thatcher. Wingate & Finchley is a non-league team in the same constituency that Thatcher represented. According to the club's former chairman she played an instrumental role in saving the club, which has a largely Jewish identity and was formed after the Second World War to fight anti-Semitism.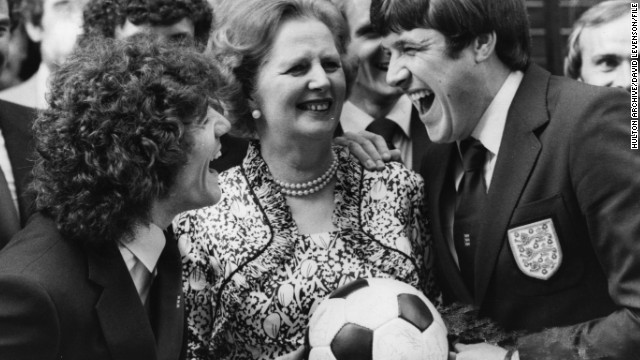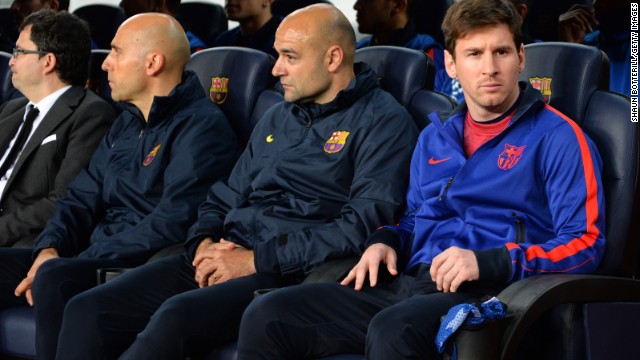 Lionel Messi started the evening on the bench after picking up a hamstring injury during last week's first leg in Paris. The four-time World Player of the Year missed the weekend's win over Mallorca and was deemed fit enough to be named as a substitute.
David Beckham had to make do with a place on the substitutes bench for Paris Saint-Germain. The former Real Madrid man had hoped to earn a start against his old club's great rival.
Andres Iniesta is surrounded by PSG defenders during a frantic first half at Camp Nou. Both teams pushed forward in a contest played at rapid pace.
Former Barcelona striker Zlatan Ibrahimovic, now in the colors of PSG, proved a constant menace in the first half. The Swede, who scored in the first leg, gave the home defense plenty to think about.
After wasting a whole host of chances in the first half, PSG finally made the breakthrough when Javier Pastore fired home five minutes after the interval. The Argentina international ran onto Ibrahimovic's through ball before beating Barcelona keeper Victor Valdes.
Within nine minutes of Messi's introduction, Barcelona moved level when Pedro fired a rasping effort into the corner following a lovely, intricate move. That strike made it 1-1 on the night, 3-3 on aggregate and put the home side back in front on away goals.
Messi's 62nd minute introduction ultimately made the difference, while Beckham was left to reflect on what might have been following his team's exit from the competition.
Bayern Munich's Mario Mandzukic and Juventus' Giorgio Chiellini challenge for the ball during the second leg of the Champions League quarterfinal tie. Bayern won the opening contest 2-0 last week and arrived in Italy just days after winning the German title.
Mandzukic killed off any hopes of a Juventus comeback by heading from close-range with 64 minutes on the clock.
Claudio Pizarro wrapped up a 2-0 win for Bayern in the last minute to seal a 4-0 aggregate victory and make it two German teams in the last four. Bayern joins Borussia Dortmund, which defeated Malaga Tuesday.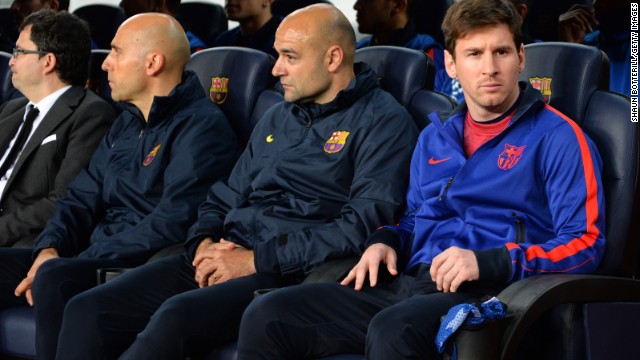 Barca sneaks through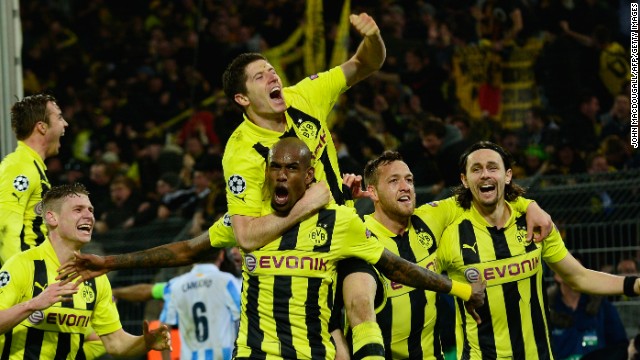 Dortmund's players celebrate their famous 3-2 victory over Malaga and will now look forward to the semifinals where it could be joined by fellow German club Bayern Munich.
After Robert Lewandowski had canceled out Joaquin's opener, Eliseu looked to have booked his side's place in the last four when he tapped home from close-range with just eight minutes remaining.
Malaga had looked home and dry but just two minutes after Marco Reus had leveled, Felipe Santana fired home a dramatic winner to spark scenes of wild celebrations amongst the home fans.
Lukasz Piszczek, Nuri Sahin and Mats Hummels can't help but go crazy with excitement following the final whistle.
Malaga midfielder Jeremy Toulalan was left floored after his side's painful late defeat. The Spanish club, which was making its debut in the competition, was just minutes away from the semifinals.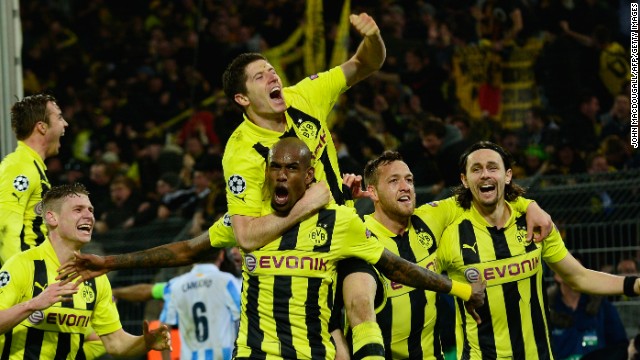 Dramatic night in Dortmund
Robin van Persie's first goal in 10 games and Michael Carrick's opener allowed United to pick up all three points at struggling Stoke.
And manager Alex Ferguson was delighted to see his star striker finally get back amongst the goals -- even if he was almost sent flying by the subsequent celebration.
"He nearly killed me! He forgets I'm 71," Ferguson joked.
"It was a great celebration as it brought the emotion of the players and the fans together. We really did celebrate that."
United now requires just seven points from its final six games to win the title and wrestle it back from neighbor City.
Ferguson told Sky Sports: ""If we were starting the season today, with seven games left, would we fancy ourselves to win the league? That was the point of it.
"Not looking back or looking at the points we got or the goal difference. It's to start the season today.
"The players deserve all the credit for the battling performance they gave.
"The character of the team is showing. They went out on the pitch with that and got the result they deserved."
Read: Di Canio hits back: 'I am not a fascist'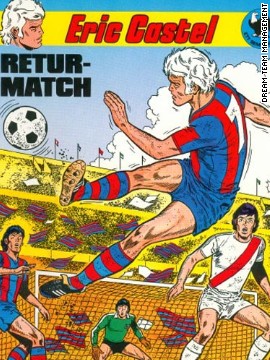 The first edition of Eric Castel was published in 1979 and focused on the Barcelona player meeting a group of young fans known as the "Pablitos". The second edition, entitled "Retur-Match" or "Second-Leg" was released later the same year.
The eighth edition was arguably the series' most controversial when Castel left Barcelona to join French team Paris Saint-Germain in a release entitled "La Grande Decision" ("The Big Decision").
A initial sketch signed by Castel illustrator Raymond Reding appeared on the 10th issue's cover. According to the Lambiek Comiclopedia, Reding joined the editorial team of Tintin in 1950.
Castel was not the first footballing hero that Reding, who had always had a keen interest in sports, created. In 1963 he came up with the idea for Vincent Larcher, a centre forward, who played for AC Milan.
After leaving Tintin in 1979, Reding and Francoise Hugues created Castel.
Reding's 1986 cover "Le Plan de l'Argentin" ("The Argentine's plan"). Frenchman Reding was born in 1920, but grew up in Belgium. He had a number of different jobs -- including one as a jazz pianist -- before he began drawing and writing.
Although this picture is black and white, Barcelona's iconic striped kit is still clearly visible on Castel's shirt.
During his spell at PSG, Castel led the club to European glory, with the French club beating Barca in the CEVA Cup final.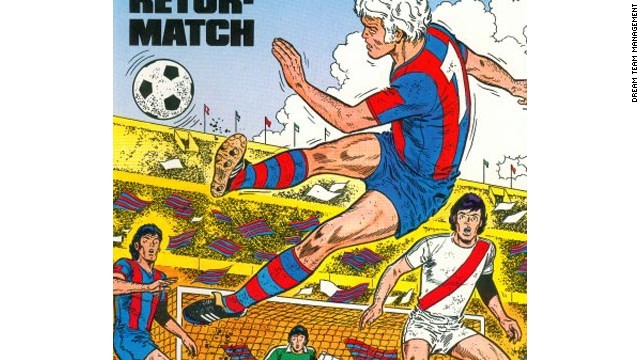 Eric Castel: Barelona and PSG's comic book hero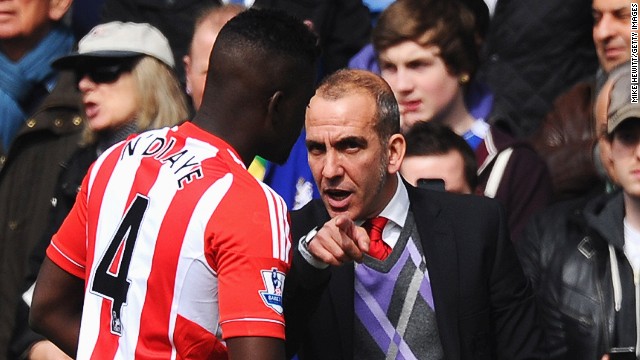 New Sunderland manager Paolo Di Canio talks to Alfred N'Diaye before the kickoff against Chelsea.
The Italian's appointment last Sunday caused controversy due to his past statements about his fascist beliefs, and a "Roman salute" he gave to fans while playing for Lazio in 2005.
Di Canio issued a statement during the week denying that he supported fascist ideology, having refused to broach the subject at his unveiling the previous day.
The 44-year-old was again asked about his political views following Sunderland's 2-1 defeat at Stamford Bridge.
"If I have to answer every comment it's difficult," Di Canio told reporters. "As a person you don't change, but you become an adult, you become a manager."
"Obviously your nature never changes, but you can lead, you can guide because you know that you have to be careful sometimes when you do something," he added.
Di Canio's appointment took some of the pressure off Chelsea manager Rafael Benitez, right, who is unpopular with the club's fans due to past incidents when he was at Liverpool.
Chelsea battled back after this own goal by Spanish defender Cesar Azpilicueta to go third in the English Premier League.
Tottenham relinquished the position after needing a late equalizer in the 2-2 draw with sixth-placed Everton earlier on Sunday.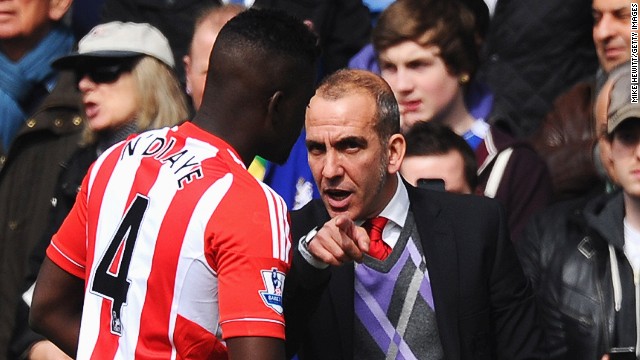 Losing debut for Di Canio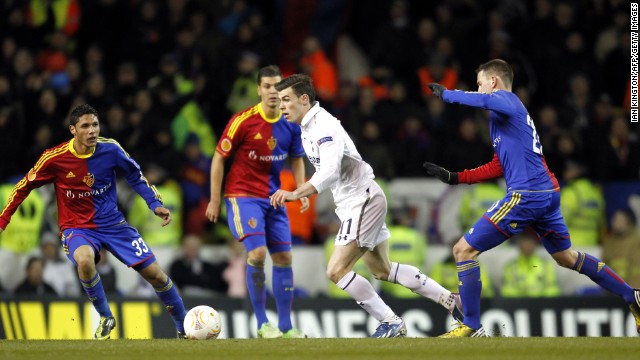 Gareth Bale was kept quiet for most of the contest by a hardworking and determined Basel side during the first leg of the Europa League quarterfinal tie Thursday.
Swiss champion Basel grabbed a shock lead at Premier League Tottenham on 30 minutes when Valentin Stocker rifled home from close-range after Marco Streller's effort had crashed against the post.
Tottenham goalkeeper Brad Friedel was left in shock after Basel grabbed its second of the game just five minutes later when Fabian Frei headed home to claim another away goal.
Emmanuel Adebayor halved the deficit before the break as Spurs hit back, while Scott Parker missed a glorious opportunity to equalize after shooting wide of an open goal.
Tottenham midfielder Gylfin Sigurdsson leveled with a deflected effort on 58 minutes as the home side roared back into the contest.
Fernando Torres, wearing his protective mask, fired Chelsea ahead after 16 minutes against Rubin Kazan as the home side took control of the first leg at Stamford Bridge. Victor Moses then added a second 16 minutes later.
Rubin was given a lifeline when Chelsea captain John Terry was penalized for handling the ball inside the penalty area. Bebras Natcho stood up to dispatch the spot kick and give the Russian side a vital away goal, but Torres restored Chelsea's two-goal lead as it finished 3-1.
Newcastle striker Papiss Cisse gave his side the perfect start after netting a crucial away goal after just 12 minutes in Lisbon against Benfica.
Newcastle's lead lasted just 13 minutes after goalkeeper Tim Krul failed to hold on to Oscar Cardozo's effort and Rodrigo slammed home the rebound.
Rodrigo Lima capitalized on some poor defending to make it 2-1 after the interval, before Cardozo netted a penalty to seal a 3-1 win.
Pierre Webo's penalty 12 minutes from time and Dirk Kuyt 's stoppage time strike gave Fenerbahce an impressive 2-0 win over Lazio in Istanbul. The Italian side was forced to play with 10-men after Ogenyi Onazi was shown the red card three minutes after the break.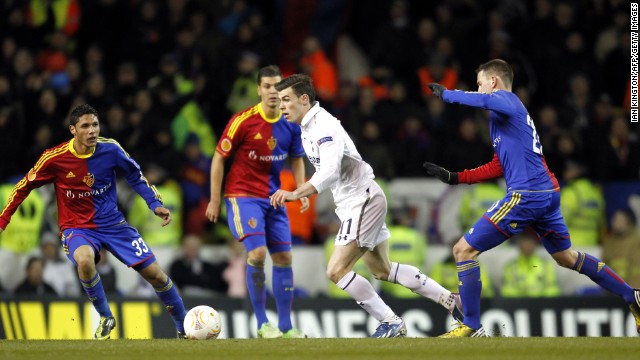 Goals galore in Europa League
In the day's other Premier League game, Sunderland produced a memorable performance to claim a 3-0 win at fierce foe Newcastle.
Manager Paolo Di Canio led the celebrations as goals from Stephane Sessegnon, Adam Johnson and David Vaughan propelled Sunderland three points clear of the drop zone.
And the 44-year-old Italian took time to dedicate the victory to his late mother, who passed away exactly one year ago yesterday.
Di Canio asked reporters: "Can I tell you something?
"Sometimes, some special things have to remain inside yourself. It's not good to share with others because it's very deep inside yourself.
"But I believe in this thing. Before the kick off, I saw the face of my Mama smiling. Exactly yesterday, it was one year since she passed away.
"Exactly one year ago, there was the same situation. I was in the dug-out the day after she passed away and we won the game -- I was at Swindon -- and today, it has happened again.
"For this, I have to thank not only my Mama, otherwise my Dad - he is next to her, but today, he is going to be upset.
"But Dad, Mama was special today, so my dedication goes to her today, to my Mam."
Read: 'Tiger' prowls for goals
In Spain, league leader Barcelona cruised to a 3-0 win at Real Zaragoza with two goals from Cristian Tello and a strike from Thiago Alcantara doing the damage.
Barca sits 13 points clear of Real Madrid, which also won 3-0 with two goals from Cristiano Ronaldo and a strike from Gonzalo Higuain seeing off Atheltic Bilbao.
Meanwhile, Radamel Falcao scored twice as third place Atletico Madrid cruised to a 5-0 win over Granada, while Real Sociedad's Imanol Agirretxe kept his side's push for Champions League football on track.
Agirretxe scored both goals as Sociedad overcame Rayo Vallecano 2-0 to open up a four point gap between itself and fifth place Malaga.
Read: Inter Milan faces new racism charge
In Italy, third-place Milan drew 1-1 with second place Napoli in a result which does neither team any good in their pursuit of league leader Juventus.
Mathieu Flamini gave Milan a 30th minute lead only for Goran Pandev to equalize three minutes later.
Flamini was later sent off with 18 minutes to go but Napoli was unable to force a winner and remains in second, nine points off the top.
Elsewhere, Inter Milan suffered a 2-0 defeat at Cagliari as it slumped to a third loss in four games.
Mauricio Pinilla scored twice to leave Inter's hope of qualifying for next season's Champions League in jeopardy.
Ten-man Roma picked up all three points at Torino courtesy of a 2-1 victory.
Pablo Osvaldo and Erik Lamela got the goals before Federico Balzaretti was sent off after receiving a second yellow card.
Elsewhere, Udinese eased to a 3-0 win at Parma, while Palermo finished 1-1 against Bologna, Chievo finished goalless against Catania and Genoa drew 1-1 with Sampdoria.