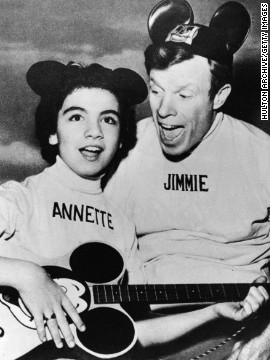 Actress
Annette Funicello
died on Monday at age 70. Before her beach party movie fame, she was one of the original members of TV's "Mickey Mouse Club," and defined the term "Mouseketeer" long before Britney Spears or Justin Timberlake. She definitely made those mouse ears look cool. They've been a symbol of Disney ever since. In her honor, iReporters told us how much
those ears
, and the world of Disney, mean to their lives.
Walt Dated World
, and took her first trip to Walt Disney World at age 4 in 1978. That first time, she didn't bring her
mouse ears
from home. "I ended up buying a Donald Duck cap with a beak that squeaked. To this day when I look at the pictures, it just doesn't seem right when I see a duck on my head instead of a mouse. It felt like I was cheating on Mickey." She more than made up for it on future trips, wearing her many different mouse ears with pride.
Allison Dasso of Chicago runs the fan site
Jen Cook grew up in Northbrook, Illinois, loving
Disney and Mickey Mouse
. "It was my first stuffed animal and I still have him. He's in rough shape but was always with me ... in the hospital, at college and even now as a parent," she says.
In 2000, Cook had a Disney-themed wedding in Chicago, complete with mouse ears for everyone. "For my husband, he also had a huge love of Disney, and has worked for the company for 15 years now."
first haircut
at Walt Disney World.
The couple's love of Disney, of course, extends to their two children, who both had their
special set of ears
as part of that campaign. "I was 18 and I had never visited before. When I won those ears, I realized that the magic can happen at any age, and that you are never too old to experience childhood joy."
Amanda Olinger took a trip to Walt Disney World as a high school senior in 2008. It was the park's "Year of a Million Dreams," and Olinger won a
first visit
to the park. "The mouse ears to me are an iconic image. They represent a message to me that nothing is impossible."
Photographer and Disneyland annual pass-holder Austen Risolvato just had to capture a friend's son's
like a kid again
on this Walt Disney World trip with her friends.
Nicole Eisenchenk of Big Pine Key, Florida, sees Disney as a way to relive her childhood. She grew up on Disney and still watches the films. Even at 23, she felt
all tuckered out
from a full day at the Magic Kingdom."
Jay Callaghan's family went to Walt Disney World in 2009 and returned two years later, with the kids' mouse ears making the return trip. "Somehow they managed to survive the two years in the house with ears taken off," said the Peterborough, Ontario, resident. "We managed to get some shots with them wearing the ears, but by far my favorite shot is the one of them at the Disney All Star Movies Resort while they were
Disney cruise
last year. To her, "Disney and the mouse ears symbolize excellence, perfection and a true commitment to making 'magical' life moments." A bank examiner, Stovall attends the company's Disney Institute ever year. The program teaches "leadership, management excellence, and customer service in the way each one of their (Disney theme park) cast members personify it every day."
Dana Simone Stovall of Aurora, Illinois, felt truly blessed to take her family on a
first mouse ears photo
in February. She wanted "the perfect Disney picture of Joey in his Mickey ears with the castle perfectly centered in the background. Well, we got the picture, but Joey wanted to play with the Mickey ears, not wear them." Even so, it made for a great memory.
Lifelong Disney fan Elizabeth Doda of Meredith, New Hampshire, had high expectations for her 14-month-old son's
Kathi Cordsen's 8th birthday was a dream come true. The Fullerton, California, resident got to go to Disneyland all by herself. Years later, in 2005, she acquired these treasured
golden mouse ears
for Disneyland's 50th anniversary.
Angela Miller of Toledo, Ohio, got this photo of her daughter at the
end of a big day
at Walt Disney World. It was their family's first trip. "My daughter had a fantastic time and collapsed on our way back to the hotel on our final day," she said.
For Disney fans, mouse ears mean memories
For Disney fans, mouse ears mean memories
Disney's mouse ears a rite of passage
The mouse ears and Disney's legacy intertwine
For Disney fans, mouse ears mean memories
The mouse ears and Disney's legacy intertwine
The mouse ears and Disney's legacy intertwine
The mouse ears and Disney's legacy intertwine
The mouse ears and Disney's legacy intertwine
For Disney fans, mouse ears mean memories
For Disney fans, mouse ears mean memories
The mouse ears and Disney's legacy intertwine
For Disney fans, mouse ears mean memories