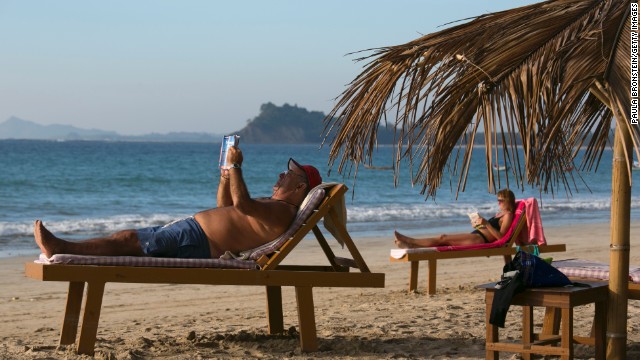 The diverse culture of Myanmar has increasingly drawn tourists to its historic landmarks and warm beaches. Here, tourists sun themselves along Ngapali Beach in the Southeast Asian country. Click through to see more of what to expect when visiting Myanmar, also known as Burma.
The Sule Pagoda lights up the night sky as people wait for the bus in Yangon. Pagodas serve as shrines for Theravada Buddhists, the majority religion in the country.
Scooters zip down the road in Pyinmana, a logging town and sugar refinery center near the new capital, Naypyidaw. The capital moved from Yangon to Naypyidaw in 2005.
Young Buddhist monks walk on their daily alms collection at the sacred golden Shwedagon Pagoda in Yangon.
Old Burmese money shows the picture of Aung San, a leader in Burma's struggle for independence and father of Nobel Prize winner Aung San Suu Kyi. This money was abolished by Gen. Ne Win, who ruled over Burma for 26 years.
People ride in a rickshaw on a road north of the town of Sittwe.
Bagan, the historic former capital of Burma, has thousands of Buddhist temples, pagodas and monasteries from when the Kingdom of Pagan was at its height, from the 11th to the 13th century.
A woman sits in her shop lined with mannequins in a shopping center in Mawlamyine.
A line of umbrellas sits in front of an old building in Bagan.
Women from the Akha ethnic group wear traditional clothes. There are 135 official ethnic groups and seven ethnic minority states in Myanmar, according to the United Nations.
People transport flowers across Inle Lake, a large freshwater lake.
Light traffic moves through the capital, Naypyidaw.
Women wear traditional longyi around their waists in front of a modern movie billboard in Yangon.
The Uppatasanti Pagoda at the center of Naypyidaw is a replica of the Shwedagon Pagoda in Yangon, the former capital. It's 30 centimeters, or about 1 foot, shorter than the original and was completed in 2009.
Volunteers sweep the floors at the golden Shwedagon Pagoda in Yangon.
Wooden figures sit for sale as incense burns behind them at a stall in Indein, a village by Inle Lake.
The temple of Phaung Daw U, the largest on Inle Lake, is lit as dusk falls in the village of Ywama.
A Buddhist monk checks out a stand in Pyinmana.
A motorbike passes the Assembly of the Union, where the country's upper and lower houses of representatives meet, in Naypyidaw. It is locally called Pyidaungsu Hluttaw.
A Burmese boy climbs on a gargoyle statue at the sacred Shwedagon Pagoda in Yangon.
A novice monk rings the Mingun Bell, the world's third-largest bell, in Mingun village, about 21 kilometers (13 miles) southwest of Mandalay.
People pass through a shopping area near the central market in Mawlamyine.
A young Burmese man dressed as a woman entertains residents of a neighborhood in Mawlamyine.
A Burmese man of Indian descent makes tea in a stall in Mawlamyine.
Women carry fruit baskets on their heads on Ngapali Beach.
Touring Myanmar
Touring Myanmar
Touring Myanmar
Touring Myanmar
Touring Myanmar
Touring Myanmar
Touring Myanmar
Touring Myanmar
Touring Myanmar
Touring Myanmar
Touring Myanmar
Touring Myanmar
Touring Myanmar
Touring Myanmar
Touring Myanmar
Touring Myanmar
Touring Myanmar
Touring Myanmar
Touring Myanmar
Touring Myanmar
Touring Myanmar
Touring Myanmar
Touring Myanmar
Touring Myanmar
Touring Myanmar