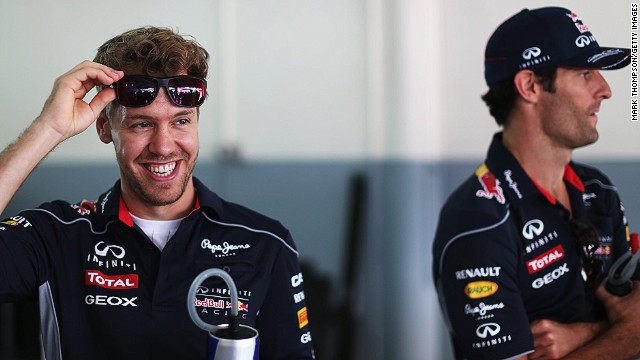 "Get him (Webber) out of the way, he is too slow," Sebastian Vettel disdainfully remarked over team radio at last month's Malaysia Grand Prix. The German was instructed not to challenge Webber, who was leading the race, but ignored orders and overtook the Australian with ten laps remaining. Vettel's tactics caused much consternation on social media and reopened the debate about the practicality of team orders in Formula 1.
Vettel leads Webber during the Malaysia Grand Prix in Sepang in March. It's not the first time team orders have caused rifts between drivers.
Awkward scenes on the podium at the 2010 German Grand Prix after Felipe Massa (left) surrendered the lead to his Ferrari teammate Fernando Alonso when the team told him that the Spaniard had the faster car.
Rubens Barrichello (right) looks far from content as teammate Michael Schumacher has a quiet word on the podium following the 2002 Austrian Grand Prix, which the German controversially won. The Brazilian, who spent six years as Schumacher's deputy at Ferrari, says he empathizes with Webber's position at Red Bull.
Barrichello led the 2002 Austrian Grand Prix before ceding position to his Ferrari teammate Michael Schumacher. Team orders were banned the following season.
"El Maestro" Juan Manuel Fangio (left) and Stirling Moss engaged in discussion following the 1957 Italian grand Prix at Monza, which the Englishman won. The pair were teammates at Mercedes in 1955. "The team has always been the most important thing," says Moss. "Once you're with a company you really have to do what they tell you to. It's a professional business with very big money, which it wasn't (when I drove). Drivers are being paid like film stars now."
Moss (left) trails behind Fangio at the Italian Grand Prix in 1956. "I'm glad I raced when I did and not now because the pleasure was so much more then and the racing certainly was purer," Moss says.
Team orders: needless or necessary?
Team orders: needless or necessary?
Team orders: needless or necessary?
Team orders: needless or necessary?
Team orders: needless or necessary?
Team orders: needless or necessary?
Team orders: needless or necessary?
STORY HIGHLIGHTS
Team orders in Formula 1 are a hot topic once again following events in Malaysia
Red Bull teammates at odds after Sebastian Vettel overtakes Mark Webber against team orders
Rubens Barrichello, a deputy to Michael Schumacher at Ferrari, empathizes with Webber
F1 legend Stirling Moss believes there is less respect between drivers in modern racing
(CNN) -- It may not be "High Noon," but the Red Bull team are facing a Shanghai showdown when their two drivers resume rivalries at this weekend's Chinese Grand Prix.
Sebastian Vettel has been vilified for ignoring team orders and passing his Red Bull teammate Mark Webber in Malaysia to whisk the win from under the Australian's nose.
Directly behind the dueling Red Bulls, the opposite scenario was playing out as Nico Rosberg reluctantly obeyed team orders not to overtake his Mercedes teammate Lewis Hamilton for third place, even though the German appeared to have a quicker car.
The controversial issue of team orders in Formula 1 has once again tested respect between teammates -- and ahead of Sunday's race Vettel said he would probably do it again given he felt Webber had not supported him in the past -- and raised question marks over the purity of the sport's racing.
The willingness to accept team orders often relies on a tacit understanding between the drivers, on their status within the team and how the race will be run.
Read: Interactive F1 circuit guide
"Obviously there is an interest there in doing the best for the team. All the team wants to see is if one driver has a problem he will not make it difficult for his teammate
Rubens Barrichello
Former Honda, Brawn and Williams driver Rubens Barrichello -- who spent six years as Michael Schumacher's deputy at Ferrari -- explained: "In the team meeting before the race you have to talk about various situations.
"Obviously there is an interest in doing the best for the team," Barrichello told CNN. "All the team wants to see is if one driver has a problem he will not make it difficult for his teammate.
"If it was agreed before by both drivers that they needed to go lower on revs -- and if that is a code for no overtaking -- then that is what they had agreed."
Webber was told to turn down his engine revs after taking the lead in Malaysia. He understood that instruction meant -- as Barrichello suggested -- he would not be passed by his teammate.
But the fact that Vettel chose to ignore this instruction and run his own race has left serious, unanswered questions over his respect for Webber.
Taking the low road
"I don't think there's the same respect now for other drivers," British racing legend Stirling Moss told CNN.
During his F1 career between 1951-60, Moss would only sign contracts that named him as the team's number one driver. In his era of racing, that meant if there was a problem with his speed machine, he could simply call in his teammate and take over his car.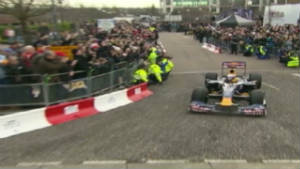 Red Bull Show Run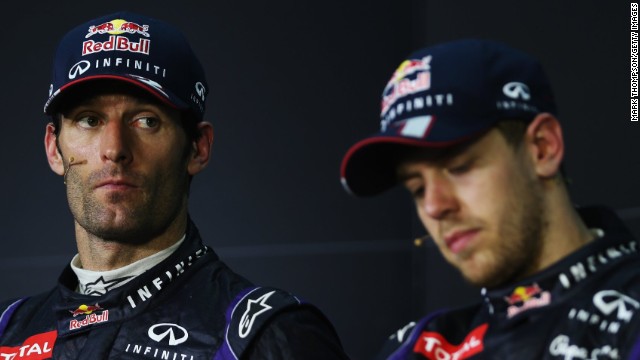 An unhappy Mark Webber, left, with Red Bull teammate Sebastian Vettel at the postrace press conference in Malaysia.
Webber had led after coming out of his final pit stop with 13 laps to go in Sepang, but Vettel claimed victory after defying team orders to overtake while the Australian was following instructions to conserve his car.
They shared the podium with third-placed Lewis Hamilton, whose Mercedes teammate Nico Rosberg obeyed team orders and did not attack the English driver even though he felt he was quicker.
Fernando Alonso won the race last year, but his 200th career grand prix was less successful. The Ferrari driver damaged his front wing early on and then made the mistake of staying out on the track too long and was not able to finish.
Jenson Button's car is pushed back to the pit area after his crew let the McLaren leave with a loose front wheel. It ruined the 2009 world champion's chances of earning points and he retired before the end of the race. However, his new Mexican teammate Sergio Perez finished ninth.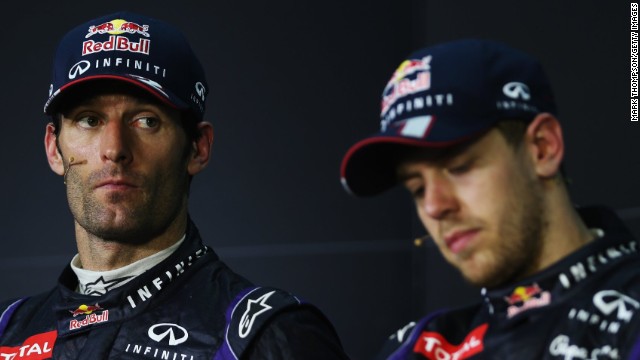 Vettel defies team orders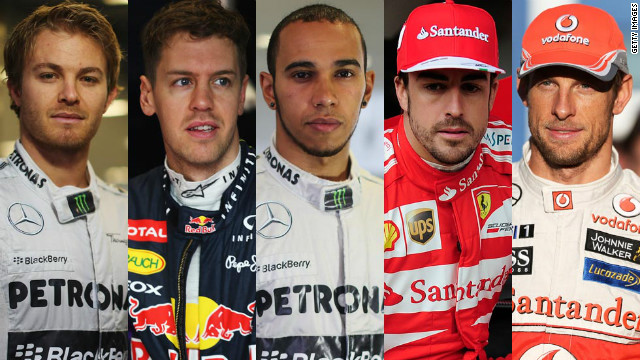 After 15 years with McLaren, Lewis Hamilton has flown the nest and landed in the Mercedes garage. The 2008 world champion is being tipped for success in 2013, with his new teammate Nico Rosberg showing in preseason that the new Mercedes is capable of topping the timesheets.
But if Hamilton is to win a second drivers' championship, he will have to overcome triple world champion Sebastian Vettel. The German has taken the title in each of the last three years, with his Red Bull team also leaving other manufacturers trailing in their wake.
The title race will not be as simple as Vettel vs. Hamilton. A fired-up Fernando Alonso missed out on the 2012 crown by just three points, and the double world champion will be looking to challenge at the front of the grid given the improvements in his Ferrari following last season's design problems.
Five rookies will be on the grid at the Australian Grand Prix, including Valtteri Bottas (pictured) who will be behind the wheel for Williams. Caterham drafted in Giedo van der Garde, while Esteban Gutierrez makes his debut for Sauber and Marussia boast an all-rookie line up of Jules Bianchi and Max Chilton.
Pirelli will serve as the official tire supplier in the final season of its three-year contract. The new tire is made of a softer rubber than its 2012 equivalent, with lap times expected to increase by up to half a second.
There will be 11 teams lining up for the first race in Melbourne following the collapse of Spanish outfit HRT after three seasons without scoring a point.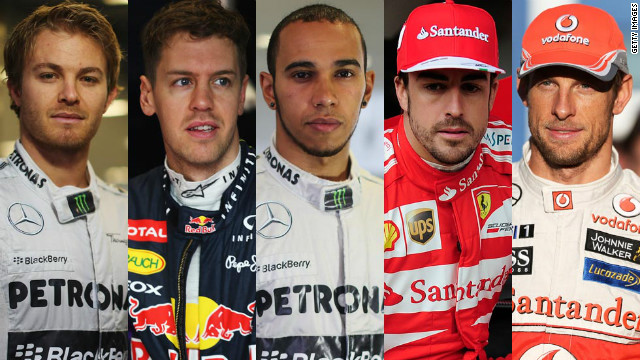 F1: 2013 season preview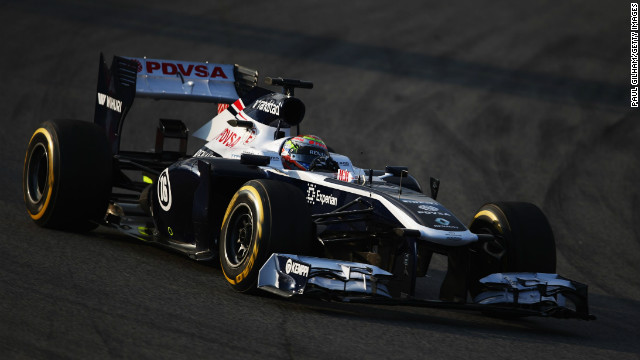 Pastor Maldonado took the new Williams for a spin at Barcelona on February 19 following the launch at Circuit de Catalunya.
The new Infiniti Red Bull Racing RB9 was launched at the Austrian-owned Formula One team's English headquarters in Milton Keynes on February 3.
Mark Webber, left, and triple world champion Sebastian Vettel pose with the Red Bull they will be driving this year.
Title rivals Ferrari launched the new F138 which they hope will power Fernando Alonso to glory in 2013.
British team McLaren unveiled its car on January 31. New driver Sergio Perez (right) poses with 2009 world champion Jenson Button and the new MP4-28.
Former McLaren star Lewis Hamilton, left, and new teammate Nico Rosberg pose with the new Mercedes W04 on February 4.
Sauber's new C32 was launched in Switzerland on February 2. It will be driven by Perez's replacement Esteban Gutierrez and Nico Hulkenberg, who left Force India in 2012.
Force India's Paul Di Resta with the new VJM06 which was launched on February 1 at Silverstone. His new teammate had yet to be named.
Charles Pic and Dutch rookie Giedo van der Garde launched Caterham's new CT03 car on the first day of preseason testing at Circuito de Jerez on February 5.
Romain Grosjean was third-fastest on the opening day in Jerez for Lotus, which was the first team to launch its new car -- the E21 -- on January 28.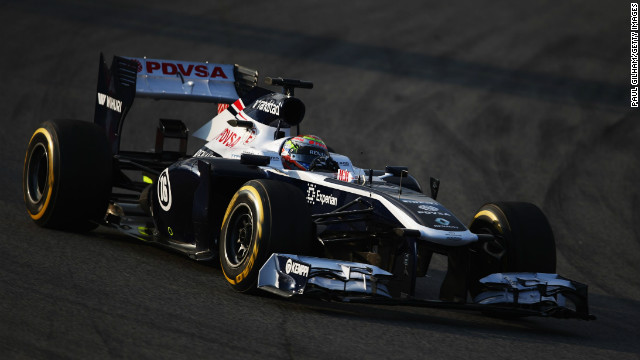 F1 teams unveil 2013 cars
There was, however, one exception to Moss' rule when, in 1955, he signed for Mercedes alongside Argentine great Juan Manuel Fangio.
Read: Red Bull clock quickest pit stop ever
The pair shared a mutual respect on and off track, says Moss, even though it was "El Maestro" who would capture his third world title at the end of the season.
"When I was at Mercedes with Fangio there were no pit orders at all until we had a 30-second lead over the rest of the field," Moss recalled.
"When a team had the lead, the number one driver would hold position and not pass him, says Moss.
"I respected Fangio so much that I was just as happy to be number two. I was quite happy to sit right behind him. It didn't worry me," he said.
"We were known as the train because I was only about two yards behind him the whole race!"
It's all different now though, says Moss.
"Because (Red Bull) had specifically said to (Vettel) let Webber have it, that made him a naughty boy but he felt, 'well dammit, why shouldn't I win?' I don't think he'll ever repair that damage because he probably thinks 'well, that's the way I race.'"
Career-defining moments
On the other side of the garage, the Malaysia team orders drama may have more emotional, career-defining consequences for Webber, whose Red Bull contract expires at the end of the season.
Barrichello can empathize with Webber's position as he considers his perpetual role as Red Bull's "number two" driver.
The Brazilian was famously forced to cede first place to Schumacher by Ferrari in the controversial 2002 Austrian Grand Prix. It was the start of a long period of reflection for Barrichello.
"In my case in Austria there were eight laps of conversation because they told me that I should do something that was not agreed," he explained.
Because of what happened in Austria, people think there was something that was written in his contract. But there wasn't, says Barrichello.
"Once you're with a company you really have to do what they tell you to. It's a professional business with very big money, which it wasn't (when I drove)
Stirling Moss
"The year before in Austria I had let Michael by when I was second and he was third and I had that conversation with the team afterwards when I said: 'Listen, what would happen if I was first?' And they said: 'We would never ask you that if you were first,'" he explains.
"And then it was exactly the case the following year in 2002. I refused to do it until the penultimate corner because it was not agreed.
"It was very hard, it was absolutely very, very hard. I really tried to give my very best to see if the team would ultimately change the philosophy."
It was the reason why the Brazilian quit his Ferrari contract one year early in 2005.
"I saw that there was no winning scenario, the case was lost," he said.
That career-defining moment for Barrichello also led to a decision by the sport's governing body, the FIA, to ban team orders that directly affected the outcome of a race.
Read: Williams' daughter Claire promoted to deputy role
Ironically, it was another infamous incident between two Ferrari drivers in 2010 -- when Felipe Massa was told to surrender the lead to teammate Fernando Alonso -- that led to a ban on team orders being stripped from the rulebook in 2011.
There was simply no point trying to police something that has always been an intrinsic part of the sport.
Teams before drivers
Team orders have always existed in F1 because, in simple terms, teams also want to be happy -- and that often means making money.
It is, after all, the teams who finance the drivers' fun and it is their brand and sponsors who they are protecting.
When the top teams are spending $1m a day it makes business sense to protect that investment by not allowing drivers to race freely if there is a danger that in the heat of the moment both cars could take each other out of the race.
"The team has always been the most important thing," said Moss.
"I drove for teams like Mercedes and Maserati and at one time I drove my own car which meant I could do what the hell I liked!" he said.
"But once you're with a company you really have to do what they tell you to. It's a professional business with very big money, which it wasn't (when I drove). Drivers are being paid like film stars now."
This constant clamor of commercial team interests means the men at the wheel of the world's fastest cars often have to suppress their racing instincts.
That is exactly what Rosberg did in Malaysia and exactly what Vettel chose not to do.
"I suppose (Vettel) was a naughty boy. But he is a racing driver who's paid to go fast
Stirling Moss
Do F1 drivers simply have to accept that when it comes to racing it is the team who ultimately decides how a race is run?
"I don't think drivers accept that," says Barrichello.
"There are racetracks when one driver can do better than another and there should be freedom for them to decide that. They should be allowed to fight."
Moss, meanwhile, understands Vettel's racing instincts.
"I suppose he was a naughty boy," Moss says, "but he is a racing driver who's paid to go fast.
"I'm glad I raced when I did and not now because the pleasure was so much more then and the racing certainly was purer."
Few of F1's global television audience of half-a-billion fans would disagree with Moss. Who wants to watch races that have been massaged and manipulated by team orders?
But the furore across global media outlets and social media sites following the Malaysian GP also proved F1 fans balked at the unsporting flavor of Vettel's victory --- even if he was doing what a triple world champion is supposed to do, race.
There appears to be a thin divide between team orders that protect a worthy longtime leader and instructions that see him denied the taste of champagne from the top step of the podium.
Vettel, Webber and Red Bull will begin to find out how much crossing that line in Malaysia has hurt them when they reunite in Shanghai.