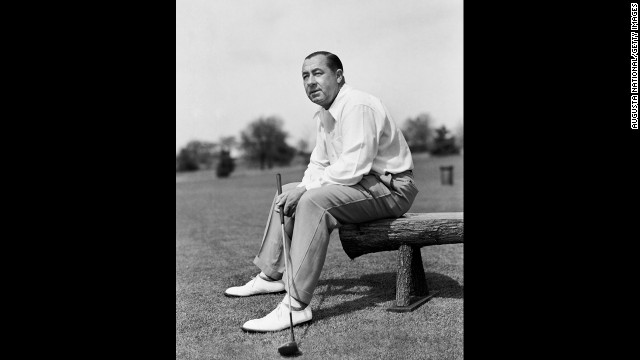 The Masters Tournament is
synonymous with the green jacket awarded to each year's winner
, but that hasn't stopped some of golf's greatest players from sporting their own stand-out looks at Augusta National Golf Club. Walter Hagen, who won his first professional major in 1914, had a particular panache -- he traveled by limousine and favored snazzy clothes and two-toned shoes. Hagen won 11 professional major championships. Click through the gallery to see more fashion icons.
Jimmy Demaret was known for subpar rounds that earned him three Masters titles, but his fashion sense was always above par. Fellow golfers referred to him as "The Wardrobe" because of his loud clothing choices, according to the World Golf Hall of Fame.
Before his name came to mean a beverage of iced tea and lemonade, Arnold Palmer -- and his pompadour -- was still that cool. Palmer is credited with popularizing golf with the masses, and he had the blue-collar swagger to match. Esquire magazine even named him one of the "75 Best Dressed Men of All Time."
Doug Sanders, one of golf's earliest flamboyant dressers, tees off on the second hole during the 1966 Masters. His knack for lively fabrics earned him the nickname "Peacock of the Fairways."
Three-time Masters champion Gary Player earned his "Black Knight" nickname because of his tendency to wear all black on the golf course. The world-class golfer is now 78, and his close-fitting, casual style is still popular among players today.
Greg Norman's straw hat, seen here during the 1996 Masters, became part of his signature look. The Aussie earned his nickname "The Shark" because of his aggressive play and "great white" (read: blond) hair. Though he never won the Masters -- he came in second three times -- his clothing line, the Greg Norman Collection, is one of the leading golf-inspired sportswear lines. Its logo? A shark, of course.
Five-time PGA Tour winner Jesper Parnevik shot onto the American golf scene thanks to his flip-brimmed hats and distinct wardrobe designed by Johan Lindeberg. The stylish Swede signed a deal with Cobra Puma Golf in early 2013.
The late Payne Stewart played on the PGA Tour in the 1980s and '90s, though his wardrobe of plus-fours and Tam o' Shanter caps recalled a bygone era. Stewart died in a plane crash, along with four others, in 1999. He was inducted posthumously into the World Golf Hall of Fame in 2001.
who won the traditional Par 3 Contest at this year's Masters
, is known to sport a skinny tie with a cardigan. Here, he waves to the gallery on the second green during the 2010 Masters.
Ryan Moore,
Despite his success on the Japan Golf Tour, Ryo Ishikawa is still trying to find his footing on the American golf stage. The 21-year-old golfer and his flashy trousers and belts always add a little flair to the fairway, as seen here at the 2012 Masters. Ishikawa received his first invitation to play at the Masters when he was 17.
Britain's Ian Poulter, currently ranked 20th in the world, is as passionate about fashion as he is about golf. "What I wear on and off the course is a huge part of who I am," Poulter said. "I like to be different. I always loved the old pictures of Jack Nicklaus, Payne Stewart and Johnny Miller with the flares, big collars, tartans, no pleat trousers. I thought they were cool. And they still are. My clothes make me feel good." Poulter also runs his own clothing brand, IJP Design.
first round of the 2013 Masters
. Fowler is an official sponsor of the sportswear line Puma.
You'd be hard-pressed to miss Rickie Fowler on the course in his neon threads. His outfits are color-coordinated, from flat-bill cap to footwear, as seen here during the
Defending Masters champion Adam Scott
walks off the 18th green during the first round of the Masters on April 10. The No. 2 golfer in the world recently signed a multiyear contract with Japanese retailer UNIQLO. Previously, the clean-cut Aussie endorsed the British luxury brand Burberry.
Billy Horschel, seen here during the first round of the 2014 Masters, is known for his colorful ensembles. At the 2013 U.S. Open, he wore pants that had octopuses on them.
Masters of fashion
Masters of fashion
Masters of fashion
Masters of fashion
Masters of fashion
Masters of fashion
Masters of fashion
Masters of fashion
Masters of fashion
Masters of fashion
Masters of fashion
Masters of fashion
Masters of fashion
Masters of fashion