Watch out street racers, Dubai cops have Lamborghini
updated 6:35 AM EDT, Fri April 12, 2013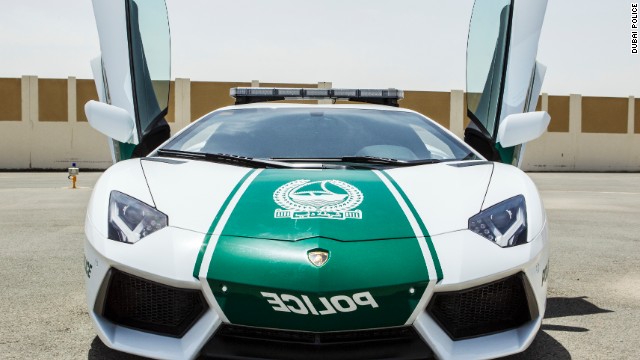 A Lamborghini Aventador is the latest addition to the Dubai Police fleet.
The Aventador has a hefty price tag of approximately $500,000 and has a top speed of 217 mph (349 kph).
Dubai is not the first police fleet to use Lamborghini vehicles. The Italian sports cars are also used by forces in Qatar and Italy.
Dubai Police add Lamborghini to fleet
No problems catching criminals
Social media announcement
Popular car choice for police forces
STORY HIGHLIGHTS
Dubai Police have revealed the latest addition to their fleet -- a Lamborghini Aventador
The Italian sports car has been specially-customized for the country's police force
Estimated worth of around $500,000, it has a maximum speed of 217mph (349kph)
(CNN) -- Dubai already has the world's tallest building, the world's largest shopping mall, and the largest man-made archipelago. So it's no surprise that the country's police would drive one of the world's most extravagant and expensive cars.
The latest addition to the force's fleet is a head-turning Lamborghini Aventador, finished in green and white -- the colors of the Dubai Police force.
WATCH: Dubai police get a Lamborghini
The force made the announcement through its Twitter feed, @DubaiPoliceHQ, resulting in a flurry of tweets with the hash tag #OnlyinDubai.
Twitter user @eJbacher_says said: "Lambo Cop Cars. Do not speed in Dubai. They will hunt you down and in Italian sports cars."
Another tweet from @knicks20 read: " Wouldn't mind being pulled over by the popo in dubai... Lambo cop cars..."
In a written statement, the force said the car, which bears the number 8 on a customized license plate, would be a step towards confirming the stature of Dubai as "a city of luxury in all of its facilities."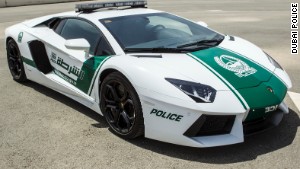 Dubai police get a Lamborghini
According to recent figures, 15% of traffic fines issued in Dubai are for driving at speeds in excess of 130 mph (209 kph.)
The car, reported to be worth around $500,000, has a maximum speed of 217 mph (349kph) and can accelerate from 0-60 mph (0-97 kph) in 2.9 seconds.
Dubai police are not the first force to use Lamborghinis on the roads. The luxury sports vehicles are also used by forces in Italy and Qatar.