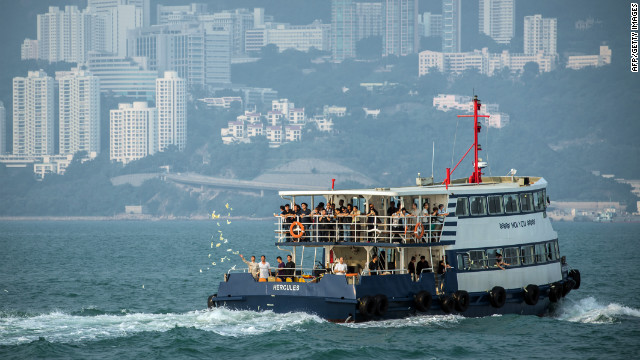 Mourners accompanied by Taoist priests take boats on Thursday, October 4, to go to the scene of the boat collision that killed 38 people off Lamma Island, near Hong Kong, on October 1. They throw paper offerings for the dead into the sea.
Mourners throw paper offerings into the sea Thursday during a ceremony held for the victims of the ferry collision.
A girl stands in front of a memorial at a ferry pier on Thursday. Hong Kong held a three-day, city-wide mourning period honoring those who died in Monday's ferry collision.
People line up Thursday to enter Saint John's Anglican Church for a memorial service for the ferry crash victims.
Bouquets of flowers and black ribbons hang on the gate to the HK Electric private pier on Thursday.
Firefighters inspect the stern of the Lamma IV passenger boat on Wednesday, October 3.
The passenger boat, with the back end of the vessel badly damaged after the collision, sits near the shores of Lamma Island on Wednesday.
The Sea Smooth ferry, with its bow badly damaged, sits docked at the Lamma Island pier on Tuesday, October 2.
A woman offers a prayer on board a ferry off Hong Kong on Wednesday.
The damaged Lamma IV passenger boat sits offshore on Wednesday.
The boat that collided with a Hong Kong passenger ferry is partially submerged during rescue operations Tuesday, October 2.
A fireman inspects the back end of the badly damaged Lamma IV passenger boat two days after the collision.
A woman cries Tuesday as she leaves a public mortuary holding the bodies of those who died in the boat collision.
Rescuers approach the sinking vessel late Monday.
A survivor is helped onto an ambulance. The crash necessitated what local police called a "major rescue" operation, according to China's state-run media.
Local residents try to get a glimpse of rescue personnel as they tend to a victim Monday night. The incident happened around 8:20 p.m. local time, just off the coast of Lamma Island, southwest of Hong Kong.
Rescuers search for survivors near the crash site. More than 100 people were picked up.
Survivors are transported to shore on a police boat late Monday.
Medical and rescue personnel wait for survivors by the ferry pier.
A victim is carried ashore Monday.
Rescuers approach an overturned boat. A local company had rented one of the boats for a staff holiday outing.
A rescuer looks through a window of the rapidly sinking ship.
A passenger is helped on shore. Survivors were taken to a number of public hospitals.
Members of the media surround rescue workers as they carry a victim into an ambulance Monday night.
The crash sent dozens of passengers into the water.
Rescue crews search for passengers in the waters off Lamma Island. It's unclear how many people remain unaccounted for, authorities say.
Deadly Hong Kong ferry crash
Deadly Hong Kong ferry crash
Deadly Hong Kong ferry crash
Deadly Hong Kong ferry crash
Deadly Hong Kong ferry crash
Deadly Hong Kong ferry crash
Deadly Hong Kong ferry crash
Deadly Hong Kong ferry crash
Deadly Hong Kong ferry crash
Deadly Hong Kong ferry crash
Deadly Hong Kong ferry crash
Deadly Hong Kong ferry crash
Deadly Hong Kong ferry crash
Deadly Hong Kong ferry crash
Deadly Hong Kong ferry crash
Deadly Hong Kong ferry crash
Deadly Hong Kong ferry crash
Deadly Hong Kong ferry crash
Deadly Hong Kong ferry crash
Deadly Hong Kong ferry crash
Deadly Hong Kong ferry crash
Deadly Hong Kong ferry crash
Deadly Hong Kong ferry crash
Deadly Hong Kong ferry crash
Deadly Hong Kong ferry crash
Deadly Hong Kong ferry crash