STORY HIGHLIGHTS
Maduro, Capriles will square off in Sunday's presidential vote
The election comes less than six weeks after the death of Chavez
More than 18.9 million Venezuelans are registered to vote
The economy and crime are key issues at stake
(CNN) -- Less than six weeks after President Hugo Chavez's death, Venezuelans will head to the polls Sunday to pick a new leader.
It will be the second time in just over six months that voters in the south American country have cast ballots in a presidential election.
Chavez, who ruled Venezuela for 14 years, celebrated a triumphant re-election victory in October. After his death on March 5, authorities announced new elections to select his successor.
Who's running to replace Chavez?
Nicolas Maduro, 50, is a candidate for the United Socialist Party of Venezuela. Henrique Capriles Radonski, 40, represents a coalition of opposition parties.
Maduro started his career as a bus driver in Caracas, rose through the ranks as a union leader and eventually became part of Chavez's inner circle. He has been the interim leader since Chavez's death, and served as vice president and foreign minister in his administration.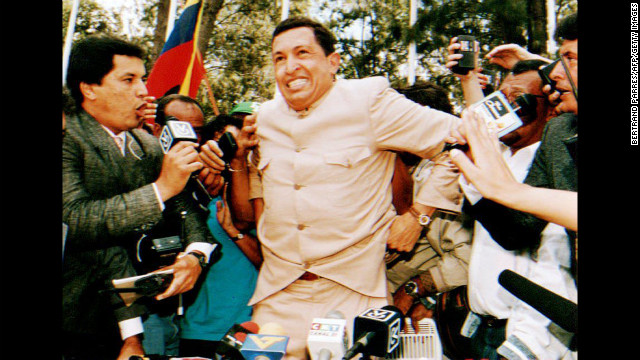 Army Lt. Col. Hugo Chavez, who led a 1992 attempted coup, speaks to reporters on March 26, 1994, after he was freed from jail. Chavez was freed after charges were dropped against him for leading the first of two attempted coups against the government of former President Carlos Andres Perez, who was later removed from office.
Venezuelan president-elect Chavez visits Bogota, Colombia, on December 18, 1998. On December 6, Chavez had been elected the youngest president in Venezuela history.
President Chavez greets supporters with his then-wife, Marisabel Rodriguez de Chavez, beside him as he arrives to preside over a parade in his honor on February 4, 1999, in Caracas. Chavez was sworn in as president on February 2.
Chavez inspects military maneuvers of the national Air Force on March 17, 2001, in Catilletes near the border with Colombia. In June 2000, Chavez was re-elected to the presidency for a six-year term, under the new constitution created by his government in 1999.
People try to take shelter from gunshots fired near Altamira Square in Caracas on August 16, 2004. At least three people were wounded by gunshots after Chavez supporters fired on opposition demonstrators, police said. A vote to recall Chavez as president failed on August 15.
Chavez, left, stands in front of supporters with Fidel Castro of Cuba, center, and Evo Morales of Bolivia, right, during a rally at the Plaza de la Revolucion in Havana, Cuba, on April 29, 2006.
Chavez meets with Pope Benedict XVI at his private library on May 11, 2006, in Vatican City.
Chavez embraces Iranian President Mahmoud Ahmadinejad, right, in Tehran, Iran, on July 1, 2007. The two presidents have enjoyed a close relationship and Chavez has referred to Ahmadinejad as his "ideological brother."
Chavez speaks during a rally in Caracas on November 18, 2008. Chavez pushed to change term limits in Venezuela through a referendum that passed on February 15, 2009, clearing the way for him to run for a third six-year term.
Chavez, right, gives a copy of the book, "The Open Veins of Latin America" by Eduardo Galeano to President Barack Obama during a multilateral meeting at the Summit of the Americas in Port of Spain, Trinidad, on April 18, 2009.
Chavez, right, greets Russian Prime Minister Vladimir Putin during his visit to the presidential palace in Caracas on April 2, 2010.
Chavez salutes to the audience after passing a law in Caracas on November 12, 2011. Chavez has undergone several rounds of cancer treatment in Cuba, beginning in 2011.
Chavez participates in a ceremony at the Miraflores presidential palace in Caracas on January 27, 2012.
Chavez, left, jokes with American actor Sean Penn, right, during his visit to Miraflores presidential palace in Caracas on February 16, 2012. Penn thanked Chavez for the support given by the Venezuelan government to his nongovernmental organization, which benefits victims of the 2010 Haiti earthquake.
Chavez acknowledges supporters on the streets of Caracas while on his way to the airport to travel to Cuba for ongoing cancer treatment on February 24, 2012.
Chavez gestures to the crowd during his closing campaign rally in Caracas on October 4, 2012. The leftist leader won a fourth term on October 7, extending his presidency to 2019.
A handout picture released by the Venezuelan presidential press office on Friday, February 15, 2013, shows Chavez surrounded by his daughters and holding the February 14 edition of the official Cuban newspaper Granma at a hospital in Havana, Cuba.
Chavez supporters gather in Caracas' Bolivar Square to mourn Chavez's death on March 5, 2013.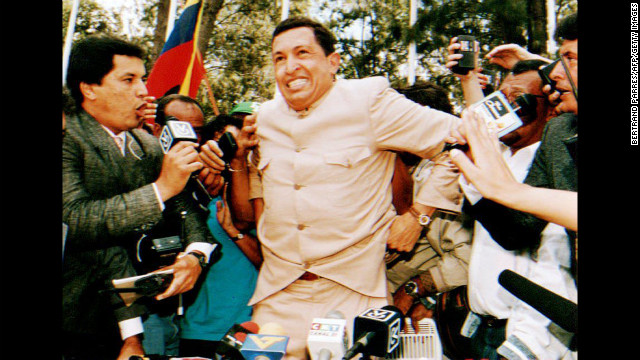 Photos: Political career of Hugo Chavez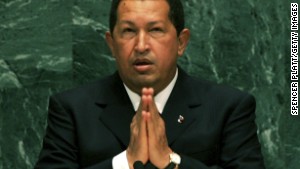 The race to replace Hugo Chavez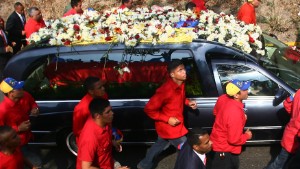 Adiós a Hugo Chávez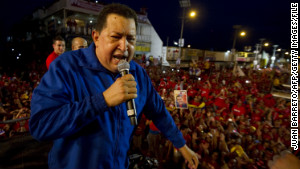 Hugo Chavez's legacy
Capriles is the former governor of Miranda state. He lost to Chavez in October's presidential vote, coming within 10 percentage points of the longtime leader. It was a significant gap, but the closest any opposition candidate ever came to defeating Chavez during his rule.
Maduro has pledged to continue Chavez's plan to build "21st century socialism." Capriles says he pushing a more moderate approach, promising to continue social programs and improve the country's economy.
READ MORE: Maduro: From bus driver to presidential candidate
READ MORE: Capriles' second chance to defeat 'Chavismo'
What are the key issues at stake?
Crime, inflation and food shortages are key problems on the minds of many in the nation. But heated rhetoric on the campaign trail has focused more on personal attacks between the candidates and sparring over the legacy of Chavez.
No matter who wins, the question of what will happen in Venezuela without Chavez at the helm looms large over the elections.
How many people are expected to cast ballots?
More than 18.9 million Venezuelans are registered to vote in the presidential election.
Venezuela's National Electoral Council estimates that more than 100,000 Venezuelans will vote abroad at diplomatic offices in 88 countries. There are more than 37,681 Venezuelans registered to vote in the United States, according to government figures.
Who will be watching?
In addition to representatives from national organizations serving as observers, Venezuela's National Electoral Council says 170 foreigners have been invited to witness the elections. The international group includes delegations from the Union of South American Nations and the Atlanta-based Carter Center.
READ MORE: Chavez's impact on Venezuela lauded at funeral
READ MORE: What's next? Chavez's death leaves many questions
READ MORE: Hugo Chavez's death draws sympathy, anger