STORY HIGHLIGHTS
Police detail sequence of events
Police had been called to home several times, authorities say
Police decline to discuss motive in firefighter hostage case
Injured firefighters doing "remarkably well," fire chief says
(CNN) -- After several of his demands were met, Lauren Holman Brown allegedly gave police in a suburban Atlanta county until 7:30 p.m. Wednesday to board up his home's windows and doors.
As the deadline approached, negotiators became convinced that Brown, 55, would not release the four Gwinnett County, Georgia, firefighters he was holding hostage, even if his demands were met, according to police.
Authorities put their contingency rescue plan into motion as the deadline expired.
SWAT officers swarmed into the house, yelling commands to Brown as they entered his bedroom. The resident, according to Gwinnett County Police, fired at the first officer to enter the room, striking him in the arm. The injured officer returned fire, killing Brown.
The ordeal was over.
As police on Thursday provided a time line of the incident, a significant question lingered.
Why did this happen?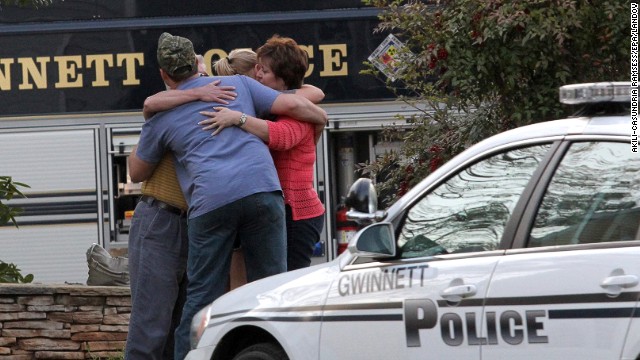 Neighbors embrace after a hostage situation ends in Suwanee, Georgia, on Wednesday, April 10. A gunman in apparent financial distress took several firefighters hostage the Atlanta suburb, then was killed in an exchange of gunfire hours later after law enforcement authorities determined he might lash out at his captives.
A Gwinnett County police officer clears the road after an explosion and gunshots were heard near the home in Suwanee. Authorities used explosives to distract the suspect and get in the house.
A Gwinnett County Fire Rescue ambulance rushes from the scene after the hostage situation ended. The four firefighters being held hostage suffered "superficial" injuries as a result of the explosions.
A SWAT team member heads to his car after the standoff. One law enforcement officer was shot in the incident, but his injury is not considered life-threatening, officials said.
Gwinnett County police spokesman Ed Ritter, center, addresses the media Wednesday night. "It got to the point where we believed that (the firefighters') lives were in immediate danger," he said. "And our SWAT team made the decision to go in there and neutralize the situation."
A police officer stands guard in the Walnut Grove subdivision in Suwanee, where the incident took place.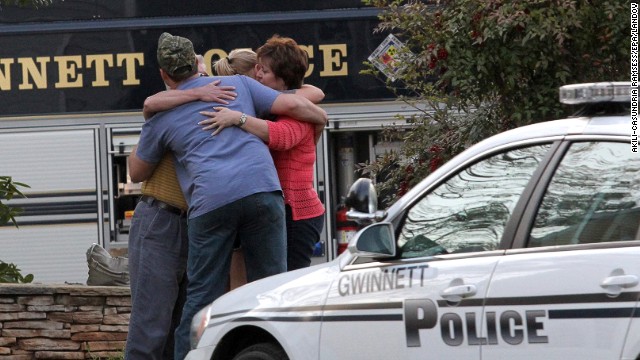 Photos: Georgia firefighters rescued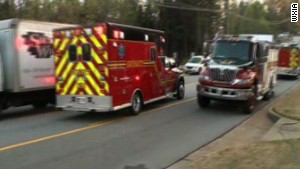 Hear call from firefighter taken hostage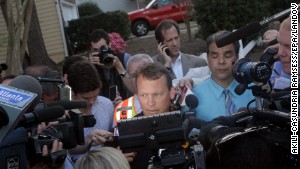 Police: Firefighter hostage suspect dead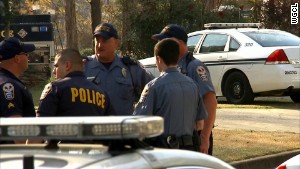 Neighbor: SWAT explosions rocked house
"Brown never made his ultimate goals clear to the hostages or to negotiators," police said in a statement. "He did express a desire for his family to witness what was happening."
Investigators learned from the freed hostages that Brown claimed to have planned the event for weeks. They found six guns in the home, according to police.
"He told his hostages that he targeted firefighters rather than police so that he would not be shot when he attempted to take hostages," police said.
Brown, who lived in Suwanee, Georgia -- about 30 miles north of Atlanta -- had been dealing with financial problems.
Authorities said police had been called to Brown's home several times over the last 10 years but said he had no criminal record other than a failure to appear charge in Acworth, Georgia.
The drama began at 3:41 p.m. Wednesday with a call from Brown, who said he was having chest pains, police said.
Police Cpl. Jake Smith said the hostage taker had "some physical ailment that kept him from being very mobile."
Five fire department personnel found Brown lying on his bed.
He allegedly produced a handgun and made his first demands after releasing one hostage to move emergency vehicles in front of the house, police said.
Negotiators, communicating with Brown through a firefighter's radio, restored electricity and cable television service to his foreclosed house, Police Chief Charles Walters told reporters on Thursday.
"He gave us nothing," Walters said.
As time went on, Brown refused to release his hostages and said he was in control, according to police.
At 6:30 p.m., Brown, still in the bedroom, called for food to be brought to the home for him and the hostages.
Shortly after that, police made their decision to move in, rather than barricade Brown's home. They used diversion devices as they entered the home as food was being delivered.
Two of the firefighters had left the bedroom to retrieve the food, delivered by a SWAT officer, while the other two took cover in the bedroom, officials said.
The four firefighters suffered minor injuries during the rescue and were doing "remarkably well" Thursday morning, the county fire chief said. The police officer was recovering, according to officials.
Police have no mental health history for Brown, authorities said.
The house was foreclosed upon in November and was being prepared for sale, said Brad German, a spokesman for Freddie Mac. It was not clear what, if anything, that fact had to do with what unfolded Wednesday.
Jake Major, an 18-year-old neighbor who used to mow the alleged hostage taker's lawn, said he seemed "really nice, ... like a normal guy." His yard, though, "was a mess (and) inside it was just as bad," Major said.
CNN's Jason Hanna, David Mattingly, Vivian Kuo, Jim Kavanagh, Greg Botelho, Dave Alsup, Chandler Friedman and Carol Cratty contributed to this report.