STORY HIGHLIGHTS
PETA says it plans to purchase drones to watch for illegal activity among hunters
Hunters online have suggested they'll shoot down PETA's remote-controlled aircraft
Showing Animals Respect and Kindness has flown camera-carrying drones to track hunters
SHARK has sent footage to law enforcement, but no cases ensued
(CNN) -- Another animal rights group is shopping for drones it will use to watch for animal abuse -- and gun owners are setting their sights in anticipation.
People for the Ethical Treatment of Animals said this week it plans to purchase drones -- small, remote-controlled, camera-carrying aircraft -- to watch for illegal activity among hunters.
In a press release, PETA said it would "monitor those who are out in the woods with death on their minds," using spotlights or feed lures, or drinking alcohol while in possession of a firearm. PETA also intends to fly the remote-controlled aircraft over factory farms, fishing spots and "other venues where animals routinely suffer and die," it said.
The group doesn't yet have any drones or specific locations where it intends to fly them, and organizers don't know when they'll attempt to put them in the air. The organization wants to watch bear hunters, in particular, PETA President Ingrid Newkirk told CNN. Bear hunting is legal, but Newkirk said PETA would look for hunters luring bears with food or killing mothers with cubs at their sides.
"The talk is usually about drones being used as killing machines, but PETA drones will be used to save lives," Newkirk said in a news release.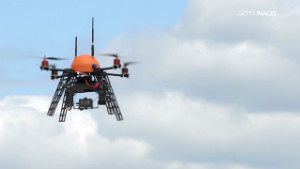 CNN Explains: Drones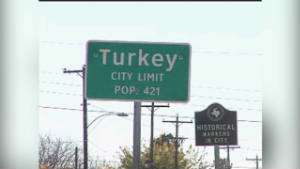 PETA wants Turkey, Texas, to change name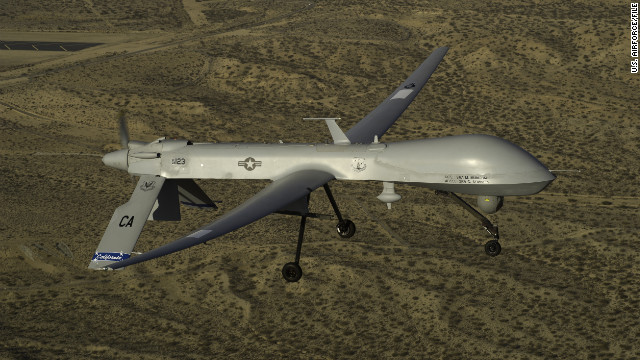 A U.S. Air Force MQ-1 Predator UAV assigned to the California Air National Guard's 163rd Reconnaissance Wing flies near the Southern California Logistics Airport in Victorville, California, on January 7, 2012.
A model of of the European "Neuron" UAV at the Paris Air Show in Le Bourget, France in 2005. The UAV is an European Research project led by Dassault Aviation.
An MQ-9 Reaper unmanned aircraft vehicle (UAV) sits in a shelter at Joint Base Balad, Iraq, after a mission on November 10, 2008. According to the U.S. Department of Defense, the Reaper can carry up to 3,750 pounds of laser-guided bombs and missiles.
A British MQ-9 Reaper sits on a runway on March 17. Both British and American Reapers are deployed to Afghanistan.
U.S. Marines perform operational checks on a Marine Squadron Two (VMU-2) UAV before a launch at Speed Bag Airfield, near Niland, California, on October 25, 2011.
An Iranian-made drone is displayed during the Army Day celebrations in Tehran on April 18, 2010.
A model of a surveillance drone built by Dassault Aviation and BAE Systems is displayed at the International Paris Air show in 2011.
An Israeli Hermes 500 UAV flies over the Hatzerim air force base near Beersheva, Israel, during an air show at the graduation ceremony of Israeli pilots on June 30, 2011.
Chinese visitors examine an unmanned helicopter drone at the China Aviation Expo in Beijing on September 21, 2011.
Israeli soldiers prepare to launch a Skylark drone during a drill on January 16, 2012 near Bat Shlomo, Israel. The Skylark can carry a camera payload of up to 1 kilogram, has an operational ceiling of 15,000 feet, and allows users to monitor any designated point within a 15-kilometer radius. The Skylark unit consists of a ground control element and three drones, which provide battalion-level commanders with real-time information.
An Israel Aerospace Industries UAV on display at the Singapore Airshow on February 15.
A model of China's "Dark Sword" UAV. According to Jane's Defense & Security Intelligence & Analysis, the drone remains only a model, but offers an example of where China may go with its drone technology.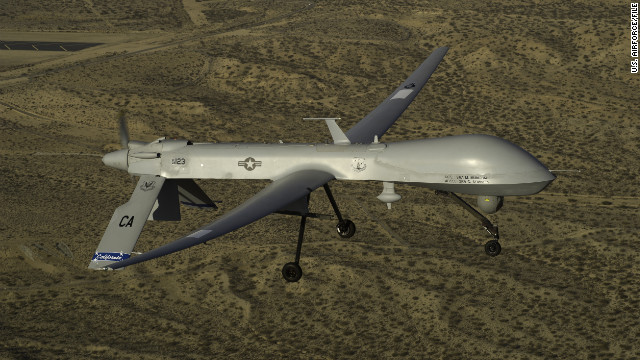 Photos: Military drones
In the United States, people can fly model aircraft without approval from the Federal Aviation Administration if they keep the drone in line of sight, lower than 400 feet above ground and away from airports and air traffic. Other types of unmanned aircraft systems need FAA approval, according to the agency.
Newkirk said PETA plans to follow U.S. requirements while flying drones and will fly them overseas, where there may be fewer restrictions. PETA is active in the United Kingdom, the Netherlands, Germany, Hong Kong and India.
As news of PETA's plan spread, gun owners reacted online. The shooting sports website AmmoLand responded by posting a PETA drone practice target for readers to use at the shooting range.
"Sounds to me like this will create a whole new shooting sport," the site said. "PETA Drone Target Shooting."
Readers at the blog Guns.com posted similar comments.
Newkirk said she wasn't concerned.
"I'd rather have them shoot something inanimate than an innocent doe," she said. "It's not the bedroom; it's the great outdoors, so let's see what they're up to."
It isn't the first time an animal rights group has considered using drones to track hunters. Showing Animals Respect and Kindness, or SHARK, has launched camera-carrying aircraft hundreds of times to film pigeon shoots, said Steve Hindi, the organization's president. During pigeon shoots, hunters try to shoot birds after they're released from cages or mechanically launched. Hindi posts the footage online and sends links to state and local law enforcement, but hasn't gotten much response.
Twice, SHARK's drones have been shot while filming pigeon shoots at Wing Pointe shooting resort in Berks County, Pennsylvania, Hindi said. In a press release from November, SHARK said the camera feed went out on a drone camera after a single shot from the shooting range.
State police investigators said they couldn't identify who shot the drone at Wing Pointe, and couldn't prove whether it was an accident, said David Beohm, spokesman for the Pennsylvania State Police. Beohm said the drone was flying in airspace restricted by the FAA.
Hindi said he doesn't believe the shooting was an accident.
"It was a damn good shot," he said.
CNN contacted Wing Pointe, but representatives declined to comment. Pigeon shoots are legal in Pennsylvania.
Law enforcement officers tried to prevent SHARK from flying a drone in South Carolina in February 2012, Hindi said. A shot brought down the drone soon after it went into the air, and it crashed into a highway, Hindi said.
The Colleton County Sheriff's Office filed an incident report. It's still an open case, and no one has been charged.
Hindi said he's gotten calls from people who say they'll fly drones over his house. He said he doesn't care, and that he'll continue to fly drones as long as it's legal.
"We have these knee-jerk reactions about drones, when the average person has no worries," he said.