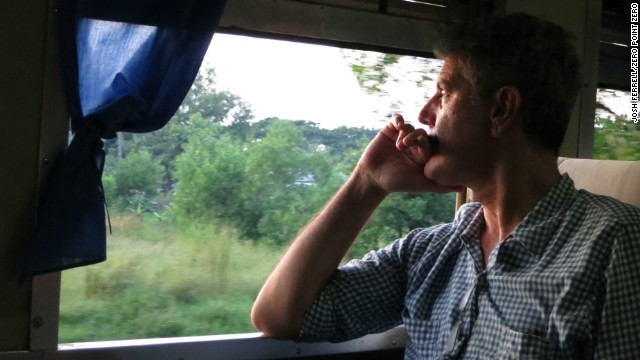 Anthony Bourdain rides on the train to Bagan, Myanmar.
Hot air balloons float over the temples scattered throughout Bagan.
Bourdain reads a newspaper next to the local market in Yangon.
Bourdain stands on the streets of Yangon.
People shop at a local market in Yangon.
Bourdain and Les Halles owner Philip Lajaunie walk around Old Bagan.
Purple Thai eggplant and Thai cucumbers sit at Sarabha, a curry stand in Old Bagan.
A chef cooks in the back of the curry stand.
Teakettles pour at the Shwe Weh Tun Tea Shop in Yangon.
Bourdain sits down with a band, Side Effect, at a barbecue restaurant, Kaung Myat, in Yangon.
A ferris wheel lights up the sky at a Full Moon Festival in Yangon.
Bourdain at the Shwesandaw Pagoda in Old Bagan.
Anthony Bourdain in Myanmar
Anthony Bourdain in Myanmar
Anthony Bourdain in Myanmar
Anthony Bourdain in Myanmar
Anthony Bourdain in Myanmar
Anthony Bourdain in Myanmar
Anthony Bourdain in Myanmar
Anthony Bourdain in Myanmar
Anthony Bourdain in Myanmar
Anthony Bourdain in Myanmar
Anthony Bourdain in Myanmar
Anthony Bourdain in Myanmar