Huxtables are the '80s family you most want to adopt you
updated 4:43 PM EDT, Tue April 9, 2013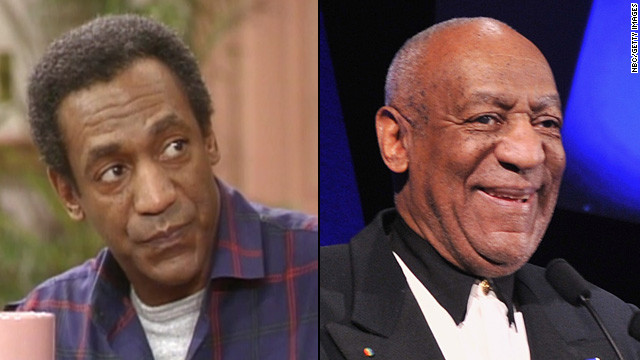 After playing Cliff Huxtable on "The Cosby Show," Bill Cosby starred in "The Cosby Mysteries," "Cosby" and hosted "Kids Say the Darnedest Things" on top of starring in a number of films. Now, one of America's favorite TV dads and comedians is returning to TV with a new family sitcom. See what the rest of the "Cosby Show" cast has been up to:
We've missed having Tempestt Bledsoe in our living rooms since she played "The Cosby Show's" Vanessa Huxtable. We had her back temporarily in 2012 with NBC's short-lived "Guys With Kids," on which the actress played a working, no-nonsense mom like her former TV mother Clair Huxtable.
When Malcolm-Jamal Warner's run as Theo Huxtable ended, the actor lent his voice to the popular educational cartoon "The Magic School Bus." He's starred in series including "Malcolm & Eddie," "Jeremiah" and "Listen Up," and released two albums. In recent years, he's popped up everywhere from "The Michael J. Fox Show" to TNT's "Closer" spinoff, "Major Crimes."
Lisa Bonet appeared in "Enemy of the State," "High Fidelity" and "Biker Boyz" after her turn as Denise Huxtable. She'll next appear in the drama "Road to Paloma" with husband Jason Momoa. Bonet and her daughter with Lenny Kravitz, Zoë, have appeared in "It's Kind of a Funny Story" and "X-Men: First Class."
Sabrina Le Beauf had roles in "Star Trek: The Next Generation," "Cosby" and the animated series "Fatherhood" after playing Sondra Huxtable on the NBC series. In 2009, she played Leila in the thriller "The Stalker Within."
In 1986, at just 6 years old, Keshia Knight Pulliam received an Emmy nomination for outstanding supporting actress for her role as Rudy Huxtable. She appeared in 2005's "Beauty Shop" and "The Gospel," as well as 2009's "Madea Goes to Jail." She played Miranda on Tyler Perry's "House of Payne" and competed on reality shows like "Celebrity Fear Factor" and "The Mole."
Joseph C. Phillips appeared on "The District" and "General Hospital" after playing Martin, Olivia's dad and Denise's husband. Phillips, who has guest-starred on "The Secret Life of the American Teenager," most recently appeared in Chris Stokes' "Boogie Town."
Olivia is just one of Raven-Symoné's many cheek-pinching roles. She appeared in "The Little Rascals," on "Hangin' with Mr. Cooper," in two "Doctor Dolittle" films and the TV movie "Zenon" before starring in "That's So Raven." She later headlined the short-lived "State of Georgia" and played Deloris Van Cartier in "Sister Act" on Broadway.
Since playing Sondra's husband Elvin, Geoffrey Owens has guest-starred on series like "The Secret Life of the American Teenager" and "It's Always Sunny in Philadelphia." Owens now teaches an acting class at New York City's HB Studio and recently appeared on Broadway with Orlando Bloom in a production of "Romeo and Juliet."
Erika Alexander traded in Pam Tucker for Maxine Shaw when she started work on "Living Single" in 1993. After the show's five seasons, Alexander appeared on "Judging Amy," "Street Time" and "In Plain Sight." She most recently guest-starred on "Low Winter Sun" and "Last Man Standing."
Earle Hyman has appeared on "All My Children," "Cosby" and "Twice in a Lifetime" since playing Cliff's dad Russell on "The Cosby Show."
Clarice Taylor, who played Cliff's mom Anna, appeared in "Sommersby" and "Smoke" after the series went off the air in 1992. Taylor died in 2011 at 93.
'The Cosby Show': Where are they now?
Tempestt Bledsoe
Phylicia Rashad
Malcolm-Jamal Warner
Lisa Bonet
Sabrina Le Beauf
Keshia Knight Pulliam
Joseph C. Phillips
Raven-Symoné
Geoffrey Owens
Erika Alexander
Earle Hyman
Clarice Taylor
STORY HIGHLIGHTS
Nat Geo Channel commissioned a pop culture survey
"Cosby Show's" Huxtables are the '80s TV family you most want to adopt you
"The 80s: The Decade That Made Us" premieres April 14
(EW.com) -- For its upcoming miniseries "The 80s: The Decade that Made Us," Nat Geo Channel commissioned a pop culture survey asking participants important questions like, "Which of the following songs would you have made out to in the '80s?" and "Which of the following '80s TV family would you most want to be adopted by?"
EW.com has an exclusive sneak peek at those results...
"The Cosby Show's" Huxtables are the family of choice, with 38 percent of the vote. "Family Ties'" Keatons and "Dallas's" Ewings tied for second, with 17 percent each. "Growing Pains'" Seavers finished next with 16 percent, and "Diff'rent Strokes'" Drummonds came in last, with 7 percent.
The Police's "Every Breath You Take" is the top makeout song (36 percent), followed by Lionel Richie's "Hello" (26 percent), LL Cool J's "I Need Love" (16 percent), Wham!'s "Careless Whisper" (13 percent), and Crowded House's "Don't Dream It's Over" (9 percent).
Joel Osteen responds to Web hoax
Other notable results in the survey:
• "Back to the Future" is the movie that defines the decade (21 percent), followed by "The Breakfast Club" (18 percent), E.T. (16 percent), "Ferris Bueller's Day Off" (15 percent), "Top Gun" and "Ghostbusters" (tied with 8 percent), "Wall Street" (7 percent), "Do the Right Thing" (4 percent), and "Say Anything" (2 percent).
• Michael Jackson scored a landslide 61 percent of the vote for his influence on today's musicians, followed by Madonna (17 percent), U2 (12 percent), and Run DMC (7 percent).
• Demi Moore is America's favorite member of the Brat Pack (28 percent), followed by Molly Ringwald (19 percent), Emilio Estevez (16 percent), Rob Lowe (15 percent), Andrew McCarthy and Judd Nelson (tied 6 percent), and Anthony Michael Hall and Ally Sheedy (5 percent apiece). Recount?
'Game of Thrones' week 2 ratings steady
"The 80s: The Decade That Made Us" — narrated by Rob Lowe, naturally — premieres April 14 at 8 p.m. ET.
See the original article at EW.com.
CLICK HERE to Try 2 RISK FREE issues of Entertainment Weekly
© 2011 Entertainment Weekly and Time Inc. All rights reserved.