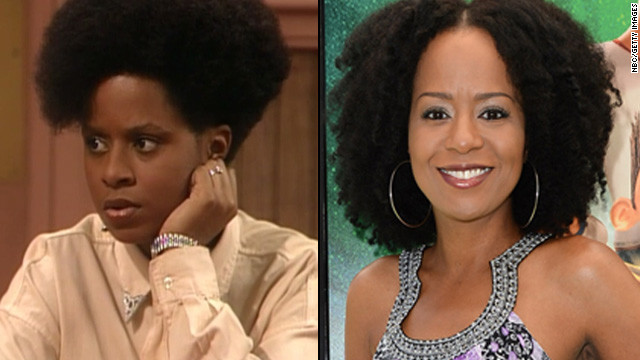 We've missed having Tempestt Bledsoe in our living rooms since she played "The Cosby Show's" Vanessa Huxtable. But thanks to NBC's "Guys With Kids," the actress is back on the small screen. Like her former TV mom Clair Huxtable, Bledsoe's character Marny is a working, no-nonsense mom.
After playing Cliff Huxtable, Bill Cosby starred in "The Cosby Mysteries," "Cosby," and hosted "Kids Say the Darndest Things." He appeared in "Ghost Dad," "The Meteor Man" and "Jack," and wrote and produced the 2004 live-action comedy "Fat Albert," based on the cartoon character he created.
Phylicia Rashad, who played mom Clair Huxtable, teamed up with her on-screen hubby again for "Cosby" and guest-starred on "Touched by an Angel" and "Everybody Hates Chris." Rashad hit the big screen in 2010's "Just Wright" and "For Colored Girls." She earned a Tony Award in 2004 for her role in "A Raisin in the Sun." She'll next appear in Lifetime's "Steel Magnolias," which premieres in October.
When Malcolm-Jamal Warner's run as Theo Huxtable ended, the actor lent his voice to popular cartoon "The Magic School Bus." He's starred in series including "Malcolm & Eddie," "Jeremiah" and "Listen Up," and released two albums. He plays an English professor on the BET sitcom "Reed Between the Lines" and recurring character Andre Bennett on NBC's "Community."
Lisa Bonet appeared in "Enemy of the State," "High Fidelity" and "Biker Boyz" after her turn as Denise Huxtable. She'll next appear in 2013's "Road to Paloma" alongside husband Jason Momoa. Bonet and her daughter with Lenny Kravitz, Zoë, have appeared in "It's Kind of a Funny Story" and "X-Men: First Class."
Sabrina Le Beauf had roles in "Star Trek: The Next Generation," "Cosby" and "Fatherhood" after playing Sondra Huxtable on the NBC series. In 2009, she played Leila in the thriller "The Stalker Within."
In 1986, at just 6 years old, Keshia Knight Pulliam received an Emmy nomination for outstanding supporting actress for her role as Rudy Huxtable. She appeared in 2005's "Beauty Shop" and "The Gospel," as well as 2009's "Madea Goes to Jail." She played Miranda on Tyler Perry's "House of Payne" and competed on reality shows like "Celebrity Fear Factor" and "The Mole."
Joseph C. Phillips appeared on "The District" and "General Hospital" after playing Martin, Olivia's dad and Denise's husband. Phillips, who has guest-starred on "The Secret Life of the American Teenager," will next appear in Chris Stokes' "Boogie Town."
Olivia is just one of Raven-Symoné's many cheek-pinching roles. She appeared in "The Little Rascals," on "Hangin' with Mr. Cooper," in two "Doctor Dolittle" films and the TV movie "Zenon" before starring in "That's So Raven." She later headlined the short-lived "State of Georgia" and played Deloris Van Cartier in "Sister Act" on Broadway.
Since playing Sondra's husband Elvin, Geoffrey Owens has guest-starred on series like "Las Vegas," "The Secret Life of the American Teenager" and "It's Always Sunny in Philadelphia." He was reunited with his "Cosby Show" co-star Raven-Symoné's when he appeared on "That's So Raven" in 2007. Owens now teaches an acting class at New York City's HB Studio, according to the performing arts schools' website.
Erika Alexander traded in Pam Tucker for Maxine Shaw when she started work on "Living Single" in 1993. After the show's five seasons, Alexander appeared on "Judging Amy," "Street Time" and "In Plain Sight." She most recently guest-starred on "Suburgatory" and "Suits."
Earle Hyman has appeared on "All My Children," "Cosby" and "Twice in a Lifetime" since playing Cliff's dad Russell on "The Cosby Show."
Clarice Taylor, who played Cliff's mom Anna, appeared in "Sommersby" and "Smoke" after the series went off the air in 1992. Taylor died in 2011 at 93.
Tempestt Bledsoe
Bill Cosby
Phylicia Rashad
Malcolm-Jamal Warner
Lisa Bonet
Sabrina Le Beauf
Keshia Knight Pulliam
Joseph C. Phillips
Raven-Symoné
Geoffrey Owens
Erika Alexander
Earle Hyman
Clarice Taylor