STORY HIGHLIGHTS
Jana Winter reported on alleged Holmes notebook days after theater massacre
The FoxNews.com reporter says she will not reveal her sources
Suspect James Holmes' attorneys have subpoenaed Winters
Denver (CNN) -- The journalist who first reported about a notebook that James Holmes allegedly sent his psychiatrist before last year's horrific theater massacre could face jail time for not revealing her sources.
FoxNews.com reporter Jana Winter has been subpoenaed by Holmes' attorneys to testify on Wednesday, but on Monday Judge Carlos Samour Jr. put off a ruling on whether Winter must reveal her source.
Winter has indicated that she has no plans to identify who told her the notebook from the accused Colorado movie theater gunman was, as she reported, "full of details about how he was going to kill people."
"My reputation as a journalist will be irreparably tarnished among my colleagues and perhaps more importantly my future sources," Winter wrote in a March affidavit.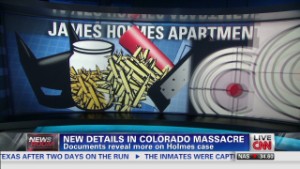 Officers go inside Holmes' apartment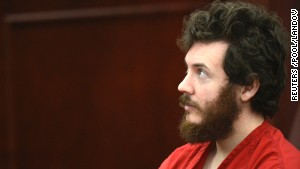 Death penalty sought for James Holmes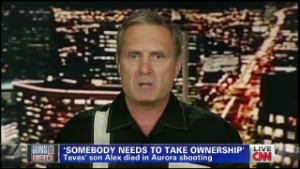 Dad: Holmes should be 'exterminated'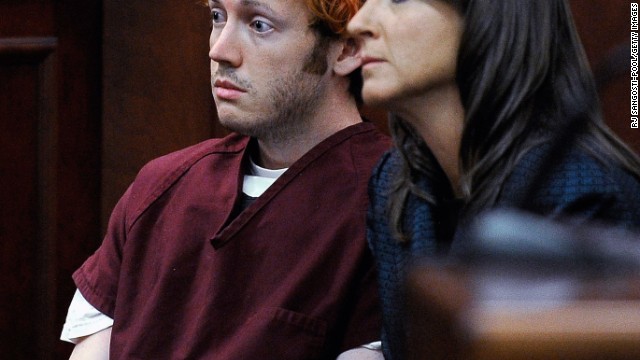 The public gets its first glimpse of James Holmes, 24, the suspect in the Colorado theater shooting during his initial court appearance Monday, July 23. With his hair dyed reddish-orange, Holmes, here with public defender Tamara Brady, showed little emotion. He is accused of opening fire in a movie theater Friday, July 20, in Aurora, Colorado, killing 12 people and wounding 58 others. More photos: Mourning the victims of the Colorado theater massacre
Police release the official photo from Holmes' booking after the shooting.
Holmes often had a blank stare during his court appearance Monday, appearing to be in a daze.
Victims and their relatives and journalists watch the proceedings Monday.
Flags fly at half-staff Monday at the Arapahoe County Courthouse in Centennial, Colorado, where the movie theater shooting suspect had his first court appearance. The prosecutor held a press conference outside the courthouse.
Arapahoe County District Attorney Carol Chambers talks to reporters Monday before heading into the courthouse. Chambers said the decision on whether to pursue the death penalty is a long process that involves input from victims and their families.
Family members of the victims arrive at the courthouse Monday for the suspect's first court appearance.
The Century Aurora 16 multiplex in Aurora becomes a place of horror after a gunman opened fire Friday in a crowded theater. At least 17 people remained hospitalized late Sunday, July 22, in the shooting rampage that shocked the nation.
Holmes is accused of opening fire during a midnight screening of the new Batman movie, "The Dark Knight Rises." Holmes purchased four weapons and more than 6,000 rounds of ammunition in recent months, police say.
Police investigate outside the Century 16 multiplex Saturday, July 21, a day after the mass shooting. Authorities have been tight-lipped about a possible motive in the case.
Agents search the suspect's car outside the theater.
Aurora police escort a sand-filled dump truck containing improvised explosive devices removed from Holmes' booby-trapped apartment Saturday. Authorities have said they believe the suspect rigged his place before leaving for the movie theater.
Police break a window at the suspect's apartment Friday in Aurora.
Law enforcement officers speak with Colorado Gov. John Hickenlooper, center, outside the suspect's apartment Saturday.
Law enforcement officers prepare to disarm the booby-trapped apartment Saturday.
Officials tow cars outside Holmes' apartment Saturday. Police disassembled devices and trip wires set up in the apartment.
Officers prepare to place an explosive device inside the apartment.
Debris flies out a window, right, after law enforcement officers detonate an explosive device inside the apartment Saturday.
People mourn the victims during a vigil behind the theater where a gunman opened fire on moviegoers in Aurora.
A woman grieves during a vigil for victims behind the theater.
A distraught woman receives counseling from Pastor Quincy Shannon, left, in front of Gateway High School in Aurora, where the families of the missing met following the shooting.
Lin Gan of Aurora holds back tears as she speaks to reporters about her experience in the Century 16 theater Friday.
People embrace before a vigil for victims behind the theater where a gunman opened fire on moviegoers.
Investigators work on evidence near the apartment of James Holmes on Friday.
Members of the Aurora Police Department SWAT unit walk near the apartment of James Holmes. Police have Holmes, 24, of North Aurora, in custody.
Television news crews gather in front of the home of Robert and Arlene Holmes, parents of 24-year-old mass shooting suspect James Holmes, in San Diego, California, on Friday.
A popcorn box lies on the ground outside the Century 16 movie theatre.
An NYPD officer keeps watch inside an AMC move theater where the film "The Dark Knight Rises" is playing in Times Square on Friday. NYPD is maintaining security around city movie theaters following the deadly rampage in Aurora, Colorado.
Adariah Legarreta, 4, is comforted by her grandmother Rita Abeyta near the Century 16 Theater in Aurora.
A cyclist and pedestrians pass a theater showing the latest Batman movie in Hollywood, California, on Friday. Warner Brothers said it was "deeply saddened" by Friday's massacre at a Colorado screening of "The Dark Knight Rises."
Obama supporters observe a moment of silence for the victims at a campaign event at Harborside Event Center in Fort Myers, Florida, on Friday.
Jessica Ghawi, an aspiring sportscaster, was one of the victims.
A woman waits for news outside Gateway High School, a few blocks from the scene of the shooting at the Century Aurora 16.
Aurora police chief Daniel J. Oates speaks at a press conference near the Century 16 Theater on Friday.
Agents search the trash container outside the suspect's apartment in Aurora.
A Federal ATF officer carries protective gear onsite at the home of alleged shooting suspect James Holmes.
Obama speaks on the shootings at the event in Fort Myers.
Moviegoers are interviewed at the Century Aurora 16.
Officers gathered at the theater Friday.
Investigators were a common sight at the theater Friday.
Authorities gather at the shooting suspect's apartment building in Aurora. Police broke a second-floor window to look for explosives that the suspect claimed were in the apartment.
Screaming, panicked moviegoers scrambled to escape from the black-clad gunman, who wore a gas mask and randomly shot as he walked up the theater's steps, witnesses said.
University of Colorado Hospital spokeswoman Jacque Montgomery said that all of the wounded had injuries from gunshot wounds, ranging from minor to critical.
Onlookers gather outside the Century Aurora 16 theater.
A woman sits on top of her car near the crime scene.
Police block access to the Town Center mall after the shooting.
Cell phone video taken by someone at the theater showed scores of people screaming and fleeing the building. Some, like this man, had blood on their clothes.
Witnesses told KUSA that the gunman kicked in an emergency exit door and threw a smoke bomb into the darkened theater before opening fire.
What is believed to be the suspect's car is examined after the shooting.
Police Chief Dan Oates said there was no evidence of a second gunman, and FBI spokesman Jason Pack said it did not appear the incident was related to terrorism.
Republican presidential candidate and former Massachusetts Gov. Mitt Romney delivers remarks regarding the shooting in an Aurora, Colorado, movie theater on Friday at a campaign event in Bow, New Hampshire.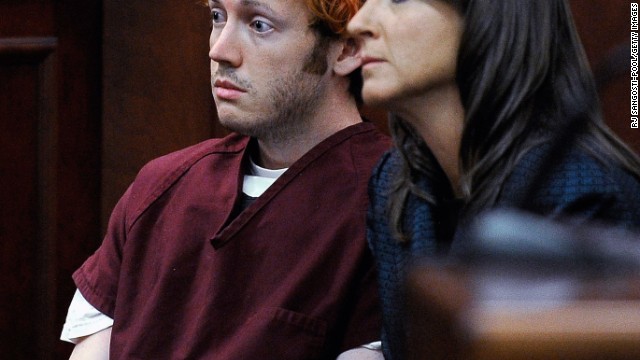 Colorado movie theater massacre
Days after the July 20 theater massacre in Aurora, Colorado, Winter scored a major scoop on FoxNews.com, reporting about the existence of the notebook.
"The parcel may have sat unopened in a mail room for up to a week before its discovery Monday (July 23), a law enforcement source told FoxNews.com," Winter's July 25 article stated.
She cited a source who said the notebook contained "drawings and illustrations of the massacre."
At the time of the article, the judge in the case had issued a so-called "gag order" barring officials from speaking to reporters about the case.
Other media, including CNN, later reported on the existence of the notebook sent by Holmes to Dr. Lynne Fenton, the University of Colorado psychiatrist who had treated him. It has since been discussed in open court, though the contents have not been revealed.
Samour said Monday he will not rule on the Winter issue until it is decided whether the notebook is admissible as evidence. If it is not admissible because it is privileged doctor-patient communication, then the credibility of the police officers who handled the notebook may be irrelevant to the case and not rise to the level required by Colorado's shield law for forcing journalists to testify.
But if Winter is ordered to reveal her source and does not, she could be found in contempt of court and jailed.
Fenton contacted police in June, a month before the massacre, and told them she had treated Holmes and he "had stopped seeing her and had begun threatening her via text message," according to a search warrant affidavit.
Fenton could face lawsuits that blame her and the school for improperly handling Holmes' treatment.
Holmes is charged with numerous counts of first-degree murder for allegedly opening fire inside a movie theater, killing 12 people and wounding dozens more at the premiere of the Batman movie "The Dark Knight Rises."
Federal agents have said the 25-year-old former University of Colorado doctoral student planned the attack for months. His trial is scheduled to begin in February 2014. If convicted, he faces the death penalty.
Holmes' attorneys have filed a series of motions and hearings in an attempt to find out who leaked the information about the notebook, calling to the stand all the police and bomb technicians who had access to the package. All have said they did not speak to any reporters about the package.
Within hours of its discovery, a judge ordered the package to be sealed and it has not been viewed by anyone since.
Saying they have exhausted all other avenues to identify the leaker, defense attorneys subpoenaed Winter. She appeared in court last week on the same day prosecutors said they would pursue the death penalty against Holmes, although she did not testify.
Fox News declined to comment on the case or make Winter available for interviews, and an e-mail to Winter's attorney at Fox News went unanswered. The gag order is still in place, barring the defense team from commenting.
Winter and her attorneys have tried to fight the subpoena. The New York-based journalist made it clear in last month's affidavit that her credibility is at stake if she were to reveal her sources.
"I will be unable to function effectively in my profession and my career will be over," Winter wrote. "This is not an exaggeration - it is a provable certainty."
She also said she has been subjected to threats on the Internet by supporters of Holmes.
Derigan Silver, who teaches media law at the University of Denver, expressed concern that Winter's case could have a chilling effect on investigative journalism and that journalists may be reluctant to pursue challenging stories that rely on confidential sources.
"As a journalist, you ask yourself, 'Do I sit in front of Britney Spears' house and snap some pics or do I cover this really important story and maybe go to jail,'" he said.
Silver argued that investigative journalism is in the public interest and Winter's case should be a rallying point for everyone interested in a free press.
"If people want good important stories, we have to stand up for the reporters doing those stories," he said.