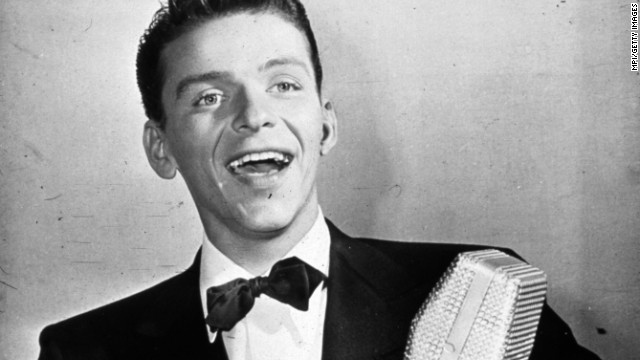 With his blue eyes and that golden voice, Frank Sinatra, seen here circa 1935, is often referred to as the original teen idol. Decades before there were "Beliebers," there were "bobby soxers," as young female fans were called. Here's a look at 29 other stars who made their young (and old) fans swoon.
The name James Dean has become synonymous with youthful male cool. The actor, seen here about 1955, set the mold for teen heartthrobs with his brooding but pristine looks, coiffed hair and specific style.
Elvis Presley's rock 'n' roll reign as a heartthrob had an edge of the risque. Seen here about 1957, Presley stole the hearts of fans on stage and on screen, no doubt in part because of those swiveling hips.
As described by Rolling Stone, the teenaged fervor for this landmark British band was a "level of ... mania the country had never before seen -- even at the height of Elvis Presley." When Beatlemania hit the U.S. in 1964, the screaming fans would drown out the music at Beatles shows ... and some young women, the magazine notes, would even wet their pants with excitement when the band's car rolled by. From left, John Lennon, Paul McCartney, George Harrison and Ringo Starr.
Singer and actor David Cassidy, seen here circa 1975, was a heartthrob both on and off the small screen. Playing Keith Partridge, the dreamy eldest brother on "The Partridge Family," soon brought Cassidy music fame in real life. Surely some fans still have this infamous 1972 Rolling Stone cover, on which Cassidy posed nude.
Of the foursome who made up the Monkees, Davy Jones was the undeniable heartthrob. "Each Monkee had a distinct personality," said MTV, but Jones was "the one that made the girls swoon."
The "Here Come the Brides" star and singer was beloved by teens in the late '60s and early to mid-'70s. "I have been blessed by wonderful fans," Sherman once told Rosie O'Donnell. "They weren't wacky; they were very inventive."
The brothers who composed the Jackson 5 -- from left, Jermaine, Tito, Jackie, Michael and Marlon, here in 1972 with brother Randy in the background -- sparked an intense fandom with hits like "I'll Be There" and "Never Can Say Goodbye."
Playing Greg Brady, the good-looking and athletic oldest brother of "The Brady Brunch," primed Barry Williams for teen idol status in the '70s. The actor, who also appeared in "Three's Company" and "General Hospital," recently starred alongside another heartthrob from the era, Danny Bonaduce, in the TV movie "Bigfoot."
Scott Baio, seen here circa 1978, is one of the defining heartthrobs of the late '70s and early '80s thanks to his role as Chachi Arcola, first on "Happy Days" and later on "Joanie Loves Chachi." But the actor was just as famous for his off-screen romances, which he chronicled on the 2007 reality show, "Scott Baio is 45 ... and Single."
Rob Lowe's pretty-boy looks, as seen in '80s classics like "The Outsiders," "Class" and "St. Elmo's Fire," still have heartthrob status with some fans who've grown up with him.
Johnny Depp's transition from the swoon-worthy undercover cop on "21 Jump Street" to one of People magazine's sexiest men alive has been seamless. Here, he captivated fans as Don Juan in 1994's "Don Juan DeMarco."
Along with Lowe, Judd Nelson, left, and Emilio Estevez were two members of Hollywood's "Brat Pack," and each retained '80s teen dream status for different reasons. Estevez was the handsome "unofficial president" of the group, as New York magazine deemed him in '85. Nelson, meanwhile, was perceived to be the wayward but lovable bad boy -- along the lines of his character in that year's "The Breakfast Club," which he starred in with Estevez.
With his puppy dog eyes and luscious hair, Joey Lawrence was a constant presence in teen magazines in the '90s -- frequently in sleeveless shirts or vests. On the sitcom "Blossom," he played the clueless but adorable older brother of Mayim Bialik's titular character, turning "Whoa!" into a catchphrase.
Mark-Paul Gosselaar and Mario Lopez had everyone wishing they could enroll at the fictional Bayside High thanks to their roles on "Saved by the Bell." Gosselaar exuded charm and wit as Zack Morris, while Lopez's physique -- and those dimples! -- made TV viewers fall for A.C. Slater.
"Titanic" was an Oscar winner, but we can guarantee that Leonardo DiCaprio's performance wasn't the only thing inspiring repeat viewings of the 1997 film. Thanks to his prior roles on "Growing Pains," "The Basketball Diaries" and "Romeo + Juliet," DiCaprio was one of the '90s' biggest teen idols.
Will Smith is another teen star whose heartthrob status only grew with time. He began as a goofball on the '90s sitcom "The Fresh Prince of Bel-Air" but soon transitioned to playing the muscled leading man in movies like "Bad Boys" (1995) and "Independence Day" (1996).
In 1994, Jared Leto's rebellious but soulful Jordan Catalano, the love interest of Claire Danes' Angela Chase on "My So-Called Life," was the template for many fans' dream boyfriends. Leto, seen here about 1997, carried that idol status over into films and music.
With their lush hair and chiseled features, Jason Priestley and Luke Perry made "Beverly Hills, 90210" appointment viewing. Each played an archetype of the teen idol world: Priestley was the saintly Brandon Walsh, while Perry was bad boy Dylan McKay.
Still known as "JTT" to his fans, Jonathan Taylor Thomas rose to heartthrob status as wisecracking middle son Randy Taylor on Tim Allen's long-running '90s sitcom, "Home Improvement."
The Backstreet Boys -- who are back, by the way -- won the devotion of scores of fans with sweet songs like "Quit Playing Games (With My Heart)" and "As Long As You Love Me." From left: A.J. McLean, Nick Carter, Howie Dorough, Kevin Richardson and Brian Littrell at the MTV Video Music Awards in 1998.
Forget their style for a minute and remember that this was 1998, and to the millions of fans who helped the group set a record for best first-week album sales, the worst thing about 'N Sync was figuring out which one you wanted to date more: from left, Justin Timberlake, Joey Fatone, Chris Kirkpatrick, Lance Bass or JC Chasez.
Usher, seen here at the 1998 MTV Video Music Awards, had the seductive dance moves (and impressive abs) that are requisite for heartthrob status. He showed off both in the music video that accompanied his 1997 single, "You Make Me Wanna."
With their long hair and wholesome approachability, the Hanson brothers who formed this music trio -- from left, Isaac, Taylor and Zac -- "MMMbop"-ed their way into the pantheon of teen heartthrobs in 1997.
At the start of the new millennium, young stars Lil' Bow Wow and Aaron Carter, here at the 2000 Billboard Music Awards, were among the next generation of heartthrobs. Bow Wow could cause 10-year-olds to scream his name while "flinging themselves out of their seats (and) ricocheting against the walls," as the Washington Post observed, while Carter, the younger brother of Backstreet Boy Nick, had fans craving access to "Aaron's Party."
It appears Zac Efron is now trying to distance himself from his teen idol days on "High School Musical," when his squeaky clean looks made him a favorite with parents and kids. But in 2006, when he was swinging by MTV's "Total Request Live," as seen here, just saying his name in the presence of tweens could elicit swoons.
From the attention lavished on his hair to his pop-tinged love songs, Justin Bieber has followed in the well-trod path of teen heartthrobs who came before him. One difference now is that he can build and interact with his loving fanbase on Twitter, where more than 33 million are watching for updates.
The mania over "The Twilight Saga," the vampire-and-werewolves love story adapted from Stephenie Meyer's novels, was fueled in part by these guys. Fans split into two warring camps over the characters Taylor Lautner, left, and Robert Pattinson portrayed, launching one of the most debated questions of the past five years: Are you on Team Edward (Pattinson) or Team Jacob (Lautner)?
The members of One Direction -- from left, Louis Tomlinson, Niall Horan, Harry Styles, Liam Payne and Zayn Malik in Melbourne, Australia, in 2012 -- are a pop group, but they can incite rock 'n' roll reactions. Their following is so hardcore, Mick Jagger said it reminded him of the Rolling Stones' rabid fanbase.
Will Smith seems to have passed the teen dream torch to his son Jaden, seen here at the 2012 Toronto International Film Festival. When he was just 12 years old, Jaden's star turn in "Karate Kid" was a summer season success.